Air cargo volumes down 32% but revenues jump 36% YoY, notes WorldACD
WorldACD reported that global air cargo volumes by chargeable weight decreased 31.7 percent year-on-year in April 2020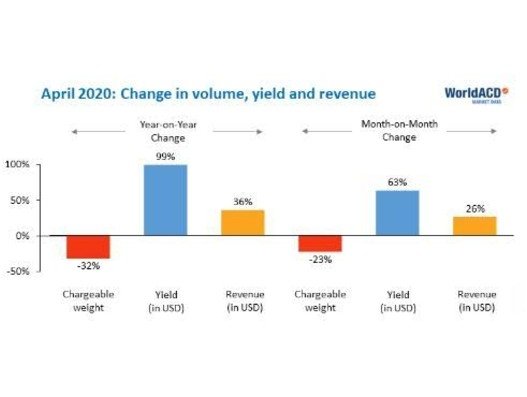 WorldACD reported that global air cargo volumes by chargeable weight decreased 31.7 percent year-on-year in April 2020 and 22.8 percent on month-on-month basis. This is based on information gathered from worldwide AirWayBill, capacity and load data of 45 major global airlines.
Due to the lack of cargo capacity, airline yields (in USD/kg) went up very sharply, by 63 percent month-on-month (MoM), and by 99 percent year-on-year (YoY). Express business fared better than regular cargo (-8 percent MoM), particularly from Asia Pacific (+21 percent MoM). The category of smallest parcels (0-50 kg) suffered most (-42 percent MoM), while, not surprisingly, big shipments of more than 5000 kilograms were heavily favored: they hardly lost ground, while upping yields by more than average. And so, in the midst of aviation's biggest crisis, worldwide air cargo revenues went up in April, by 36 percent YoY and by 26 percent MoM.

Load factor change month-on-month

All cargo airlines had a field day in April, with cargo carried only slightly less than in March with a revenue growth of 29 percent. Interestingly, combination carriers managed to raise their unit prices by much more (+71 percent MoM), and they were in turn outdone by the passenger airlines (+95 percent MoM).
Airlines based in Africa and airlines based in the Americas, profited least from the surge in market prices: their revenues, measured in USD, went down by 18 percent and 4 percent YoY respectively. In contrast with them, the airlines from Asia Pacific, the Middle East & South Asia (MESA) and Europe, increased their revenues YoY by 70 percent, 44 percent and 30 percent respectively. The airlines from Asia Pacific and MESA saw revenue increases of around 30 percent.
On the other hand, the markets ex-Asia Pacific grew their revenues by 66 percent MoM, but the airlines from the area increased their worldwide revenues by 33 percent. Airlines from outside Asia Pacific profited more from the boom in the area than airlines based in Asia Pacific.
The YoY revenue increase was by far the largest in the transport of pharmaceuticals (+116 percent) and in vulnerable/high tech (+71 percent) products.
Capacity and load factor
The worldwide load factor increased by 9 percentage points. As the number of flights with passenger aircraft dropped by a massive 75 percent, their combined cargo load factor increased by 12 percentage points. The conversion from passenger aircraft into hybrid freighters was most successful in and from Latin America, MESA and Asia Pacific, and seemed less impressive in and from North America, Africa and Europe. Africa and Latin America were the areas from which freighters increased their load factors considerably. From other areas, freighter load factors dropped due to the much more voluminous cargo carried.
Volumes picking up
The last 10 days of April recorded worldwide volumes 6 percent higher than in the first 10 days. The different origin regions showed varying patterns: Africa (+5 percent) and Asia Pacific (+8 percent), MESA +14 percent and Latin America +32 percent. Europe and North America were the only regions with a below average last 10 days, with -1 percent and -5 percent respectively.
Looking at data from country-to-country markets, the best and the worst markets both originated in Hong Kong: to Saudi Arabia (weight +207 percent, revenue +330 percent MoM), and to Japan (weight -27 percent, revenue -30 percent MoM). China-East to Germany was one of the most impressive markets recording 57 percent increase in weight while revenue grew 281 percent month-on-month. The market Colombia-USA Atlantic South witnessed a month-on-month growth of 64 percent prompted by the vast amounts of flowers transported to the United States for Mother's Day, with a spike between April 21 and April 29.