FROM MAGAZINE: Air Cargo market in Latin America continues to face strong headwinds
Amidst an imminent global economic slowdown and growing concerns of weak economic outlook for key Latin American economies, the air cargo market in Latin America continues to face strong headwinds. There is a strong fear of a global economic slowdown and several factors indicate that it is inevitable. The International Air Transport Association (IATA) released […]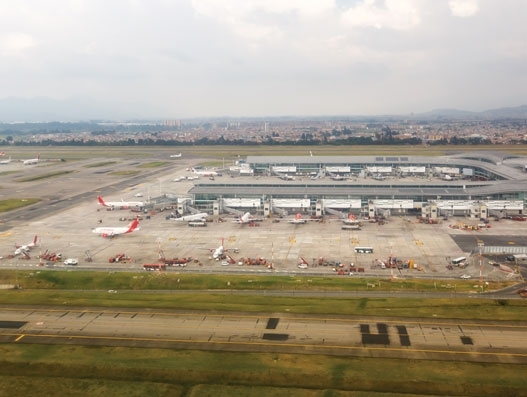 Amidst an imminent global economic slowdown and growing concerns of weak economic outlook for key Latin American economies, the air cargo market in Latin America continues to face strong headwinds.

There is a strong fear of a global economic slowdown and several factors indicate that it is inevitable. The International Air Transport Association (IATA) released data for global air freight markets showing that demand, measured in freight tonne kilometers (FTKs), contracted by 3.2 percent in July 2019, compared to the same period in 2018. What's more worrying is the fact that this marks the ninth consecutive month of year-on-year decline in freight volumes.
Air cargo continues to suffer from weak global trade and the intensifying trade dispute between the US and China. Global trade volumes are 1.4 percent lower than a year ago and trade volumes between the US and China have fallen by 14 percent year-to-date compared to the same period in 2018.
The global Purchasing Managers Index (PMI) does not indicate an uptick. Its tracking of new manufacturing export orders has pointed to falling orders since September 2018. And for the first time since February 2009 all major trading nations reported falling orders.
"Trade tensions are weighing heavily on the entire air cargo industry. Higher tariffs are disrupting not only transpacific supply chains but also worldwide trade lanes. While current tensions might yield short-term political gains, they could lead to long-term negative changes for consumers and the global economy. Trade generates prosperity. It is critical that the US and China work quickly to resolve their differences," said Alexandre de Juniac, IATA's Director General and CEO.
Latin American airlines experienced an increase in freight demand growth in July 2019 of three percent compared to the same period last year and capacity increased by 2.7 percent. "The recovery of the Brazilian economy, to avoid a recession, was a positive development; however, concerns regarding the outlook for some key Latin American countries including Argentina remain," said an IATA statement.
It is said that Brazil, the biggest economy of South America, is the country of the future but the joke is that it always will be. And going by economic indicators the same could be said for Latin America as a whole. This year, once again, Latin America is shaping up as an economic disappointment. A Reuters report said that in Brazil and Mexico, the region's biggest economies, weak budgetary positions are a fiscal straightjacket for governments. Meanwhile, central banks are wary of cutting interest rates too far for fear of sending their currencies into a tailspin - hurting foreign investment and stoking inflation.
In addition, political uncertainty has just plunged Argentina – the region's third-largest economy –into yet another economic and financial market crisis, making monetary or fiscal loosening extremely difficult. Even before Argentina's meltdown, the region's growth outlook was darkening. Last month, the International Monetary Fund (IMF) slashed its 2019 economic growth forecast for Latin America by more than half to 0.6 percent, from 1.4 percent in April.
Although the region's sluggish economies warrant a bold policy response, the likelihood is nothing of significance will be done, leaving Latin America at the mercy of international developments and sentiment. "The region is facing significant headwinds and there's not much that can be done about it in the short term, unfortunately," Alberto Ramos, head of Latin American research at Goldman Sachs, was quoted in the Reuters report.
However, there are significant developments in the Latin American air cargo market in the recent months. Last month FedEx announced it would acquire Bogota-based Cargex, a perishables transport specialist with a track record of 25 years. The company has branches in Medellin, Cartagena, Buenaventura and Santa Marta and, in addition to the forwarding operation; the deal includes Agencia de Aduanas Aduanamos, an affiliate that provides customs brokerage services. When the deal closes later this year, Cargex will operate under FedEx Logistics. Taking over a perishables specialist in a market dominated by perishables exports seems a logical step in Latin America, but it also gives FedEx a handle to tap into a growing sector that has held up better than the general air cargo market.
"The addition of Cargex offers future growth opportunities in the Latin American region, a key market for us," said Udo Lange, president and chief executive of FedEx Logistics. "This acquisition perfectly complements the roundtrip Colombia-to-Miami 767 freighter flights recently announced by FedEx Express. We will connect customers throughout the Latin American market with even more possibilities by combining world-class FedEx transportation solutions with a comprehensive line of logistics service offerings."
Azul Cargo Express, the cargo unit of Brazil's Azul Airlines, recently signed a commercial agreement with Mercado Libre, Latin America's largest e-commerce company. With this deal, Azul Cargo Express becomes the only air-shipping partner within Brazil for purchases made on Mercado Libre's website, informed the Brazilian airline. The two companies started working together earlier this year. And currently, Mercado Libre represents 10 percent of Azul Cargo Express' revenue.
E-commerce contributed the most to the airline's cargo business growth. The revenue from e-commerce increased 314 percent over last year. And the overall cargo business surged 44 percent during the first half of the year, benefiting from Azul's network and fleet expansion. Last year, the carrier also added dedicated freighter capacity with the addition of two 737 freighters to its fleet.
Latin America's leader in air cargo transportation recently announced a significant increase in its operations in the Colombian and Peruvian markets. The expansion out of Colombia is expected to consolidate LATAM Cargo as one of the main players in the region's largest export market. Meanwhile the additional services into Bogota and Lima will boost its position in two strategic import markets.
The growth of freighter operations is made possible by LATAM Cargo adding two Boeing 767-300BCFs. While the first of the two Boeing Converted Freighters (BCF) joined LATAM Cargo Colombia's fleet in July this year, the second one is expected to start operations in December 2019.
"The new services to Bogota and Lima, and the expansion out of Colombia, will enable us to consolidate our network as the most comprehensive into South America. Combined with LATAM Group's passenger network we plan to continue to provide our customers with more and better options to, from and within Latin America," said Andres Bianchi, CEO, LATAM Cargo.
Earlier this year, LATAM Cargo also became the first cargo airline to offer direct service between Scandinavia and Latin America by adding Copenhagen, Denmark's capital, as a new destination to its network. This new addition will provide customers in this market a better alternative to satisfy its growing interest in Latin America. By significantly reducing the need for land transportation, the new route cuts transit times by up to 48 hours.
This feature was originally published in STAT Trade Times' September 2019 issue.