FROM MAGAZINE: Air cargo makes animals feel at home
it is grandma's little dog, protected zoo animals or the most expensive race horses, air cargo carriers drive home these animals safely. Despite many risks involved and the preparations required to ensure the safety of animals, business is booming now for air cargo carriers forwarders and airports meeting the needs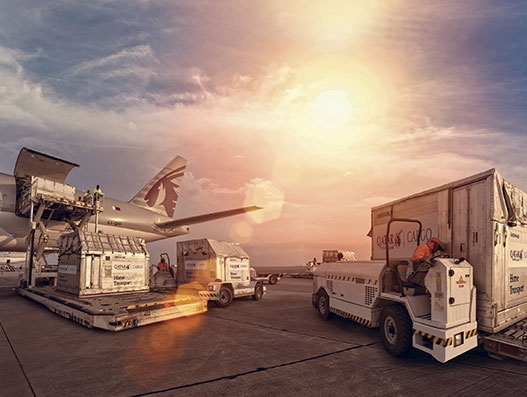 Whether it is grandma's little dog, protected zoo animals or the most expensive race horses, air cargo carriers drive home these animals safely. Despite many risks involved and the preparations required to ensure the safety of animals, business is booming now for air cargo carriers forwarders and airports meeting the needs of the shippers of this niche segment.
Twinkle Sahita
The air cargo sector is seeing an era where demand is rising for live animal transportation. From pets to wild animals like lions, cheetahs, tigers and rhinos to large animals such as giraffes, all animals enjoy the hospitality of air cargo carriers. To make these special passengers feel at home, high level of preparation goes into the transportation of animals at every stage. There should be close cooperation between flight crew, loading and unloading ground crew, animal-handling agents and air traffic services to ensure the animals are transported safely and comfortably. Also, there are unique challenges when transporting live animals like ensuring ambient temperature during the entire supply chain, animal packaging and stocking densities to name a few. Therefore collaboration, dialogue and communication between all stakeholders helps to clarify mutual expectations and to minimise risks.
Analysing the current scenario, Mark Whitehead, chief executive of hactl, mentions factors leading to increasing interest in animal transport among air cargo community. He said, "There are a number of factors at play. For example, there is increasing use of air cargo to transport high-quality breeding stock from developed countries to those where efforts are being made to improve genetic quality. Meanwhile there is a steady increase in the number of equine sporting events and venues around the world, leading to higher levels or horse transportation. There are a number of recent instances of new and expanded animal handling facilities being opened at airports, echoing Hactl's own major investment in animals handling years ago. The speed and gentleness of air as a transport mode – particularly supported by continuing advances in techniques and equipment, and a better understanding of potential problems and how to avoid them – are bound to lead to increasing volumes of live animal transportation by air. We can regard this as a growth sector for air cargo, but one which will rely on specialist forwarders, and handlers with advanced capabilities, such as Hactl."
Hong Kong's leading air cargo handler handles a constant flow of live animal shipments, varying from individual pets to the (now) annual Longines Masters assignment, comprising around 60 competition horses. In between, hactl handles many shipments, often of an interesting nature: like the two sea lions weighing 2041 kilograms which were recently loaded on a Cargolux flight from Hong Kong to Barcelona; they travelled with their own attendant. "We are also being featured on a TV programme about pet emigration, after shipping a pet rabbit weighing just 5 kilograms from Hong Kong to Vancouver on Air Canada," adds Whitehead.
Fraport, the operator of Frankfurt Airport, also finds the transport of live animals an important business. "As airport operator, we consider it our task to reduce stress for the animals while they are on ground. Thereby, we do not differentiate between grandma's little dog, protected zoo animals or the most expensive race horses. All animals require and deserve special handling and care. With about 110 million live animals of all types flown via Frankfurt in 2016, we do a good job according to shippers," explains Dirk Schusdziara, senior vice president Cargo, Fraport. Germany's major gateway has the most modern animal station at the airport. The Frankfurt Animal Lounge, operated by Lufthansa Cargo, offers state-of- the-art infrastructure. It combines handling, coordination, and veterinary services under one roof. 42 large animal stalls, 39 dog kennels, special aviaries, black light areas for examining ornamental fish and 18 individually temperature-controllable climate chambers provide optimal conditions for all species. The two pandas from Chengdu recently transported to Berlin by Lufthansa Cargo did not get to experience the hospitality at the Frankfurt Animal Lounge, as the scheduled flight from Beijing to Frankfurt was rerouted via Chengdu and Berlin for the two VIP passengers.
Jörg Bodenröder, senior-director Handling Specials, Lufthansa Cargo, mentions certain shipments handled recently by the German carrier. He informs, "Last fall, Lufthansa Cargo transported six lions from Europe to a home in South Africa that is appropriate for their species. In March this year, two Mesopotamian fallow deer from the Opel Zoo near Frankfurt became Israelis with help from Lufthansa Cargo. The pair of young animals was transported to Jerusalem, where Lufthansa Cargo collaborated with an animal-shipping company."
Doha-based carrier Qatar Airways has seen 74 percent increase in the transportation of live animals in 2016-17 over 2015-16. The carrier recently transported 138 horses, all in one day, to multiple destinations via QR Charter services. "52 champion horses were flown comfortably from Amsterdam to Calgary to participate in the Spruce Meadows annual competition and will be flown back to Liege on completion of the event. On the same day, we operated another full horse charter of 80 polo horses from Buenos Aires to Kano in Nigeria and two horse shipments from Houston to Liege and from Stansted to Kuwait on our scheduled freighter services. We support the CHI Al Shaqab equestrian event held in Doha each year, where over 100 multi- million dollars show jumping, dressage and para dressage horses are flown into and out of the State of Qatar," said Ulrich Ogiermann, chief officer cargo at Qatar Airways.
"Other than horses, we also transport pets, falcons, tropical fish, cattle, day-old chicks and exotic animals for zoo exchange, conservation projects and breeding projects. Our exotic animal shipments include rhinos for conservation project, sharks for aquariums, kangaroos for zoo exchange programme as well as the notable Noah's Ark charter last year, where our B777 freighter was transformed into "Noah's Ark of the Skies". We transported 65 tonnes of live animals for "Flying Animals", South Africa's biggest wildlife exporter from Johannesburg to Phu Quoc island in Vietnam. The shipment consisting of kudus, elands, gemsbuck, zebras, swan geese, barn owls, impalas, giraffes, exotic birds and smaller exotic species like lions, cheetahs, tigers and rhinos were transported to the Vinpearl Safari Park and Zoo in Vietnam," adds Ogiermann.
Live animals certification
Currently, IATA's Live Animals Regulations (LAR) is the global standard to transporting animals by air in a safe, humane and in a cost-effective manner. Ulrich Ogiermann of Qatar Airways Cargo believes it would be not be surprising if the International Air Transport Association (IATA) comes up with a certification for live animals similar to CEIV- Pharma. While some consider this certification might add value, others doubt about the certification promoting the standards of handling of live animals.
David Kerr, senior vice president, Etihad Cargo, is confident about the industry body introducing such certification to facilitate the adoption of suitable quality standards in the handling of live animals. "We are confident it will. There have been discussions within the IATA Live Animals and Perishables Board to regulate the transport of live animals in the same way we do for dangerous goods and the industry is certainly moving in that direction, but it is not quite there yet," said Kerr. The most recent exotic shipments handled by the Abu Dhabi-based carrier were the two carried from Johannesburg to Kigali in Rwanda – 19 rhinos and two lions. They were being reintroduced to Akagera National Park, two hours east of Kigali, after a 10-year period of extinction. The airline worked closely with the agent, Intradco Global, and African Parks for more than a year to finalise the complex logistics involved.
Patrick Silverio, Special Handling manager, Luxair Cargo, said, "As we could recognise, the CEIV-Pharma certification was rather positive initiative amongst the global world of shipping pharmaceutical products. Regulations did strengthen during the last year (GDP etc.) This programme has a certain undeniable success and focusses even more and better on the way pharma goods should be handled and transported. Obviously in terms of animal transport there are already sound regulations Live Animal Regulations - 43rd Edition. And IATA's Live Animals and Perishables Board is in place to ensure a strong and robust way of doing and performing. Would a kind of CEIV – AVI emphasise or promote this even more? Not sure, as the existing regulations and rules are not new to the business and the marked, and known to all entities in charge of animal transport. Structures and processes are actually already in place for almost all stakeholders."
Facilities for 'special passengers'
Human passengers have VIP lounges, wine bars, massage chairs, Duty free to enjoy the travel through the airport. Now pets also have facilities to travel in the lap of luxury.
'The ARK' at John F Kennedy International Airport (JFK) clearly meets animals' need of enjoying their travel. Phase 1 of The ARK at JFK – The ARK Pet Oasis and Equine Export Centre – opened in early January this year. Once at the Oasis, the animals receive full pampered treatment and are fed and groomed.
Commenting on RIOgaleão Cargo's known facility, Patrick Fehring, RIOgaleão Cargo's director, said, "RIOgaleão Cargo has infrastructure for large and small animals. There are 520m² dedicated to large animals, including facilities for companions and veterinarians. In addition, for small animals, we have dedicated refrigerated areas in the Imports and Exports warehouses. Recently, in order to attend the Olympic Games, a ramp was built to transfer the airstables' horses directly to the trucks, following the recommendations of a specialised company contracted by the Olympic Committee." Last year, RIOgaleão Cargo participated in the largest live animal operation ever held in Brazil. There were more than 300 horses destined for the Olympics and Paralympics Games, which embarked and disembarked at the Cargo Terminal of Tom Jobim International Airport. The gateway recently received two sharks for AquaRio - a new attraction of the city with an immense aquarium.
Liege Airport for its equine guests opened efficient consolidating & stabling area, like 'a manège or horse riding center at LGG', called the HORSE INN. Therefore they implemented it right in their first line infrastructures alongside the apron with direct access to the Airside, and exactly in front of the aircraft-positions. The objectives pursued by the airport through the latter investment of 2.6 million euros, offers the best tool for equine in- or outbound operations towards all economic operators and partners of Liege airport. The gateway opened this state-of-the-art facility in the beginning of 2016.
We also know that any horse-lover is focused on the best conditions in which her/his horse 'follows' that process before or after their flight or truck-trip, in stabling them for a few or more hours before or after their long journey, again by road or by air, immediately upon arrival, but in a professional, calm and hygienic (even cozy) area. Just to maintain their comfort and their best condition, so they want their horses to be loaded or unloaded as gently and smoothly in or out of these 'flying horse-stalls' , in keeping the stress for the horse to the lowest level possible avoiding any injury or discomfort during all phases of the process.
"Therefore, the biggest and most innovative tool of the Horse Inn", explains Eric, "is that these 'flying horse-stalls', once loaded, do not need to be transferred anymore to any other shed or place or device or weighing-area while they are completely ready to go to and for loading onto the aircraft, immediately after the Horse Inn operation, where these Airstalls are weighed instantly after closing them and driving them to the apron, straight to the aircraft without Any other transfer nor time loss anymore like anywhere else in Europe", states Eric Gysen, Cargo Sales Manager at Liege Airport.
Another major Air France-KLM- Martinair Cargo's Animal Hotel at Amsterdam Airport Schiphol is one of the most modern facility designed for animals in transit. "We expanded the pet area for "third world" which are in transit. We also invested in a special walking area for the dogs and have work in process for a chicken lounge," stated Gerald Bergkamp, director Specials (including 'Live'), AFKLMP Cargo. The much in news Panda bears carried onboard AFKLM Cargo is known to everyone. The carrier also handled a grown up elephant and shark shipments recently. "We as a dedicated Airline with an own Animal Hotel see various species ,like flamingoes from Havana, Koi Fish out of Japan, Chickens from the USA, Polo horses out of Buenos Aires and pets all over the world passing by in transit," adds Bergkamp.
Malaysia's flag carrier MASkargo's animal hotel is conveniently situated at Kuala Lumpur International Airport. With over 1,297 sq m of space, animals or pets here have ample roaming space before their flight or upon arrival. There is also a 24-hour veterinarian service in case pets require instant medical attention and professional grooming and spa services. Ahmad Luqman Mohd Azmi, CEO, MAB Kargo (MASkargo), said, "MASkargo has great experience in handling transhipments of live animals in all shapes and sizes to anywhere around the world. At the moment, there is a niche demand for these animals and aim to expand this sector of our business, as it is part of our revenue stream. We have carried horses for sports events in the past, such the FEI World Endurance Cup. However, we are currently limited to niche movement of horses due to the fleet that we have at the moment." Recently, MASkargo carried 12 tanks of live aquatic animals Kuala Lumpur to Jakarta, which includes live sharks, stingrays, fishes and jellyfishes.
Luxembourg's Cargocenter for livestock has two clearly segregated areas for import and export (in order to avoid cross-contamination or exchange) with stabling capacities for all kind of animals under various climatic conditions. Horse-stables at sufficient number to host 50 horses at one same time, dedicated ventilated and temperature controlled facility for birds and day-old-chicks. Highlighting future plans, Silverio adds, "Future project is to install a fully equipped Groom hosting container with all facilities like showers, sanitary rooms, bedding and day-rooms giving our customers the possibility to remain with their beloved animals all over during their stay in Luxembourg."
Along with the luxury facilities, inspections also remain a priority for the carriers and the terminal operators. "In our Helsinki terminal we have an area for the Border Inspection Veterinarians to conduct the air cargo related inspections of live animals or products of animal origin for shipments arriving from outside of the EU. Customers sending such cargo must always pre-order the services of a Border Inspection Veterinarian. Similar inspections by Border Inspection Veterinarian at destination airport are often required in many countries outside of the EU," informs Milla Nyholm, manager, Marketing & Sustainability at Finnair Cargo. Finnair Cargo as a carrier verifies that all required documents are in order and that packaging complies with IATA Live Animal Regulations (LAR) to make sure that the shipper uses a suitable container for shipping the animal.
"We also need to ensure that tarmac conditions (e.g. in terms of the weather) are suitable for the animal in question both at departure and destination airport. Before departure the captain of the flight is informed of each animal shipment to ensure that conditions in the cargo hold are adequate for the animal in question," adds Nyholm. Finland's major carrier recently carried penguins from a zoo in Norway to a zoo in Shanghai.
What the shipper says
Expressing his concerns, Tim Dutta, president & CEO, Dutta Corporation, said, "We hope and try to increase cooperation between Customs/airport security/handling Company. If possible, the aircraft operator should allow our team access to the loading area or plane side as the case may be and never leave the horses alone without their grooms or our handlers. The handling company should instruct the lift operator to be gentle as much as possible, noise reduction as much as possible and to make sure loading of the jet stalls is quick and efficient without compromising safety and security." For Dutta Corporation, major horse shipper, the most important criteria to partner with a cargo airline/cargo plane operator is dependability and on time performance. "Time is very critical when flying horses and long delays are not acceptable," he adds.
Recent happenings such as the enormous rabbit named Simon passing away in a United Airlines flight. Also, the figures released by US Department of Transportation which reports 35 animals died onboard US airlines in 2015 raise a concern to the industry's reputation of handling such a critical shipment.
The industry needs to realise that transportation of such a high-value cargo can be the difference between profit and loss each quarter, especially when large mammals are involved. If IATA does not look at launching CEIV certification, there is a need for the air cargo industry to assess the approaches in the handling of live animals as the sector is seeing increased live animals shipments compared to the same period last year. So, focusing more on better approaches and enhancing its existing services and facilities with the use of innovating technologies is the way forward.
If the industry can come up with smart ULDs with the best of the features to keep the pharma shippers satisfied, the industry can think of ways to attract live animals shippers who would not like to hear about another sad Simon story.