Lockheed Martin's Hybrid Airships to transport ore concentrate and supplies for Quest Rare Minerals
Nov 17, 2016: Straightline Aviation (SLA) announced an agreement with Quest Rare Minerals to provide dedicated air services for the transport of ore concentrate, supplies and personnel using Lockheed Martin's Hybrid Airships. The airships will provide shuttle transportation between Quest's Strange Lake complex mine site in Northern Québec and Schefferville, a town with a direct […]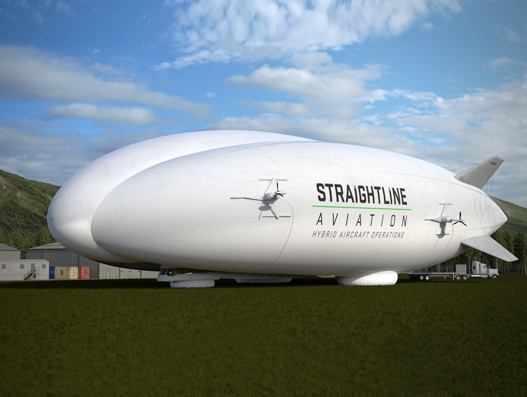 Nov 17, 2016: Straightline Aviation (SLA) announced an agreement with Quest Rare Minerals to provide dedicated air services for the transport of ore concentrate, supplies and personnel using Lockheed Martin's Hybrid Airships. The airships will provide shuttle transportation between Quest's Strange Lake complex mine site in Northern Québec and Schefferville, a town with a direct rail link to the Port of Sept-Iles.
Under the Memorandum of Understanding (MOU), SLA will operate a fleet of seven of the world's first heavy-lift cargo Hybrid Airships, the LMH-1. The airships will transport personnel, critical supplies for mine operations, and carry more than 200,000 tonnes of rare earth ore concentrate annually for delivery to Quest's Bécancour refining facilities. Rare earth metals are critical to hundreds of high tech applications, many of which define our way of life and are key to the emergence of green technologies.
Developed and built by Lockheed Martin, the LMH-1 is well suited to Quest's transportation challenges due to its remote northern Québec mine site location. The airship has the ability to land on virtually any surface including snow, ice, gravel and even water, with no runways required or other expensive infrastructure. The helium-filled, heavier-than-air airships can carry 20 metric tonnes of cargo and up to 19 passengers.
Both the US Federal Aviation Administration (FAA) and Transport Canada have agreed on the newly developed Hybrid Airship certification criteria, which is being used to complete the type certification. First commercial deliveries are scheduled in 2019.
Hybrid Airships combine the technology of lighter than air aircraft with airplanes, helicopters and hovercraft. The airship also features a unique hovercraft-like Air Cushion Landing System that facilitates taxiing and grips the craft firmly on the ground.
The airships present a cost-effective and environmentally-friendly solution to Quest's transport challenges. The LMH-1 is not only designed to use less fuel, emit less carbon dioxide and produce less noise than conventional aircraft, it also eliminates the need for costly ground-level infrastructure, avoiding impact on the area's wildlife habitat compared to road transport and trucking along a road corridor to the Labrador Sea coast.
This new transportation solution will also stimulate employment and business opportunities for regional and Indigenous communities increasing the socio-economic benefits to the area around the mine site.
The service agreement represents a value of approximately $ 850 million, including fuel costs, over a 10-year period that starts in 2019, with further extensions of up to 20 additional years in line with the current projected life of the mine.
Rob Binns, chief executive officer, Hybrid Enterprises, said, "Lockheed Martin's Hybrid Airship represents a revolution in remote cargo delivery. The Quest Strange Lake Project is a prime example of how our Hybrid Airship enables a cost effective and environmentally friendly solution to accessing strategically important mineral deposits."
Charles Bouchard, chief executive, Lockheed Martin Canada, said, "I am thrilled to see Lockheed Martin's advanced technology coming to the province of Quebec and indeed being sought after to solve transportation challenges in some of the most isolated and northern regions of Canada. It is an ideal country to use the highly innovative Hybrid Airships and I applaud the collaboration between Hybrid Enterprises, Straightline Aviation and Quest Rare Minerals in pursuing such an environmentally-friendly solution in Canada."