FROM MAGAZINE: Air cargo leads the project cargo race
The complex missions for air cargo carriers also known as 'project logistics' presents a big opportunity for the air freight industry in the recent times. Air cargo carriers are called upon by industries such as Aerospace, Oil&Gas, Construction, Power & Energy, Heavy Machinery, and Humanitarian, Government & Defence to deliver logistics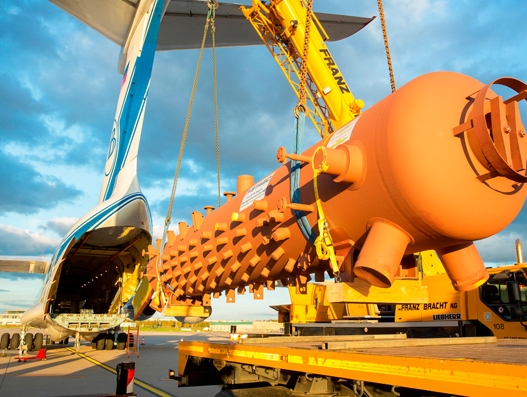 The complex missions for air cargo carriers also known as 'project logistics' presents a big opportunity for the air freight industry in the recent times. Air cargo carriers are called upon by industries such as Aerospace, Oil&Gas, Construction, Power & Energy, Heavy Machinery, and Humanitarian, Government & Defence to deliver logistics solutions. With its speed-dee-livery, it has been leading the project cargo race.
Twinkle Sahita
Industries such as Aerospace, Oil&Gas, Construction, Power & Energy, Heavy Machinery, and Humanitarian, Government & Defence, require services of a credible, trusted logistics provider with the international reach to be able to successfully plan and deliver such complicated cargoes. This is particularly true for the movement of out-of-gauge equipment and components for heavy engineering projects in such sectors such as pulp & paper manufacturing, mining, and construction. The reliance of shippers on air to move their industrial cargoes has been increasing as the primacy of speed-to-market is considered while selecting the logistics provider. Be it pharmaceutical or perishable shipments, air cargo is vital to maintain the integrity of these products. Similarly, in recent times, air cargo remains crucial for the logistics of outsized industrial cargoes, because of its speed and reliability. Vital equipment can be moved from one side of the world to another within hours as opposed to spending weeks at sea. Air cargo is also recognised to be a much more secure mode of transport for high value shipments or for protecting the integrity of extremely sensitive cargoes.
One of the interesting developments in recent years is the increase in off-site manufacturing where large structures such as bridges are built in modules and then shipped to the destination. This development has acted as catalyst for exceptional demand for project logistics via air.
The know-how to perform these heavy lift operations and the need to evolve continuously in terms of fleet, customised solutions, are key for the carriers to perform these complex missions. A rigorous check list should be maintained which considers, among other things, the following: loading plans, including heavy lift inspections and ensure that the high value equipment is insured.
The operation of moving outsize and heavyweight cargo is not a regular occurrence, and therefore, carriers are often required to come up with customised solutions for these equipments.
Aware that innovative customised solutions remain at the centre stage for these operations, Russia's Volga-Dnepr has embraced technology to prepare loading plans. We have in-house technology to prepare loading plans using 3D modeling software. This enables us to conduct 'virtual' loadings in advance and eliminates any likelihood of delays caused by unexpected challenges on the day of the actual transportation. Our engineers have also created patented loading systems for our freighter fleet to take on any logistical challenges. The most important advice we offer our customers is to talk to us as early as possible in their panning process so we can offer help and advice that will avoid any delays or unexpected costs later in their logistical process, explains Alexander Kraynov, Commercial Director of Volga-Dnepr Airlines. The airline operates the largest number of An-124-100 freighters (12), owns five modernised IL-76TD-90VD freighters that are approved for global operations, 16 Boeing 747s – including nine of the latest generation 747-8Fs – and three Boeing 737-400Fs.
In addition to the fleet and customised solutions, there needs to be communication amongst all the stakeholders throughout the process to help promote efficiency and timely completion of the project. Communicating at the earliest opportunity is a pivotal factor for successful operation. It is the most effective way for customers to get the best advice and, ultimately, the most cost effective solution.
We have a unique level of knowledge and capability that is all at our customers' disposal when they work with us. This may mean moving big pieces of cargo needed for a project onboard our An-124-100 but then using our other freighter aircraft to move smaller pieces using charters or our scheduled cargo flights if it produces a lower overall cost for the customers, adds Kraynov.
So, the more time and communication involved in project cargo movements, the more potential there is to look at every opportunity.
Combination of services
Big infrastructure projects will often involve a mix of both sea and air. One of the best examples of this was our involvement in a project to build a new liquefied natural gas processing plant in Papua New Guinea when it was five years from the initial enquiry to our first flight and in the intervening period we acted as one of the consultants on the building of a new airport and runway in the southern highlands of PNG to enable our An-124-100 freighters to bring the most sensitive and critical cargoes to the site. This was followed by an intensive flying programme of 88 An-124-100 flights in 103 days delivering 6,000 tonnes of cargo, informs Kraynov.
For this project, 70,000 tonnes of cargo arrived by sea but for the remaining 6,000 tonnes of the most sensitive equipment, air cargo was the only viable solution due to the challenges of transporting materials via truck over an 800km road from the port of Lae to the Hides Gas Conditioning Plant. A large percentage of these roads were dirt tracks with gradients of over 20 percent and there are 99 bridge crossings on the route which would have restricted the maximum weight for cargo to 25 tonnes. Additionally, the road between Lae and Hides was subject to road closures due to landslides, washouts and other uncontrollable factors. They created an 'airbridge' using An-124-100 from Port Moresby to the new airport close to the site of the plant and ultimately the plant was able to commence operations ahead of schedule.
Accomplished projects
On February 14, Bolloré Logistics has completed the transport and logistics of two new telecommunications satellites built by Thales Alenia Space: KOREASAT-7 of the Korean satellite service operator KT SAT, and SGDC (Geostationary Defense and Strategic Communications Satellite) on behalf of the Ministry of Defense of Brazil. A high-risk operation for the transport of heavy lift and high-sensitivity equipment: Bolloré Logistics ensured the handling and shipment of these two satellites from Nice (France) to the Guiana Space Center in Kourou (French Guiana). It also took care of all the logistics operations at destination from reception, post-delivery and delivery on site. This complex mission required the chartering of a specific cargo aircraft. For the first time, two satellites could be transported together on a single flight. Bolloré Logistics' collaborated with Volga-Dnepr Airlines, supplier of An-124-100 aircrafts able to accommodate this type of satellite container.
Another project cargo specialist completes time critical delivery to help keep the energy industry project on track. The company has delivered 45-tonne consignment of radiant coils from Vitoria in Spain to Mumbai, India. With construction plans facing delays until the materials arrived, specialists at Chapman Freeborn's offices in India and Spain arranged for an AirBridgeCargo Boeing B747-800 freighter to be available on standby as the manufacturing process approached completion. While still in production, the team was able to assess the loadability of the cargo and advise the client on the technical requirements for transporting the materials from the factory to the airport, and how it could be transferred to the aircraft with the help of cranes.
As the objects needing transport are large, heavy, high value or critical (to the project they are intended for) pieces of equipment, it is vital that a whole range of industries can trust in air cargo for moving their goods. Also, in order to justify the freight cost charged by the cargo carriers, air cargo needs to continuously improve its capabilities and show its customers what they can do by partnering with a specialist outsize and heavyweight cargo airline.