Air cargo leaders call for upping the ante on digitalisation
At a Covid-19 impact special webinar series organised by The STAT Trade Times along with Messe Munchen and TIACA, panelists impressed upon the need for better efforts in stepping up digitalisation.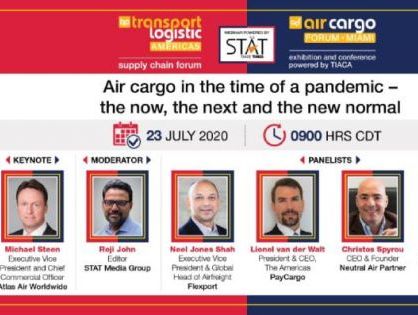 The Covid-19 pandemic may have put brakes on the global supply chain to some extent but it has the reinforced the fact that the presence of a robust digital infrastructure can help build seamless operations. The pandemic has taught the air cargo industry that it is about time to make a concerted effort to make the right investments in digitalisation to take the mantle ahead. At a Covid-19 impact special webinar series themed 'Air cargo in the time of a pandemic – the now, the next and the new normal,' organised by The STAT Trade Times along with Messe Munchen and TIACA, panelists impressed upon the need for better efforts in stepping up digitalisation within the sector.
Commending the industry for its flexibility and agility during the current crisis, Michael Steen, executive vice president and chief commercial officer, Atlas Air Worldwide spoke of how the sector needs to up its game in its digitalisation drive. "The industry has been working together being innovative, creative, flexible, and has made sure that airfreight literally saved lives there during the pandemic, and still is. And it has also kept the global economy going. And I think that's something that we need to remember as we think about how we get to the next step," Steen said while making his keynote address.
With global ecommerce having grown significantly over the past four months, customer expectations have also increased for faster delivery times. With e-commerce companies now promising 48- to 72-hour door-to-door delivery window, this poses a great challenge that the air cargo industry needs to live up to. The need-for-speed calls for better integration and digitalisation within the industry. "We, as an industry, have to start digitize much more. It creates a tremendous opportunity for us to work to increase our revenues, become more efficient to reduce costs, and become transparent as an industry," said Steen.
"The global supply chain is like a relay race with multiple handoffs along the way in order to make it work, with nobody controlling it end-to-end," said Neel Jones Shah, executive vice president & global head of airfreight, Flexport. Shah explained that the huge pile-up of data with each hand-off along the way makes the entire process even more complex. "Unfortunately, as an industry, we've never tried to digitize these handoffs; we haven't structured any data. So at the end of the day, all you have is a stack of emails or a big stack of paper. This, eventually, is useless for everybody involved in supply chain. A lot of these shortcomings were highlighted through the crisis."
Agreeing to Shah, Emir Pineda, manager - Aviation Trade and Logistics, Miami International Airport expressed his anguish at the laid-back attitude towards digitalisation and the lack of real data within the industry to make sound decisions. "I'm still waiting for my airport stats for the month of June and we are in the month of July, which is ridiculous," he said. Pineda spoke of how Miami Airport has been working for several months on implementing a cargo community system for all the stakeholders but it has been an uphill task. "It's been a battle in the sense of how to we make it happen; how do we bring in all the stakeholders to the table and have them sign on to this effort?" Emir reiterated the need to continue to push the efforts towards digitalisation harder. "Otherwise it's never going to happen; it's just the same old and we can't live in that world forever. We need to move forward," he asserted.
Having worked with different industries, Lionel van der Walt, president and CEO, The Americas, PayCargo noted that the air cargo industry is way behind its counterparts but there are serious efforts being taken to collaborate within the ecosystem. "From our perspective, we've been looking not only at growing vendors within this ecosystem, but we've also been looking at how do we become more efficient in collaborating with other system providers?" PayCargo is now integrating with companies like Kale Logistics, IBS, Unisys among others, Lionel reveals, and "everybody is cooperating, sharing data through APIs; it really makes the flow of data seamless. It speeds up the way that we can transact. And that ultimately ends in us being able to facilitate trade by speeding up payments and the release of cargo," he said.
With the technology already present and being an enabler, all it needs is the support of the industry to make sure that the processes and regulations are created to allow stakeholders to effectively and efficiently connect all those capabilities. Michael Steen believes that this crucial element is lacking in the system. Steen pointed out that while there are local communities in Brussels, Amsterdam and Singapore, a global approach is still missing. "We are a global industry and we have to address this. Speed is of the essence, and we, as an industry, we are led by speed. I think if we can all step up to that and act as fast as practical as possible, it is going to help us."
And as Steven Polmans, chairman of TIACA, puts it, the crisis should be looked at as an opportunity to improve. "The 'now' for this sector is disruptive, challenging and interesting; but we are living in exceptional times at the moment. We believe that collaboration and cooperation is going to be more than ever-important given the economical crisis. But then again, never waste a good crisis. There are always winners and losers, but there are also a lot of opportunities coming up. The whole industry has shown resilence, agility, flexibility, strength, and I think we have to be really proud of what we have done. Can we learn? Absolutely. Can we improve? Absolutely. But let's also be very proud of what we did, and also be ready for what comes next."