Air Cargo India 2020: On building resilience
With more than 70 exhibitors spanning and engagement of more than 2000 people from the air cargo community along with panel discussions covering all t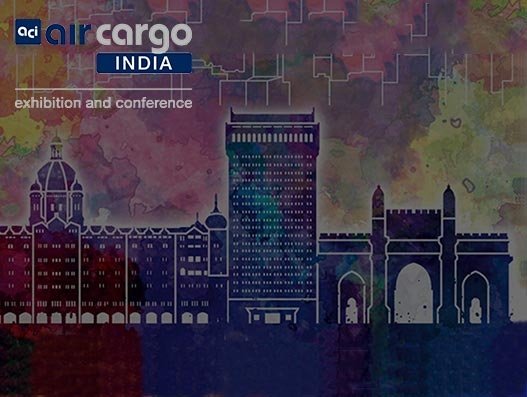 Feb 28, 2020: With more than 70 exhibitors spanning and engagement of more than 2000 people from the air cargo community along with panel discussions covering all the major topics encircling the air freight industry, the Air Cargo India 2020 show has been successfully concluded.
Air Cargo India (ACI) 2020 took place at the Grand Hyatt Hotel Mumbai, India from 25 to 27 February and was inaugurated by Vandanna Aggarwal, economic advisor to the Indian Ministry of Aviation.
Gerhard Gerritzen, deputy managing director of Messe Muenchen, underscored his optimism in the welcome note by declaring that the "Air Cargo in India has a lot of potential." R K Patra, group editor-in-chief of STAT Media Group, lauded the spirit of the cargo community which had gathered for the 3-day event despite the circumstances encircling the coronavirus epidemic.
After setting the exhibition gates open, Aggarwal, who was also the chief guest, gave the keynote address at the conference where she comprehensively discussed the current position of the air cargo industry in India and underscored the government initiatives like National Cargo Policy, UDAN scheme, Krishi Udan. Aggarwal stressed on the government's interest in enabling digital corridors and shared insights on technologies and innovations that need to come fourth.
The event saw participation of more than 65 panel members, contributing insights on various topics across various panel discussions. The discussions involved subjects like state of digitalisation in the air cargo industry; quality and compliance of perishable goods transport by air; pharma supply chain; trade tension drag on air cargo and building resilience; India as promising air cargo export region; airports of the future for special cargo commodities; air cargo for ecommerce and transportation support for the digital world.
Each panel discussion had a blend of dynamic panel members that not only discussed their company trends but also provided insights on services that could be made better either in front or back of the value chain. Especially in case of the discussion on the subject of digitalization, ecommerce and pharma logistics, the dynamism of the discussions drew attention to the challenges and solutions across the supply chain.
While the worry of market disruption due to crisis like coronavirus outbreak and trade tensions was palpable among members, almost all the topics discussed during the event shed light on the current position of the air freight industry. And also enlightened on what the future may look like and the course of actions being adopted to circumvent the situation. Need for standardization and greater transparency across value chain and focus on KPIs was stressed upon as tools to shift the market, geographically, and to decimate accurate information to stabilise the supply and demand discrepancy.
Responding to the Indian government policies that are facilitating transport of perishables and temperature sensitive products through air, panel discussions on respective topics gave members and the delegates an opportunity to bring forth the challenges and complications pertaining to such shipments. Shippers, handlers, airlines and airports, under one forum, effectively discussed problems related to packaging, costs, lack of transparency and trust and inadequate digital infrastructure.
The highly engaging second day of the event saw The STAT Trade Times Award for Excellence in Air Cargo ceremony. The award night brought together the who's who of the industry, kindling a sense of solidarity that's exceptional and awaited by the community. Lise-Marie Turpin received The STAT Trade Times Lifetime Achievement Award. The popular International Cargo Airline of the year Award was won by the Qatar Airways Cargo. And Emirates SkyCargo was Highly Acclaimed in the same category. Changi International Airport won The International Cargo Airport of the year Award, while Frankfurt International Airport was Highly Acclaimed in the same category.
The exhibition hall, which was the hotspot for networking, buzzed live all three days with exhibitioners giving demonstrations and introducing their services and meeting their partners and collaborators as a tradition at the Air Cargo India event.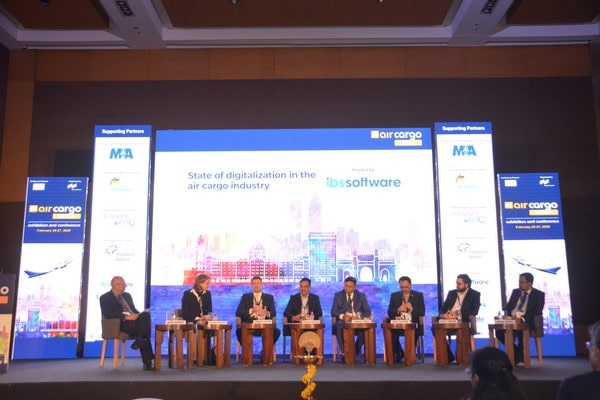 (L-R) Glyn Hughes of IATA, Dorothea von Boxberg of Lufthansa Cargo AG, Dennis Lister of Emirates SkyCargo, Huned Gandhi of Dachser India, Manoj Singh of Mumbai International Airport, Keku Gazder of AAICLAS, Halit Tuncer of Turkish Airlines and Ashok Rajan of IBS Software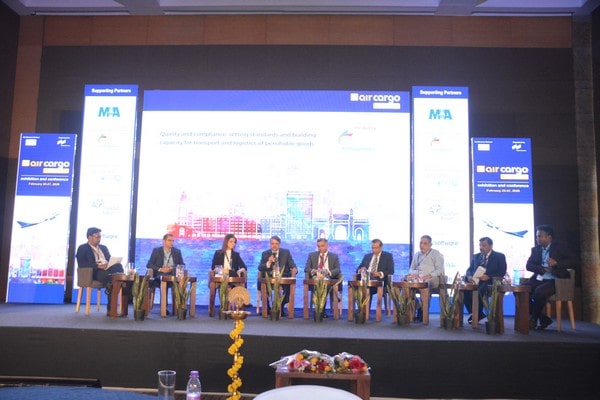 (L-R) Reji John, Kaushal Khakhar of Kay Bee Exports, Jalpa H Vithalani of Jupiter Express Services, R Ravindra of APEDA, Arun Chandra of Bangalore International Airport, Sanjiv Edward of GMR Delhi International Airport, Navdeep Lamba of SpiceJet, Venugopal Bangera of Cargo Service Center and Richard Theknath of Jet Freight.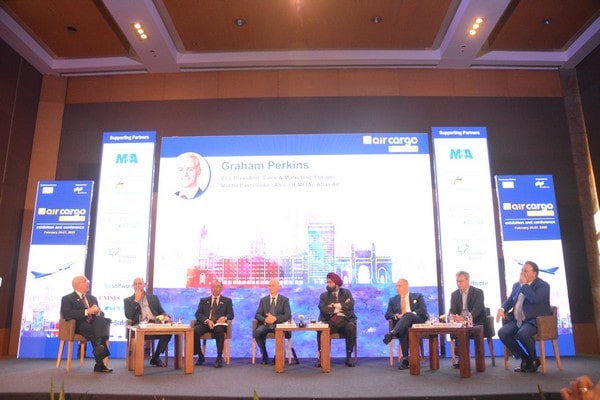 (L-R) Steve Townes of ACL Airshop, Russi Batliwala of Chapman Freeborn Group, Niranjan Navratnarajah of Unisys Asia Pacific, Graham Perkins of Atlas Air, Pukhraj Singh Chug of Group Concorde, Eric Wilson of Delta Cargo, Markus Muecke of IATA, Peter Penseel of Qatar Airways Cargo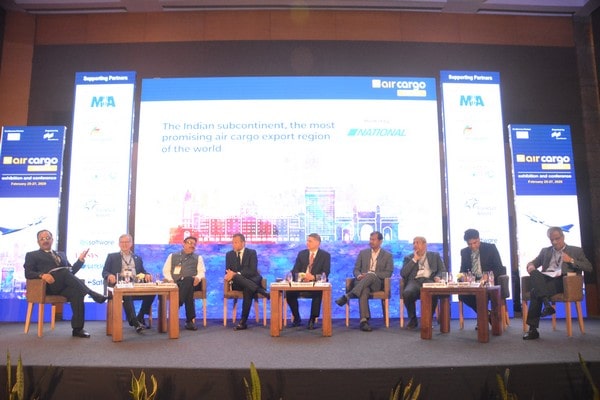 (L-R) Keku Gazder of AAICLAS, William Boulter of IndiGo, Nirbhik Narang of Air India Cargo, Adrien Thominet of ECS Group, Tom Crabtree of Boeing, Saurabh Kumar of GMR Hyderabad Air Cargo, Sanjiv Gupta of SpiceXpress, Amar More of Kale Logistics Solutions and Keshav Tanna of FIATA.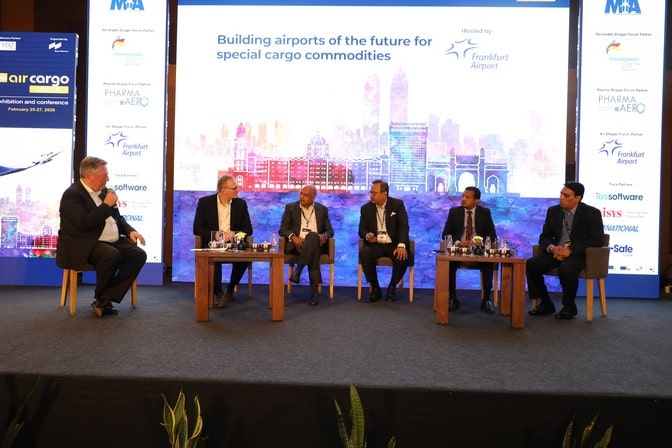 Roland Weil and Max Conrady of Frankfurt Airport, Pramod Sant of Siemens, Sujan Roy of Tata Motors, Fitsum Abadi of Ethiopian Cargo and Phani Krishna of DSV Air & Sea.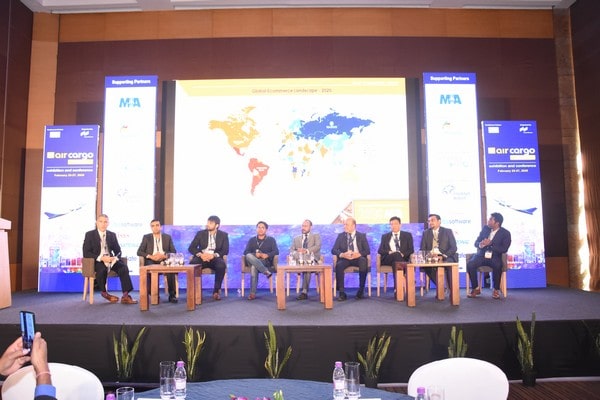 Emir Pineda of Miami-Dade Aviation Department, Dharmender Khanna of SSIPL Retail, Abhishek Middha of The Boho Street , Shayak Mazumder of Eunimart, Dibyendu Ganguly of EximScouts, Sujit Subramanian of Go Air, Vijay Sharma of Delhi International Airport Limited, Pratik Mehta of Bangalore International Airport and Aniket Nathvani of Shadowfax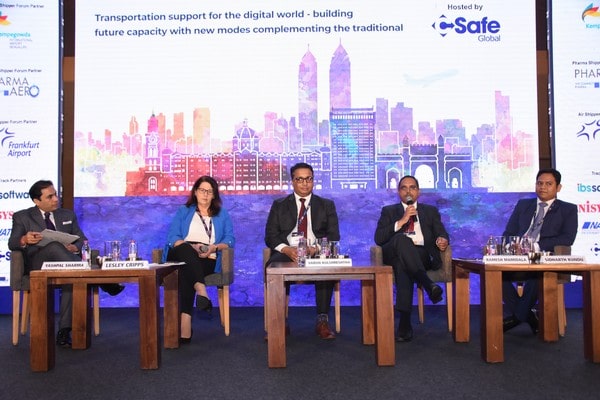 Yashpal Sharma of Skyways Group, Lesley Cripps of Cargo Flash Infotech, Varun Kulshreshtha of Shipa Freight, Ramesh Mamidala of Adani Airports and Sidharth Kundu of Astrophysics