Air cargo in North America thrives in the new normal
Air cargo capacity in North America is ready to rise, as carriers are betting on new business model of flying on-demand and scheduled cargo-only flights for different product verticals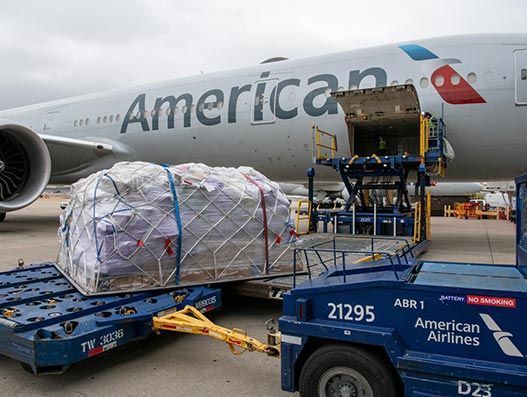 As carriers in North America eagerly await passenger demand to return to free up cargo capacity, airlines are betting big on their new business model of flying on-demand and scheduled cargo-only flights for different product verticals. From the Covid-19 crisis to the new USMCA Act effective July 1, 2020 is shaping up to be a dramatic year for the North American market.
"We are certainly in a really interesting situation. For most markets, cargo demand has remained steady, but the challenge has been with the lack of capacity," revealed Roger Samways, VP - cargo commercial, American Airlines Cargo. With the precipitous drop in passenger demand in recent months, which has led to a huge reduction in passenger flying across the world, for many carriers, American included, all of the cargo is carried in the bellies of their passenger aircraft. This has led to a severe crunch in the amount of cargo capacity offered in the market. During this time, cargo demand, relative to supply, has remained strong – either falling very slowly or in some cases even increasing. This unique dynamic has led to significant rate increases in most markets which have helped to support all carriers, introducing passenger aircraft to operate freight missions.
However, as passenger demand gradually returns, more business is expected to return to the air. Airlines are now increasing their flight schedules in June and July, including adding widebody routes – in fact the cargo-only flights have formed the basis for several of these new passenger services.
"The growth in international widebody flying has been really nice to see. In May, we flew 140 weekly widebody flights, in June, we flew 282 weekly widebody flights, and in July, the number of weekly widebody flights is near 350, all of which is helping us to meet more of our customers' needs," shared Samways of American Airlines Cargo.
"As passenger demand recovers, we will continue to add more scheduled passenger flying and will look to support this with additional cargo-only flights where these make sense economically. Currently, we're expecting to operate 55 percent of the network that we flew in July 2019. We're seeing steady rise in domestic passenger demand, and the July schedule reflects this, with big increases in planned flying versus our May and June schedule. We're optimistic that this trend will continue in the coming months," he added.
While American is increasing flights at a more aggressive pace, its competitor United is ramping up its July schedule to 25 percent of what it flew during the same month in 2019. Moreover, carriers expect growth in domestic capacity as international routes still continue to be in limbo with the travel restrictions. "Looking ahead, we see domestic capacity continuing to grow more quickly than international due to the continued travel restrictions that are in place around the world," said Andy Kirschner, director - Americas sales, Delta Cargo.
Pharma, perishables, and e-commerce in demand
While pharmaceuticals and fresh still remain top product verticals for all carriers, e-commerce has been a primary growth driver and should continue that course in the foreseeable future. "Initially, as businesses and restaurants were closing around the country and events were being cancelled, we saw a significant drop in commodities like retail goods and certain perishable goods, as well as typical items we would normally see for trade shows or televised events. This was offset to a great degree by a significant spike in e-commerce related goods, and medical supplies like Covid-19 test kits and PPE," said Wally Devereaux, managing director, cargo and charters, SouthWest Cargo.
In June, e-commerce giant Amazon added 12 new cargo aircraft to Amazon Air, bringing its total fleet to more than 80 aircraft, in part because of increased demand for shipments during the current pandemic. One of the converted Boeing 767-300, leased from the Air Transport Services Group, began transporting cargo this month itself. The rest of the aircraft are to be delivered next year. The company is also expanding Amazon Air's ground network, starting this month with regional air hubs at Austin-Bergstrom International Airport in Austin, Texas and Luis Muñoz Marín International Airport in San Juan, Puerto Rico, then Lakeland Linder International Airport in Florida this summer, and San Bernardino International Airport next year. It will also open a new central Amazon Air Hub at Cincinnati/Northern Kentucky International Airport next year. In the announcement, Amazon Global Air vice president Sarah Rhoads said, "Amazon Air is critical to ensuring fast delivery for our customers - both in the current environment we are facing, and beyond."
As consumer demand picks up, many factories and stores are beginning to restock inventory. Is it as good as pre-Covid-19? No, but it's still strong and coming back.
"Fashion is coming back as stores reopen. High-tech has been good as offices are relocating to home causing new purchases and server capacity needed to increase. We suspended some of our live animal shipping to be cautious as there are minimal recovery options in the reduced flying world. I won't speak to a specific sector, but we see daily volumes are running 60-80 percent of normal expectation depending on the day of the week," said Tim Strauss, vice president, Air Canada Cargo.
Delta Cargo has also witnessed particularly strong growth within e-commerce as more people order goods online and set up home offices during the pandemic. "We fully expect this trend to continue in North America. We also continue to focus on verticals such as pharma, medical supplies and food goods to name a few that need timely transit via air. Over the past few months, we have transported extensive amounts of PPE to the US from Asia," revealed Kirschner. As for Alaska Airlines, pharma and fresh have been certainly strong verticals throughout the year while AOG, automotive parts and retail fulfilment orders witnessed a decline during the lockdown.
"Given that restaurants and hotels were shut, we expected a decline in seafood consumption of fresh seafood products out of Alaska. In reality, we're finding that demand for fresh seafood, not only out of Alaska but also from Hawaii, Mexico and the North East has been relatively steady," shared Rick Bendix, manager, marketing and business development-Cargo, Alaska Airlines. "Conversely, we saw and are still experiencing an increase in e-commerce shipments as more consumers shop online. Alaska has also seen our live animal business grow exponentially since March. Many carriers in the US stopped carrying live animals completely from March to May, but Alaska Air Cargo was one of the only carriers accepting pets for a period of time." For American, the carrier has been flying perishables at record-breaking volumes. "Back in April, we set a new American record for the most weight ever transported on a single flight of 118,687 lbs of seeds moving from EZE to MIA, whilst most recently, we carried a record 10,8230 lbs of fresh fish on a 737 aircraft from Cancún (CUN) to DFW."
"From the start of our cargo-only flights in March, the first of which was between Dallas-Fort Worth (DFW) and Frankfurt (FRA) on March 20, our imports from Europe consisted of medical supplies, pharmaceuticals, cosmetics, aircraft spares (civil and military), fresh flowers, automotive parts, printers, artwork, video equipment and helicopter parts.
Similarly, our export volumes consisted of auto parts, produce, telecommunications equipment, optical surgical kits, aerospace parts, and electronics. We've continued to carry this sort of cargo as those cargo-only flights have expanded and as our widebody network has grown. We are also continuing to carry a lot of mail domestically – in fact, our consistent service performance has led to American being selected as the number one domestic provider for the USPS in recent months," shared Samways.
USMCA comes into force
Despite the pandemic, the United States-Mexico-Canada Agreement (USMCA or the Agreement), the successor to the North American Free Trade Agreement (NAFTA), has now been ratified and signed into law in all three countries and entered into force on July 1, 2020.
The USMCA will replace the 25-year-old and rigid North American Free Trade Agreement (NAFTA). The more modern and flexible USMCA will improve rules of origin for automobiles and other vehicles; bolster disciplines on currency manipulation; modernise and strengthen food and agriculture trade; create new protections for US intellectual property; and ensure trade opportunities for US services. It contains what are considered global best-in-class trade provisions in such areas as agricultural market access, digital trade, financial services, anti-corruption and regulatory policies. However, as Covid-19 has tempered some of the excitement surrounding the USMCA, the global disruption of manufacturing operations and supply lines has created uncertainty as to whether businesses in the North American region are prepared to meet its obligations.
However, Delta Cargo's Kirschner sees the deal as an opportunity to work closely with its partner Aeromexico.
"As the trade deal focuses on agricultural products building on the current provisions of the NAFTA deal, there will be an increase of shipments into Mexico including meat and produce. Based on our schedules into Mexico, this will be a small increase but will provide opportunities for us to work closely with our partner (Aeromexico) in maximising our joint capacity to support the agricultural vertical," he said.
Expressing his concern over the new USMCA agreement on North Americantrade, Tim Strauss said, "It will take a bit of time, but with the virus exposing dependencies on certain aspects of the supply chain, the likely outcome is that many products most of us didn't realise were nearly 100 percent manufactured in China will move near-shore or be diversified to other countries that have stronger or more transparent health regulatory bodies. The near-shoring piece of this will certainly add to the opportunities for stronger trade via USMCA – as it turns out, getting this agreement re-negotiated may have the most impact on jobs, security and financial benefit of any trade agreement in the world. And, significantly benefit Canada, Mexico and the United States."
Covid-19 keeps Ted Stevens Anchorage International Airport very busy
On normal days, air cargo hubs like Atlanta (ATL), Los Angeles (LAX), Dubai (DXB) and Beijing (PEK) usually take the top spots for the busiest airports in the world while Alaska's Ted Stevens Anchorage International Airport (ANC) would find its place towards the end of the list. But the Covid-19 crisis has turned the tables for ANC. What's impressive is the fact that now ANC is deemed as the fifth busiest in the world for cargo operations and the second busiest in the US - with 79 percent of all Asia to North America freighter aircraft taking advantage of Anchorage's offer of a stopover. ANC in fact on several days over the last four months even became the busiest airport in the world. Plus, cargo flights can load more goods and less fuel when crews have the opportunity to stop and refuel in Anchorage.
"ANC is up cargo landings by 49 percent as of last week. Our market as a transit stop from Asia to North American, with the change from no belly cargo to dedicated freighters, transporting of PPE, and catching up from cargo that did not move when China was shut down – all these factors contribute to ANC air cargo landings being up YoY," explains Trudy Wassel, deputy airport manager, ANC.
"Our ramp is very busy, seeing well over 100 wide-bodied air cargo aircraft landings a day. The Antonov, the world's largest air cargo aircraft has been here over the past several weeks, making the technical stop to deliver goods to North American and/or Canada. Our strategic location makes it very economical for these aircraft to carry more cargo and less fuel – land at ANC for a technical stop (most airlines have station managers, other operations staff right here home based in our terminal to handle the operations) and continue. FedEx, UPS, DHL, Polar/Atlas – all have large operational hubs at ANC – with FedEx having a full sort facility," she added.