Air Cargo in Africa Undergoing sea change
African air cargo industry has entered into a transformational phase. The continent's first aerotropolis has been approved in South Africa. 27 countries have signed up for the Single African Air Transport Market. The supply chain stakeholders talk about their significant initiatives to improve efficiency and meet the challenges.
Nahida Jafferi
The African aviation industry supports $72.5 billion in Gross Domestic Product (GDP) and 6.8 million jobs. It is forecast to witness a yearly growth of six percent over the next 20 years.
Although African airlines fly less than two percent of global freight, they have been growing at the fastest pace in the last two years, according to International Air Transport Association (IATA).
IATA report showed that African carriers saw freight demand decrease by 7.1 percent in August 2018 compared to the same month last year. This was the fifth time in six months that demand contracted. However, air freight capacity increased six percent year-on-year (YoY).
Since January this year, 27 countries signed up for the establishment of Single African Air Transport Market (SAATM), a move to open up African skies and promote intra-African air connectivity. While connectivity is getting string there are concerns over airport infrastructure. As per ICAO, no fewer than 24 airports in Africa will have reached their maximum operational capacities for both passenger and air freight by 2020.
There has been a shift in trend while air freight demand has been very strong on Africa-Asia lane.
Jerome Petit, CEO -Africa, Bollore Logistics, cited that the first obvious development in Africa is the change in sourcing origins. "European market shares have slightly decreased in the past 10 years, whereas Asia has recorded a growth of 145 percent. At the same time, while traditional airlines like Air France, KLM, Brussels Airlines and Lufthansa, have remained stable, capacity towards Africa has increased approximately by 10 percent mainly due to new destinations opened by international carriers such as Turkish Airlines, Emirates Airlines and Qatar Airways," said Petit.
In addition, Ethiopian Airlines has strongly invested in cargo and is now the first cargo carrier within the African continent.
Air freight is one of Bollore Logistics' core activities globally and has been growing steadily to represent 25 percent revenues worldwide. "In Africa, where the markets consumption and the industrial production differ, air freight represents 15 percent of our revenues," added Petit.
As the main provider of air freight forwarding services in Africa, Bolloré Logistics aims at addressing the diverse challenges in African logistics segment. The main challenges that Petit referred to are managing new flows, adapting to new requirements concerning e-commerce and temperature controlled products, handling the volumes imbalance (inbound/outbound) and meeting the growing security requirements.
"Safety has always been the priority for international organisations, airports and airlines, and security is now tightening in view of the context of some African countries. This directly affects exports flows for some countries," informed Petit. 
To improve its services for catering to the significantly growing volumes of e-commerce and temperature controlled goods, Bolloré Logistics continues investing in its air freight sets-up across Africa. "For example," Petit said, "we have launched the construction of a new 16,000 sqm air freight and logistics hub next to the airport in Abidjan, the capital city of Ivory Coast. The first phase will be delivered in January and will offer tri-temperature value-added services."
Only one-third of the airports in Africa possess sufficient infrastructure to meet the requirements of freighter airlines.
In its range of air services in Africa, Bolloré Logistics offers GHA solutions in partnership with airlines and airport authorities. "Our latest developments this year include new operations in Mauritania and Gabon," informed Petit.
On the other hand, Liana Coyne, COO, Coyne Airways, observed that the enthusiasm of some of their partners' and competitors' has been tempered over the past few years because Africa's potential has not always been realised as quickly or fully as hoped.
However, Coyne is happy with the company's YoY growth in Africa. She shared, "There has been a rationalisation of capacity particularly into some of the trunk routes (as there has been in other regions of the world). As we rely on the interline capacity for a lift into our hubs in Nairobi, Johannesburg, Lagos and Dakar, that reduction in capacity has been challenging for us this year."
Adding to this challenge is the regulatory changes in Nigeria, relating to transit freight. "But that," Coyne remarked, "has also given an impetus to form more alliances with partners whose interests and ethics align with ours."
Africa's first aerotropolis
Airports Company South Africa undertook a forecasting exercise for its airports in 2017. Bongiwe Pityi-Vokwana, General Manager, O R Tambo International Airport, said, "For O R Tambo International Airport, the anticipated growth in cargo volumes is 3.8 percent YoY.  On average, cargo volume growth at the airport over the past nine years has been over 15 percent YoY."
Plans for a new cargo precinct at O R Tambo, are progressing. The first phase of the precinct will be able to cater for annual volumes of up to 750,000 tonnes. Major forwarding and distribution initiatives have been approved within a 10 km radius of the airport which will support the effective movement of air cargo through the airport
The City of Ekurhuleni recently approved the 30-year aerotropolis master plan, which is the first in Africa. Being created near O R Tambo airport, the aerotropolis will be a zone within a 30km radius of the airport in which economic hubs will be created for different industries, such as manufacturing and hi-tech industries, agribusiness and food processing, logistics and distribution, among others.
"Initiatives to stimulate growth and economic development include frameworks for Special Economic Zones to enable further growth. The aim is to bring more business, people and goods to South Africa as well as to share South Africa's produce and resources with the world," stated Pityi-Vokwana.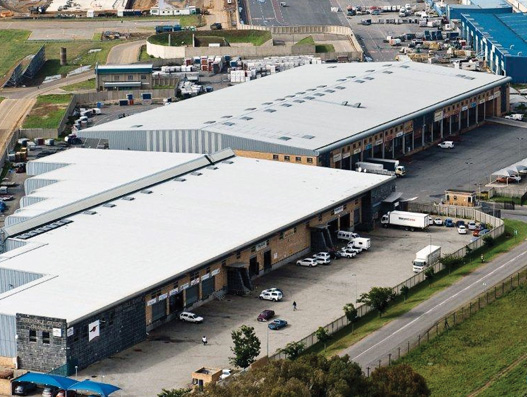 Perishable Centre at O R Tambo International Airport
Delta's e-commerce focus
Demand for capacity is increasing and Delta has started a new flight from Lagos in Nigeria to JFK airport in New York, which carries mail on regular basis. "The load factors exit Africa is normally in the high 90s as flights are weight restricted," informed Gonzalo Hernandez, Sales General Manager for EMEA, Delta Cargo.
Last year, Delta exported from Africa about 2,400 tonnes growing about 10 percent YoY. Delta imported to Johannesburg alone, over 3,000 tonnes last year which is a 12 percent increase YoY.
Hernandez shared, "There is a very high demand for the flight from Atlanta to Johannesburg, as Delta is the only U.S. carrier operating this service.  We are working with our customers on solutions to gain capacity through Equation and Equation Heavy/Critical type movements to help them gain access to the flights and provide solutions."
Delta is investigating opportunities in e-commerce business transportation.  The advantage Delta brings to the e-commerce market is the fact that it operates non-stop service between the USA and Johannesburg, Accra, Lagos and Dakar, so the products do not have to transit Europe.
"Companies such as eBay, Asos, Amazon and Kalahari.com have been successful in Africa. Buying and selling on the internet have become the norm in Africa, and usage is increasing. Companies in Africa buy from Europe and the United States which provides air freight opportunities to the continent, plus there is a strong business selling African items for export to the United States, Europe and Asia," informed Hernandez.
AFKLM vying for efficiency
Talking about initiatives taken in Africa, Manuel Weill, Vice President – Area Africa, Caribbean and Indian Ocean, Air France KLM Martinair Cargo, said, "In Africa, we work with a variety of suppliers in the cargo handling domain. This can lead to different levels of performance if left unchecked. Partnering with key suppliers has brought benefits in terms of quality and service delivery in several markets across the continent. "
Weill further added, "Decomplexing the handling process in conjunction with simplifying IT tooling is critical to achieving an efficient operation. Besides handling suppliers, we maintain a dedicated team of AFKLMP Cargo professionals in most stations where we operate which guarantees that we are able to manage our service levels on the spot."
Africa's export (ex-Africa) volumes represent approximately 10 percent of the total AFKLM cargo business in volumes.
The Franco-Dutch airline constantly works with authorities and regulatory bodies to discuss and participate in the changes. Weill suggested, "The e-AWB, which brings big benefits to customers, customs and carriers still needs further development, as not all countries have agreed to the e-freight principles. More common adoption of industry policies should be encouraged."
Booming perishables business
Kenya is the leading exporter out of Africa with over 16,000 tonnes perishables per month. Kenya Airways Cargo is expanding its cool chain facility to deal with the extra demand during peak seasons, in addition to expanding its warehouse. It has recently launched flights to John F Kennedy Airport in New York to enable access for Kenyan flowers to Miami, Toronto and Vancouver in North America.
At the recently concluded Flower Logistics Africa 2018 conference in Kenya, organised by Logistics Update Africa, discussions around data sharing and its role in improving floriculture operations took place.
Commenting on setting up cold chain protocols and common standards for African flower export, Evans Michoma, manager, cargo, Kenya Airports Authority, said, "Plans are underway to launch a cargo service quality surveys for all exporters and importers. This tool will ensure cool chains standards are maintained both at the receiving and loading phases. These results will be publicised for all suppliers for actions."
On the other hand, Ethiopian, the largest cargo operator in Africa, has inaugurated a $150 million state-of-the-art cargo terminal at Addis Ababa international airport, which has positioned the carrier to handle all perishable products based on their temperature requirements.
While Africa is on its way to achieving its full potential step-by-step, all the concerted efforts by supply chain stakeholders and the regulatory bodies are making the air cargo business in Africa a promising one.