Air freight volume continues to surge in July, says Airports Council International
September 23, 2017: Air cargo volume continued to increase in July, according to the trade association of the world's airports, Airports Council International (ACI). This strong growth is attributed to strengthening global trade and industrial production.

On a year to date basis, global volume reached 8.4 percent, drawing a particularly stark contrast with July 2016, where this number stood at 0.9 percent.

Most regions posted strong growth in freight volume, with Africa leading the group at 18.1 percent, followed by Europe (11.2 percent), the Middle East (10.6 percent) and Asia-Pacific (9.3 percent). North America and Latin-America and Caribbean, did not benefit from the same surge, increasing 6.5 percent and 3.8 percent respectively, in line with their year to date numbers.

Two countries in particular helped boost Africa's freight numbers: South Africa and Kenya, both posting growth rates of more than 20 percent. Although most countries in Europe benefitted from significant growth in July, Germany and the UK, the two largest freight markets in the region, contributed significantly to these numbers, standing at 9.3 percent and 12.5 percent respectively.

As with the passenger traffic numbers, Istanbul Atatürk Airport (IST) stood out in freight volumes, growing 32.2 percent year over year. Continuing a trend started in March, London-Heathrow (LHR) contributed a significant part of the freight market's increase in volume, growing 15.1 percent in July, year over year. Despite a decrease in passenger traffic at Doha International Airport (DOH) due to diplomatic fallout in the region, the airport continued its sustained growth in freight volume, reaching 14.5 percent year over year.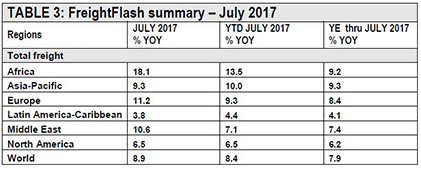 FREIGHT TRAFFIC: loaded and unloaded freight; data in  metric tonnes
You may also like:-
---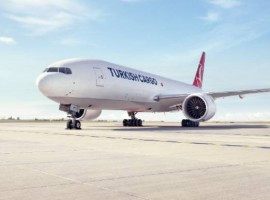 Air Cargo
Continuing its technological investments, the software reduces the error rate at its business processes as well as the costs while improving the employee productivity among other aspects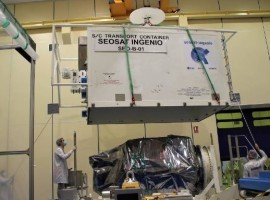 Aviation
SEOSAT-Ingenio is the first Spanish satellite with optical technology, developed primarily by the Spanish space industry led by Airbus in Spain as the prime contractor.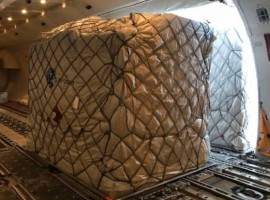 Logistics
Weekly direct flights will depart from Shanghai (PVG) every Monday and from Amsterdam (AMS) each Sunday to service for a post-COVID resurgence in demand during what is traditionally a fourth quarter peak season.