Air Cargo Community Frankfurt gets faster ordering process
<p style="text-align: justify;">May 11, 2017: Air Cargo Community Frankfurt is developing faster and consistent ordering processes with an improved flow of information for the pharmaceutical industry. These efforts are based on a combined IT solution for automated and electronic process support which allows a complete exchange of information between all members of the supply chain.</p> […]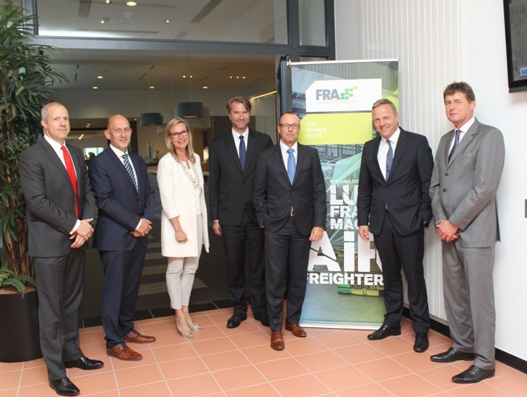 May 11, 2017: Air Cargo Community Frankfurt is developing faster and consistent ordering processes with an improved flow of information for the pharmaceutical industry. These efforts are based on a combined IT solution for automated and electronic process support which allows a complete exchange of information between all members of the supply chain.
"With this new concept, we are able to decrease the complexity of ordering processes and increase reliability and speed at the same time by steering the flow of information of all participants digitally", explains Anke Giesen, vice chairwoman, Air Cargo Community Frankfurt.
An academic analysis by the Frankfurt University of Applied Sciences identified potentials for optimizations, which are now being implemented by community members like airlines, freight handling, forwarding businesses, ground handling services as well as IT and scientific service providers. Fraport ground handlings services (BVD) and the handling companies Swissport, Celebi, LUG and FCS are currently being audited according to CEIV pharma on behalf of the International Air Transport Association (IATA) to confirm the high quality of their pharmaceutical transports.
"The approval of an independent authority will emphasize our competence as Europe's leading gateway for pharmaceutical products", says Joachim von Winning, executive director, Air Cargo Community Frankfurt. More than half of the airlines that belong to the community are already certified according to CEIV pharma. This also applies to the Perishable Center and forwarders like Bolloré Logistics.
More than 100.000 tonnes of medicinal products, vaccines and other pharmaceutical products are handled annually by Frankfurt Airport. Especially Lufthansa and LUG are now expanding their dedicated handling space for pharma products with multi temperature zones to 11,000 square meters. In this area, palettes can be split up or combined without disrupting the cold chain. Moreover, Frankfurt Airport uses thermo transporters on the apron for nearly twenty years.

Photo Caption: Board of Air Cargo Community Frankfurt e.V. From left to right: Patrik Tschirch (LUG aircargo handling GmbH), Andreas Heil (Kewill GmbH), Anke Giesen (Fraport AG), Joachim von Winning (Air Cargo Community), Goetz Wendenburg (Kuehne + Nagel (AG & Co.) KG), Soeren Stark (Lufthansa Cargo AG), Michael Hoppe (BARIG e.V.)