Air cargo charter paves way for growth
While the current economic downturn has kept the global air cargo market on the edge, charter operators are making strategic decisions to capitalise on emerging opportunities.

Surya Kannoth

Moving a Christmas tree from one end of the world to the other may not seem like a particularly big deal for air charter operators, but when the tree in question is actually a subsea "Christmas" tree, used in offshore oil and gas fields, weighing in at 76 tonnes and measuring 6360x5000x4050 mm (L,W,H), it is definitely not your average delivery. The challenge with this particular subsea tree for one of Panalpina's oil and gas customers was that it was one of the largest and heaviest ever built, requiring a special frame for the transport by air.

Recounting the experience, Matthias Frey, global head of the Panalpina Charter Network, said that the challenges were manifold. "The clearance between the aircraft ceiling and the top of the cargo was 2 mm, and between the base of the main frame (on which the tree sat) and the aircraft floor just 9 mm. This mission demanded everything from our charter experts and transport engineers and is certainly one to remember."

"Great time pressure always plays into it. With our dedicated team for charters and emergencies that can be reached 24/7, we can overcome challenges and handle pretty much everything. What is crucial is open and honest communication with the customer and the various subcontractors. We have created a simplified process where the customer can focus on his tasks such as getting the shipment ready for carriage including documentation etc. while we organize the end-to-end logistics," he added.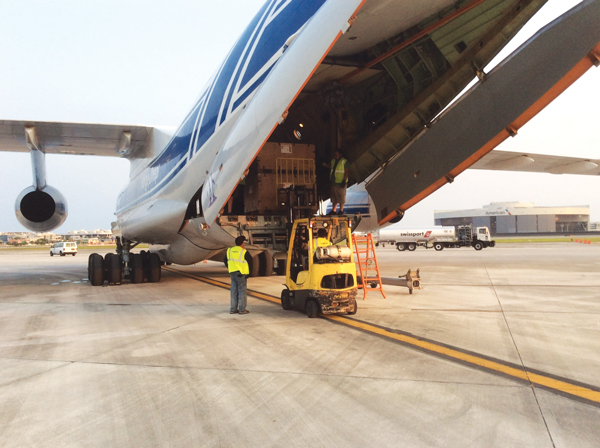 Volga-Dnepr Airlines was contracted by DSV Air & Sea to operate a charter for the Danish Red Cross from Billund to Miami International Airport carrying 25 tonnes of assorted relief cargo onboard the IL-76TD-90VD freighter. Volga has so far operated three charters carrying nearly 175 tonnes of relief goods and equipment.

Recalling a similar incident, Liana Coyne, director, Coyne Airways, that offers charter solutions across its network destinations around the Caspian Sea, in Iraq, Afghanistan and Africa, shares, "A client came to us in crisis: they had an urgent shipment of oversized pipes and aluminium panels that were required for the expo in Kazakhstan. They had initially planned the cargo on another flight, but there had been a delay in presenting it for loading and the operator had not been able to postpone their network flying to accommodate. We stepped in to find last-minute capacity, and moved the cargo for them on two nose-loading B747s and one IL76. It was a tight fit on the 747s but our operations team made it work, and the client was extremely relieved to have the cargo in the country in time for the event."

Challenges such as these for outsized goods renders air charter as the only option. At other times, unforeseen complications, time shortages or other urgent factors makes air cargo chartering the last resort possible. More often, the nature of the freight, use of remote or makeshift airstrips, or flights to airports not serviced by scheduled airlines impose the decision. Crisis situations such as natural disasters, the recent Qatar-Middle East standoff, the collapse of Hanjin Shipping, and of course, global events, call for charter services.

Despite its niche, the global air cargo charter market is getting competitive and is getting harder for brokers these days. To add to its woes, the economic downturn means that they can be squeezed on both sides: by clients who do not have the appetite to pay for a premium product like a charter, and by airlines who want to cut out the middle-man and have their own dedicated charter desks and sales networks.

"The only key to survival is to offer both the direct client and the operator value: something more than they can get from dealing with each other directly. For us, we keep this fact front and centre whenever considering any charter. We will often turn down requests for 'mainstream' destinations where we cannot really add anything, but we are always happy to quote to destinations on our networks or anything difficult and challenging that others might turn away from," discloses Coyne.

Offering something better than a straight charter maybe a logical and cost-effective solution for charter operators. This might mean a lower price by using a combination of scheduled lift, one-way flight or a part-charter. Or it might simply mean a higher service level: for instance, with diplomatic shipments and live animal flights. "For us, our focus is not on operating charters for the sake of operating charters: it is on supplying the right service to the client at the right price and in the required timeframe," explains Coyne.

Identifying new opportunities
For Chapman Freeborn, one of the leading global players for air charters, year 2017 has been very positive so far and they are expecting strong demand for the final quarter as well. "There is growing confidence in the cargo market as a whole. The charter market still has its challenges – but as a business we've always been very agile and adept at identifying new opportunities. We're fast-approaching our 45th anniversary which is a great achievement," says Pierre van der Stichele, group cargo operations director, Chapman Freeborn.

Chapman Freeborn works extensively in the field of humanitarian airlift, besides that, the global charter specialist is tapping the e-commerce space for new opportunities.  "We have ongoing airdropping projects in Africa, as well as ad hoc humanitarian requirements such as the international response to Hurricane Irma in the Caribbean," shares Stichele. "In terms of commercial cargo, we've seen the significance of e-commerce rising and this has been a positive for us this year. At times, charters are required to help serve new global markets and respond to sudden surges in demand. As a result, we've seen a significant increase in e-commerce related requests – particularly out of Asia to Europe," he adds.

Chapman Freeborn has also seen a good level of activity in the energy market despite the industry seeing a downturn in projects in the last couple of recent years. Going ahead, the air charter operator sees key markets in Asia, Africa and the Indian subcontinent having good potential.

"We see changes in the market all the time in terms of charter demand. For example, our business in Asia is growing all the time – but whereas the requests used to be on traditional trade routes ex. Asia to Europe and North America, increasingly we're seeing this shift to markets like Africa, India and the Middle East," Stichele says.

Panalpina's charter network has seen a significant increase in charter activities in 2017. There was particular strong demand to Mexico and Brazil (double-digit growth) and simply not enough commercial capacity in the market. The demand could only be bridged with extra charters. "To meet the surge in demand, we immediately organized extra charter flights in addition to our existing twice weekly flights from Huntsville to Sao Paulo, Viracopos, and from Luxembourg to Mexico City and Guadalajara (via Huntsville)," reveals Frey. "We are further developing the Panalpina Charter Network and its tools – so watch this space."

Global events spur charter market
When it comes to global sporting and cultural events, the charter market usually has a field day. With the FIFA World Cup scheduled to take place in Russia in 2018, charter players are getting geared up to service the nation.

Group director of leading aircraft charter specialist Air Charter Service's (ACS) commercial jets division, Matthew Purton, said in a statement, "The 2018 championship in Russia throws up a variety of problems with regards to getting people around. Russia is a huge country and the distance between some of the stadiums is more than 1,700 miles, which is a long coach ride! With only Russian registered airlines being able to perform domestic flights in the country, this drastically limits the choice of aircraft able to transport the teams and fans from hotels and training camps to matches."

After ACS flew five of the eight teams involved in the Confederations Cup in June and July this year, the charter specialist seems to be on course to take on the FIFA World Cup challenge. "I believe that we are in a great position to offer clients the best solutions for next year – we have two offices in Russia, one in Moscow and one in St. Petersburg," he adds.

Going niche
Recently, Qatar Airways Cargo's charter solutions product QR Charter shipped more than 100 tonnes of garments to the US in the Middle East carrier's first charter service to Rickenbacker International Airport in Colombus, Ohio.  The consignment, in collaboration with Sri Lanka-based EFL (Expo Freight), was flown on a Boeing 777 freighter from Colombo to Rickenbacker for US fashion retailer L Brands. Qatar Airways' chief officer cargo, Ulrich Ogiermann, said, "Our extensive cargo network, young and modern fleet of 20 freighters and our expertise in freight charters are the competitive advantages that enable us to customise our connectivity and services to most of the airports in the world."

The cargo carrier offers QR Charter, utilising its most modern fleet of Boeing B777s, Airbus A330s and Boeing 747 freighters. Qatar Airways Cargo's charter business showed a 150-percent increase in 2016-17, over the previous year. The cargo carrier has also performed charters for a variety of products such as horses, cattle, pharmaceuticals, odd-size shipments, oil and gas products, art, concerts and exhibitions, machinery, mining and humanitarian relief goods.

"With the current five times daily belly flights and twice weekly Airbus A330 freighters to and from Colombo, Sri Lanka, apparel and local industries in the country are offered more capacity, including quick and efficient connections to key trade markets in Europe and the Americas via our Doha hub."

Furthermore, with the ongoing Qatar crisis, the scheduled airline has been using its charter services for food imports. It is also upgrading capacity into the key region of the Indian sub-continent and offering more charter services to the commercial market.

Photo: Chapman Freeborn helped to keep an energy industry project on track by delivering a 45-tonne consignment of radiant coils from Vitoria in Spain to Mumbai, India.  With construction plans facing delays until the materials arrived, specialists at Chapman Freeborn's offices in India and Spain arranged for a Boeing 747-800F to be available on standby as the manufacturing process approached completion.