Air Canada flags off $16 million cold chain handling expansion project at Toronto airport
Air Canada has announced a $16-million project to expand and enhance Air Canada Cargo's cold chain handling capabilities on Friday.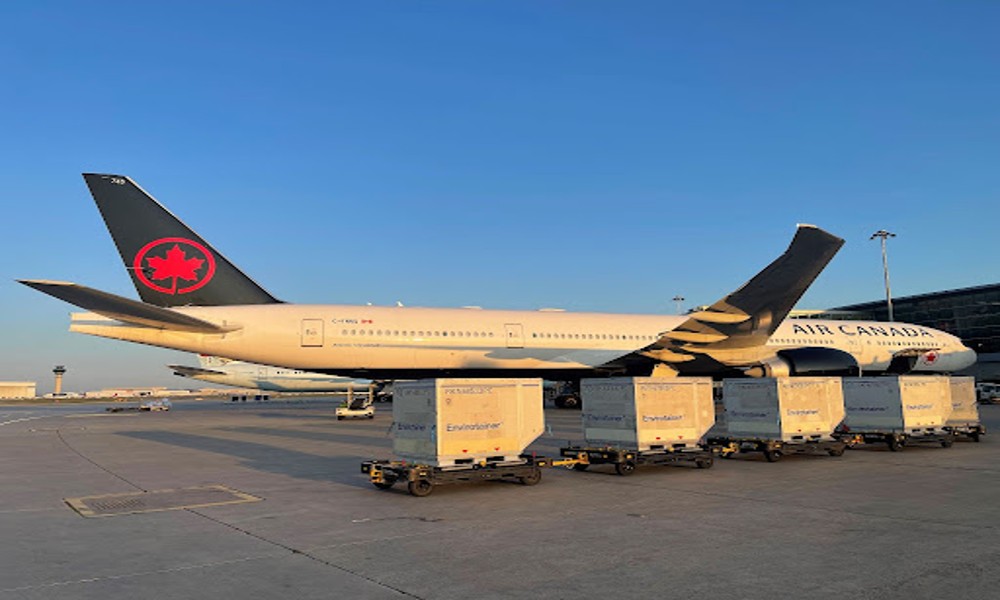 Leading Canadian airlines Air Canada on Friday announced the start of a $16-million project to expand and enhance Air Canada Cargo's cold chain handling capabilities for shipments such as pharmaceuticals, fresh food and other perishables at its Toronto Pearson International Airport cargo facility.
The project is part of Air Canada's strategy to further develop its cargo division, which also includes the acquisition of freighter aircrafts, the launch of dedicated freighter routes and an expansion into ecommerce.
"This is another important step for Air Canada Cargo as we continue to grow our business and invest in our facilities to better serve our customers. Our new temperature-controlled facility, which will be the only one of its kind for a Canadian airline, represents a significant addition to Air Canada's on-site capabilities at Toronto Pearson and to Canadian cold chain logistics. It will also give Air Canada Cargo a strategic advantage at our main hub, which handles more than 60 per cent of all our traffic, and will support the launch of routes to be served by our new freighter aircraft," said Jason Berry, Vice President, Cargo, at Air Canada.
Once completed, the upgraded facility will feature over 30,000 square feet of temperature-controlled areas and an expanded cooler to fully meet the requirements of cold chain shipments such as pharmaceuticals, fresh food and other perishables.
The extended cooler is slated to accommodate more unit load devices (ULD) and loose shipments with COL (+2°C to +8°C) and CRT (+15°C to +25°C) temperature requirements, provide additional racking, and an upgraded dedicated area for active temperature control units. These enhancements are the first step in a multi-year investment plan for the facility and are part of several planned infrastructure investment projects for Air Canada Cargo, by the air carrier.
The project also includes the installation of energy efficient equipment including temperature controllers that will constantly monitor the conditions inside the facility and only regulate the temperature as needed, resulting in reduced energy consumption. Rapid roll-up doors will also be installed to minimise the energy loss when the cooler is accessed to store or retrieve goods. LED lights will also be installed throughout the facility, in a bid to further reduce energy consumption.
Speaking on the development, Matthieu Casey, Senior Director, Cargo Global Sales and Revenue Optimization at Air Canada Cargo said,"Investing in our cold chain handling capabilities is a critical part of our strategy and expansion plans. We have made many changes and improvements to our pharmaceutical and perishable handling solutions in recent years, many were driven by the CEIV Pharma certification process, but also driven by working with our customers to understand their specific requirements."
Casey added, "In 2020, our operations teams also undertook a sweeping preparatory exercise to ensure we met the criteria for transporting COVID-19 vaccines. A state-of-the-art cold chain facility in Toronto is the next logical step, and fully aligns with the roll out of our initial freighter network, which will serve strong perishable markets like Miami, Quito, Lima, Mexico City and Guadalajara. It will of course significantly also improve our overall offering to all forwarders who specialise in cold chain shipments."
Incidentally, Air Canada is CEIV Pharma certified by IATA, which signifies that the airline meets the highest standards of safety, security, compliance and efficiency in the transportation of pharmaceuticals. The enhancements being undertaken in Toronto were guided, in part, by the specifications related to this certification.