Air Arabia Maroc launches new service to Agadir
October 11, 2017: Dublin Airport welcomes the launch of Morocco's low cost carrier Air Arabia Maroc's new twice weekly scheduled service to the Moroccan city of Agadir. Air Arabia Maroc, part of the Air Arabia Group, currently operates flights to 48 European routes from five cities in Morocco: Casablanca, Fez, Tangier, Marrakech and Nador. Its […]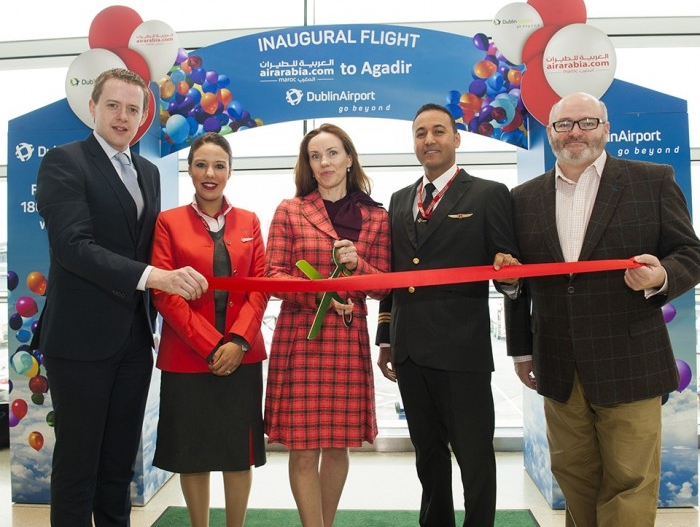 October 11, 2017: Dublin Airport welcomes the launch of Morocco's low cost carrier Air Arabia Maroc's new twice weekly scheduled service to the Moroccan city of Agadir.
Air Arabia Maroc, part of the Air Arabia Group, currently operates flights to 48 European routes from five cities in Morocco: Casablanca, Fez, Tangier, Marrakech and Nador. Its new Agadir base will have flights to seven European cities including Dublin.
The new service will operate on Wednesdays and Saturdays.
Vincent Harrison, managing director, Dublin Airport, said "Agadir is an exciting cultural as well as a great winter sun destination with lots to offer. The new scheduled service provides further choice and flexibility for passengers."
The new Air Arabia Maroc route to Agadir is one of 14 new services being launched at Dublin Airport this year.
Dublin Airport has direct flights to more than 185 destinations in 41 countries operated by a total of 47 airlines.
Photo: Attending the launch of Air Arabia Maroc's new Dublin to Agadir route is Brian Gallagher, Airline Business Development Manager, Dublin Airport; Cabin Crew Chaemae Elouzane, Air Arabia Maroc Leisure Sales Manager Europe, Mairead Ryan; Pilot Adil Noufissou and Dublin Airport, chief communications officer, Paul O'Kane.