T'way Air appoints Asia Airfreight Terminal as cargo ground handling agent in Hong Kong
Dec 29, 2016: Asia Airfreight Terminal (AAT) has been appointed by T'way Air as their cargo ground handling agent in Hong Kong.  T'way Air has commenced three weekly passenger services between Hong Kong and Daegu South Korea using B737-800 aircraft since December 13, 2016.  It is the first carrier to offer direct flights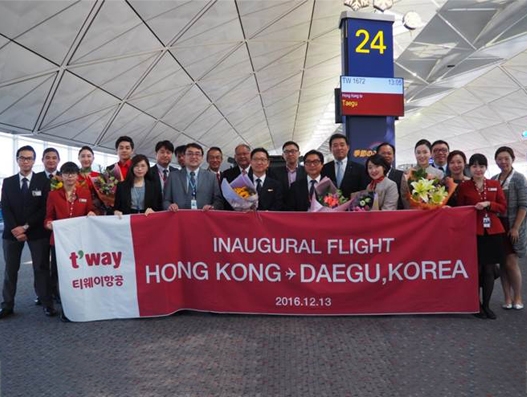 Dec 29, 2016: Asia Airfreight Terminal (AAT) has been appointed by T'way Air as their cargo ground handling agent in Hong Kong. T'way Air has commenced three weekly passenger services between Hong Kong and Daegu South Korea using B737-800 aircraft since December 13, 2016. It is the first carrier to offer direct flights between these two cities, which will further enhance the network connectivity of Hong Kong International Airport.
Hyung-Yi Kim, Vice President Business & Management for T'way Air, said, Hong Kong is an overseas station that is strategically important to us. We are very excited to launch our scheduled passenger services between Hong Kong and Daegu along with our service partner AAT. In view of high demand for business and leisure travel between the two regions, we look forward to increasing our flight frequencies as well as expanding air links from Hong Kong to more Korean cities.
Kuah Boon Kiam, General Manager for AAT, states, We extend our heartiest congratulations to T'way Air for the commencement of direct services from Daegu. We are proud to be their service partner for cargo handling in Hong Kong. AAT has always been known to provide flexible, customized services to all our customers and we look forward to contributing to T'way Air's cargo growth in Hong Kong through our commitment to high service standards and innovative ideas. Our goal is to exceed expectations in delivering quality services.
AAT will provide all services pertaining to cargo and documentation handling to T'way Air in Hong Kong.