Aiming at smooth ride for flowers & perishables
<p style="text-align: justify;">Feb 22, 2017: Flowers & perishables transported by air were discussed at the 'Air Shippers' Forum – Flowers & Perishables' hosted by Saudia Cargo on the first day of the three day event Air Cargo Africa.<br /><br />The forum presented an excellent platform for shippers and other stakeholders involved in the supply chain […]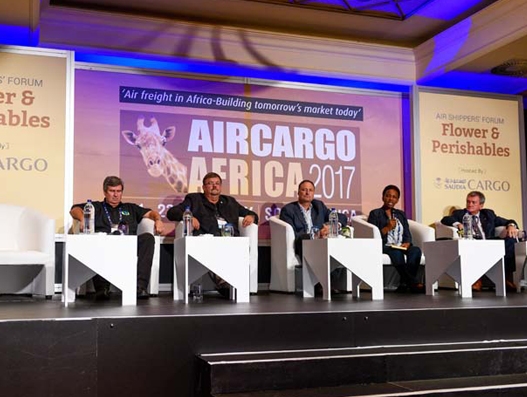 Feb 22, 2017: Flowers & perishables transported by air were discussed at the 'Air Shippers' Forum – Flowers & Perishables' hosted by Saudia Cargo on the first day of the three day event Air Cargo Africa.

The forum presented an excellent platform for shippers and other stakeholders involved in the supply chain to discuss ways to ensure smooth logistics for flowers.

The forum brought together various industry stalwarts to discuss solutions to ensure that the best quality of flowers reach the consumer. The panelists for the session were: Conrad Archer, Country Managing Director, Panalpina Airflo, Kenya; Jane Ngige, Chief Executive Officer, Kenya Flower Council; David Beecham, Senior Manager, Cargo Products, Qatar Airways Cargo; Dirk Hanekom, CEO, Agri All Africa and Stanley Winterbach, Managing Director, Agri All Africa Nigeria.

The session was moderated by Joseph Notter, Vice President, Operations, Saudia Cargo.

Flower and perishables, being temperature sensitive commodity, need to handled with lot of care throughout the entire supply chain. Every stakeholder deals with various areas of concern when transporting this commodity.

David Beecham, Qatar Airways Cargo, mentions three areas of frustration in the supply chain. One of the major frustration area is ensuring that the shipper actually present the cargo to us at the right temperature in the beginning.

He said, "Because at the end of the day, if the product isn't at the right temp right at the beginning of the chain, it will never be at the right temp throughout the chain."

Expressing her concerns, Jane Ngige, Kenya Flower Council, said, "My first one is securing markets for Kenya in terms of the flower industry and here you are referring to an industry which is responsible for very many jobs in Kenya affecting about two million livelihoods. My specific concerns would be the kind of policy guidelines that we have at both in the private sector and government level. I think the government should be not allowed to be marginalised by the very proactive private sector. My second concern would be how can we deal with the ever rising costs of production at all levels of the industry throughout the value chain. And finally the sustainability of the industry in terms of the environment within which we grow but also in terms of the labour force and the perception of the industry globally."

Conrad Archer, Panalpina, highlights lack of integration as one of the concerns in the supply chain.

He said, "The lack of integration between government agencies and the constant need for entering the same information multiple times when dealing with not nationally but internationally across forwarders and how this in terms of a perishable product which is fast flowing is really holding back our business a lot."

"Second of all, I would like to repeat the quality and reliability of the cold chain. A lot of work needs to be done. One of the problems is that our business is in multiple contributors down the whole supply chain. I think lack of knowledge is not adequate amongst all the players within the supply chain. I think we can do a lot to improve that."

Dirk Hanekom, Agri All Africa, believes that the African continent holds lot of opportunities if the challenges are dealt with properly.

He said, "There is an opportunity, we just not managing to put this all value chain together the way we should."
Stanley, said, "We've got the land, the rain, the sunshine, the people that want to produce, but the products do not get to the market. There is where we need the people who are sitting here, we have a responsibility towards all the farmers in Africa. The problem between the producer and the market needs to be resolved."
Waste of level so common
Jane, said, "Looking at the level of investment that the farmer puts into this product, looking at the level of institutional support that this farmer gets from the government and also the amount of work put in by the cargo handlers, the forwarder and airlines to carry this produce into the market for it to only go into waste."

She added, "I think this is absolutely unacceptable. I think it's not enough to say it's unacceptable, we must also come up with solutions. What we have done particularly in the flower industry in Kenya by looking at the whole value chain is to see where we can close gaps of erosion using a standard because I think standards are very useful."

"We have come up with a national standard that regulates from the breeder to the grower to the consolidator and the cargo handlers, and increasingly, we would like to involve air freight companies as well."

"If we've managed to put an 'A' quality flower, then it must be in our interest to ensure that 'A' quality flower reaches the consumer and may be that way we can get few more euro cents for our hardwork."

David, added, "Understanding the supply chain from all areas is critical, and I don't think we are doing enough of that as a collaborative growth."

Solutions to reduce the waste were also discussed.