Agility posts robust Q2 despite tough market environment
Aug 14, 2019: Global logistics provider Agility reported second-quarter earnings of 12.99 fils per share on net profit of KD 21.6 million, an increase of 8.1 percent over the same period in 2018. Q2 EBITDA grew 31.2 percent to KD 48.6 million, and revenue increased 3.2 percent to KD 396.3 million. First-half earnings of 25.18 […]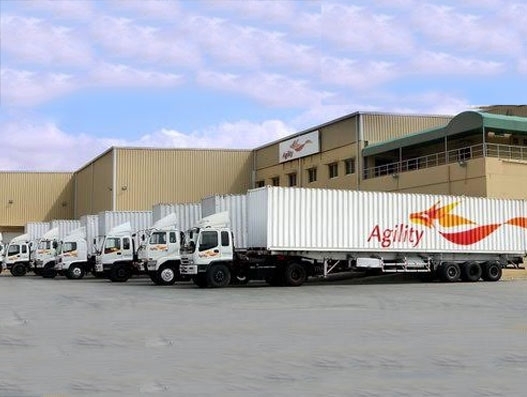 Aug 14, 2019: Global logistics provider Agility reported second-quarter earnings of 12.99 fils per share on net profit of KD 21.6 million, an increase of 8.1 percent over the same period in 2018. Q2 EBITDA grew 31.2 percent to KD 48.6 million, and revenue increased 3.2 percent to KD 396.3 million.
First-half earnings of 25.18 fils per share and net profit of KD 41.9 million were up 7.7 percent. First-half EBITDA was KD 95 million, an increase of 27 percent. Revenue for the first half was KD 775 million, an increase of 2.5 percent.
Tarek Sultan, Agility vice chairman and CEO, said, "We had a good Q2 despite the tough environment we operate in. GIL reported very good results and continues to implement its strategy to drive operational efficiency. Agility's Infrastructure companies performed well, and key initiatives in each business unit are moving ahead according to plan."
Global Integrated Logistics (GIL) achieved EBITDA growth of 7 percent (excluding IFRS 16 impact) despite higher operating expenses related to new facilities and higher staff costs for operations and commercial requirements. GIL's Q2 reported EBITDA was KD 15.9 million, or KD 10 million excluding IFRS 16 versus KD 9.3 million in Q2 2018.
GIL Q2 gross revenue fell 2.6 percent to KD 281.9 million, mainly due to currency fluctuations. On a constant-currency basis, GIL revenue grew 1 percent. Net revenue increased 4 percent to KD 69.4 million, mainly as a result of better ocean freight and contract logistics performance.
The global air freight market continued to be under pressure. GIL Air Freight net revenue decreased 1.8 percent as the result of lower job volume and tonnage, although the decrease was offset in part by higher yields. Q2 2019 tonnage fell 8 percent versus Q2 2018. The decrease was the result of weak market conditions and lower demand across industries and geographies, along with a return to more normal volumes following a spike in high-volume shipments a year earlier. The Air Freight market was affected by volume declines and shifts that have resulted from US-China tariffs and import restrictions.
Strong ocean freight performance was driven primarily by yield improvement, despite a 2 percent drop in TEUs. Ocean freight performance was strongest in the Americas and Asia Pacific.
Contract logistics growth continued in Q2 with gross revenue of KD 32.8 million, a 1 percent increase from the same period in 2018. The Middle East-Africa region, notably the Kuwait and Egypt markets, was the key driver of growth and improved margins.
Net revenue margins for GIL improved to 24.6 percent in Q2, up from 23 percent a year earlier.
During the first half of 2019, GIL EBITDA improved 69.5 percent on a reported basis, taking into account the impact of IFRS 16 (it remained at the same level after excluding the IFRS 16 impact). Revenue decreased 1.9 percent on a reported basis (or increased 2.1 percent on a constant-currency basis). GIL net revenue improved 3.1 percent in the first half.
GIL is focusing on accelerating the roll-out of its global operating platform, as part of a broader digital transformation strategy that is intended to drive improved customer experience, more effective supplier management, enhanced business efficiency and productivity, and better data for decision-making.
Agility Logistics Parks (ALP) reported 15 percent revenue growth for the quarter. Revenue from facilities completed in late 2018 contributed to this growth, as did yield improvement at existing facilities. In Kuwait, ALP is looking to develop new facilities that optimize the use of its existing land bank. In Saudi Arabia, ALP has completed the development of two of the three warehouses it is building in 2019, each with 40k SQM capacity. ALP Saudi Arabia is now moving ahead with the development of the third warehouse. In Africa, ALP projects are progressing well. New warehousing space at the ALP in Ghana will be delivered soon. More space in other locations will be added towards the end of 2019.
Tristar, a fully integrated liquid logistics company, posted 23.2% revenue growth in the second quarter, driven by increases in road transport and warehousing operations from new contract wins from new and existing customers, in addition to the shipping business. Tristar continues to execute and to look for opportunities to unlock additional value for its shareholders.
National Aviation Services (NAS) grew revenue 1.6% in the second quarter. NAS's performance this quarter was affected by airspace closures and a decrease in commercial flights in some countries where it operates. However, NAS anticipates a rebound towards the end of the year.
At United Projects for Aviation Services Company (UPAC), a leading real estate and facilities management company operating in Kuwait, revenue fell 2.3 percent in the second quarter. The decline was largely the result of a shift in passenger traffic to dedicated airline terminals, along with a reduction in the number of flights operating out of Sheikh Saad Terminal.
Earlier this year, UPAC began car park management operations in (T4), the newly dedicated Kuwait Airways terminal. In Abu Dhabi, construction continues to progress on Reem Mall, the $1.2 billion project set to become the new retail and leisure attraction in the Emirate. Reem Mall is scheduled to open in late 2020. UPAC continues to optimize its existing real estate management platform in Kuwait and work to expand its presence there and elsewhere in the region.
GCS, Agility's customs modernization company, posted revenue growth of 12 percent, driven by increased trade activity in Kuwait, in addition to new service offerings. GCS continues implementing initiatives to drive efficiency and improve profitability.