AFM KLM E&M to handle maintenance of Vietnam Airlines' 787 GEnx engines
March 27, 2018: In a strategic move to reinforce the long-standing MRO relationship between two groups, AFI KLM E&M recently signed a 12-years flight hour support contract to equip GEnx engines of the Vietnam Airlines' fleet of Boeing 787s, which is expected to augment to 19 aircraft by 2021. Under the contract, AFM KLM E&M […]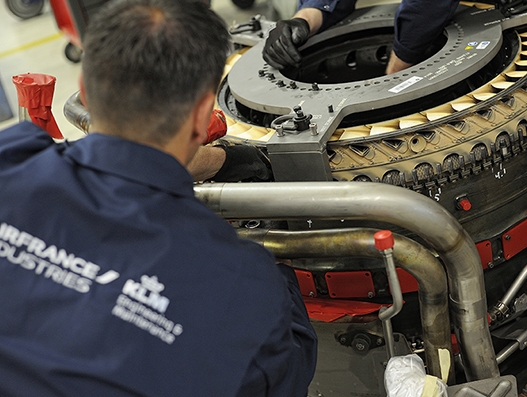 March 27, 2018: In a strategic move to reinforce the long-standing MRO relationship between two groups, AFI KLM E&M recently signed a 12-years flight hour support contract to equip GEnx engines of the Vietnam Airlines' fleet of Boeing 787s, which is expected to augment to 19 aircraft by 2021.
Under the contract, AFM KLM E&M will be handling maintenance of Vietnam Airlines' 787 GEnx engines for 12 years. AFI KLM E&M also provides spare engine access to Vietnam Airlines, to guarantee seamless continuity of its operations.
As an MRO backed by an airline that operates the GEnx, AFI KLM E&M has built a body of operational and technical know-how, which is unrivaled in the market place.
AFI KLM E&M deploys its MRO capabilities across the entire spectrum of GEnx overhaul and maintenance operations. It involves overhaul and test services to on-wing/on-site support, in addition to part and engine module repairs.
Among its list of customers, which includes Vietnam Airlines, AFI KLM E&M offers all-round GEnx expertise with a performance guarantee, at both operational and economical levels.
Duong Tri Thanh, president and CEO, Vietnam Airlines said: "The agreement with AFI KLM E&M is a significant importance to Vietnam Airlines, which further enhances our time-honoured partnership in a wide range of areas. From our previous successful collaboration on the component support to the Vietnam Airlines' 787-9s, and the first quick-turn shop visit operations carried out on the GEnx, we have full confidence in AFI KLM E&M's abilities to guarantee smooth operations of our Boeing 787-9 aircraft, and fleet in general. Vietnam Airlines' Boeing 787-9 aircraft will better serve the long haul domestic and international flights, thereby strengthening our commitment to bring consistent 4-star quality service and the best customer experience."
Another important factor behind signing the agreement was the strength of the partner relationship between two companies. In 2018, Vietnam Airlines and AFI KLM E&M celebrated a quarter-century of working relationship.
Vietnamese airline has received quality work delivered from AFI KLM E&M, which also supported the flag carrier in maintaining its GE90s, another wide body engine with a design similar to the GEnx's.
In 2015, two partners agreed that AFI KLM E&M would provide component support for Vietnam Airlines' fleet of 787s.
Anne Brachet, executive vice president, AIR FRANCE KLM Engineering & Maintenance said: "Vietnam Airlines is our long-standing customer in South East Asia, and the one that we have supported in the airline maintenance sphere for several years. We are honored that the carrier has placed its trust in us once more, and we are fortunate to be involved in its fleet renewal program by providing component, and now engine support for its fleet of 787s."
The cooperation reaffirms the long-standing relationship between Vietnam Airlines and Air France. Since 1994, Air France and Vietnam Airlines have been working together on the operational side, with partnerships in the aircraft maintenance, crew training and transfer of technology of 10 new A320s, which were among the most modern type at that time. In October 2017, two companies signed a comprehensive strategic partnership, which allowed two airlines to optimise operational efficiency, service quality and expertise in technical maintenance of aircraft equipment.