AFKLMP Cargo transports 3,000 tonnes of flowers to Europe using Boeing 747-400F
February 14, 2018: During last two weeks, Air France KLM Martinair Cargo transported about 3,000 tonnes of flowers originating from Kenya, Ecuador and Colombia to the European and Asian markets to meet the Valentine's Day demand. Boeing 747-400 full freighter and combi aircraft we used, which had additional main deck capacity to carry flowers originating […]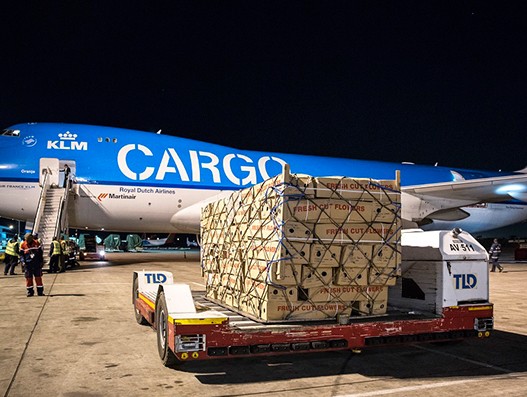 February 14, 2018: During last two weeks, Air France KLM Martinair Cargo transported about 3,000 tonnes of flowers originating from Kenya, Ecuador and Colombia to the European and Asian markets to meet the Valentine's Day demand.
Boeing 747-400 full freighter and combi aircraft we used, which had additional main deck capacity to carry flowers originating from Nairobi, Quito and Bogota. Flowers were later transported to Dutch, English, Italian, French and Russian markets, besides Japanese markets.
Marcel de Nooijer, executive vice president of Air France KLM Martinair Cargo said: "We are strongly committed towards the flower market, and have successfully met the seasonal demand during this year's Valentine's Day."
In 2017, AFKLMP Cargo shipped over 50,000 tonnes of flowers from Kenya, Zimbabwe, Ecuador and Colombia to Schiphol.
Transporting flowers requires stable logistics 'cold chain', besides quick and efficient transportation to keep it fresh.
AFKLMP maintained its cargo hold temperature between two to eight degree Celsius to transport flowers to Europe.
In order to seamlessly move flowers and plants from growers to wholesalers, Royal FloraHolland, Schiphol Cargo and AFKLMP Cargo recently initiated the Holland Flower Alliance. It's an ambitious group of floricultural logistics professionals with expertise in the floral supply chain.
Amsterdam is Europe's logistics centre for the flower market, while Schiphol Airport continues to remain as the world's preferred flower hub, which connects all key production and consumer markets.
Located in the Netherlands, Royal FloraHolland is the largest trading centre for flowers in the world, and plays a crucial role in onward distribution.