Aerospace logistics preparing for a smooth take-off
With rapidly ageing fleet in the mature markets and growing demand from airlines and fleet operators for next generation, more fuel-efficient aircraft equipped with advanced avionics, original equipment manufacturers (OEMs) are ramping up production to meet customer needs. This has resulted in creating pressure on the aerospace supply chain like never before. The need to innovate has never been more important.
Surya Kannoth

Aerospace has always been one of the core industries for air cargo operations worldwide. While its share in total volumes may be significantly small, volumes of aerospace commodities steadily increase every year with solid growth of over five percent per annum.
With the growing size of fleets for passenger and cargo airlines as well as demand for upgrades and enhancement of older aircraft, the transportation of aerospace cargo remains on a strong footing. Furthermore, with the income growth of emerging markets of the middle classes in the likes of China, India and South East Asia, air travel demand has witnessed an uptick over the last five years and is forecast to continue. This upsurge is bound with increased necessity for manufacturing with multi-tier production requirements and increased volumes in aerospace logistics, both planned (for manufacturing, routine spare parts delivery, maintenance supplies, etc) and time-critical (supply chain bottlenecks or Aircraft on Ground (AOG) situations being the case), which gives opportunity for expansion and growth in the aerospace logistics sector. 
"Until ten years ago, the aerospace logistics sector was very stable and traditional and far behind other industries like high-tech and automotive. Thereafter, some leading aerospace companies started to further see supply chain management as a possibility to create a sustainable competitive advantage in the market - both for the production logistics as well as in the aftermarket," explains Erik Goedhart, senior vice president, global head of aerospace and industrials, Kuehne + Nagel.
The increasing globalisation of aerospace manufacturing means that OEMs have become reliant on ground, sea and air transport to move components between factories. In some cases - particularly satellites - these destinations are not readily accessible by road. With more technology and resources being poured into the space sector, the scope for significant opportunities is growing in the coming years. 
"There is now a trend towards satellite constellations, particularly those proposed by communications companies such as OneWeb. This means that multiple satellites will be travelling to launchpads in future. Consequently, corresponding satellite containers will have to be constructed with air transportation in mind. As a subsidiary of the design authority of the AN-124, we would expect to liaise with satellite manufacturers to ensure the conformity of these future containers," said Paul Bingley, commercial manager, Antonov Airlines. 
Aerospace remains to be one of the key industries for Antonov - satellites, aircraft engines and helicopters accounting for a large part of the business.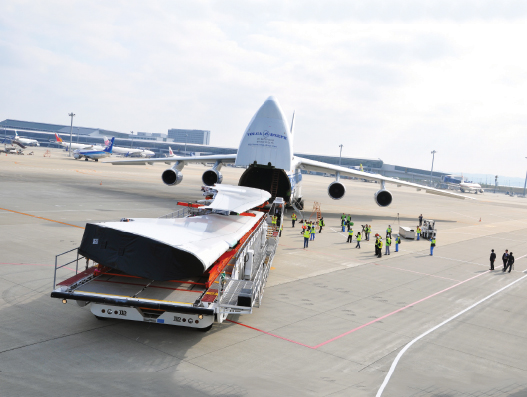 In recent years, the increase in aircraft orders, production timelines and locations of aircraft production has exerted pressure on the supply chain and logistics providers are now looking at disruptive innovations to stay ahead of the race. "Innovation now comes with digitisation and predictive data in order to predict what will be happening instead of to react to what happened. In summary, the key strategic issues in the aerospace supply chain are not that different from, for instance, 2007, however, in ten years from now, the issues for the supply chain and even value chain will be completely different," cites Goedhart.
"Another opportunity opens with emerging number of nano, micro and small satellites transported to different parts of the world with unprecedented development of digitalisation, deeper utilisation of IoT (Internet of Things), which embraces more and more aspects of our daily life and leads to the increase of equipment needed for functioning worldwide," adds  Axel Kaldschmidt, global director – aerospace, Volga-Dnepr Group.
Investing in aerospace solutions and services
Addressing the needs of the aerospace industry where spare parts are air freighted at short notice to help repair aircraft that have been stranded due to technical reasons and lack of availability of the right spare part, Emirates SkyCargo recently launched Emirates AOG – a new airfreight product designed for transporting aircraft parts quickly across the globe.
Special features of the new product include a late cut-off time for cargo acceptance at origin – up to four hours prior to scheduled time of departure for shipments weighing less than 100 kilogrammes; expedited delivery at destination – maximum of 2.5 hours from actual arrival time of the aircraft; track and trace visibility of the consignment during transportation and priority handling.
Emirates SkyCargo has also created a unique 'Must Go' bag for bulk loading of small AOG shipments. Designed in a bright red colour, the bag alerts Emirates SkyCargo staff to the urgent nature of shipment ensuring dedicated priority handling for the aircraft part in transit, especially during airside operations. 
"Emirates AOG builds on a number of our strengths – our extensive network spanning over 155 destinations across six continents, our frequency of operations to destinations as well as our own vast experience in transporting aircraft parts for Emirates' fleet. With Emirates AOG, customers can be assured of a rapid, efficient and reliable service to transport parts that can help get their aircraft back into service at the earliest," said Nabil Sultan, Emirates divisional senior vice president, cargo, in a press statement announcing the launch of its new product offering.
Kuehne and Nagel are also investing heavily in this sector and is leading the transformation of the supply chain. "We are investing millions per year in the aerospace sector in order to further integrate business models with our customers by innovation and digitization. Our overall aerospace solutions portfolio is called ''Supply the Sky'' and modules have been added over the past 20 years," Goedhart adds.
The logistics player has worked on solutions to cater to different segments of aerospace. For instance, when it comes to engine logistics, KN EngineChain helps to cope with the specific demands of engines now worth up to $30 million. Kuehne Nagel's skylogistiX offers specialised solutions for the management of in-flight equipment and product catering to the fleet, aircraft configuration and load factors in different cabin classes; and spare parts management product KN SparesChain offers a certified global backbone of spare part hubs close to aircraft production and major MROs. Recently, Kuehne and Nagel launched a dedicated solution for aircraft (and train) interiors, KN InteriorChain as interiors are becoming the competitive airline edge to the customer. 
Volga-Dnepr Group, another important player in the sector, has consistently developed the necessary engineering expertise and trained highly-skilled logistics experts, particularly catering to the aerospace domain. These experts are able to organise delivery for every component of aerospace cargo, be it helicopters, small airplanes, spare parts, engines, turbofans, satellites, and others.
The group provides engineering expertise and services for different types of aircraft – ramp and non-ramp. For ramp airfreight lifters such as Antonov AN124 and Ilyushin IL-76 Stage IV, Volga-Dnepr has developed special operational procedures for transportation of delicate and oversized nomenclature with step-by-step evaluation processes, starting with the provision of all necessary drawings through to details   including requirements indicating change of pressure during air transportation, which should be considered while preparing cargo for loading. 
"To further support our customers, Volga-Dnepr has strategically-located regional operational bases to provide faster and more cost-efficient access to its fleet and services. The locations of the bases in different regions of the world were chosen with the customers' interest in mind and to increase accessibility of air freight services to the customers," explains Kaldschmidt.
These operational bases are supported by highly qualified logistics sales and customer support specialists, load-planning executives, loadmasters, operations, navigators and ground handling specialists who are ready to find the best logistics solutions 24/7. The aircraft are staged in geographically strategic regions in order to decrease the costs for positioning/depositioning with available parked aircraft and loading equipment.
For non-ramp freighter services, AirBridgeCargo has launched its 'abcXL' product, which covers transportation of aerospace off-size shipments on board Boeing 747 freighters. Additionally, ABC has established a 24-hour control tower to monitor consignments of special cargoes (including aerospace) and to proactively respond to service disruptions to ensure it consistently meets customers' delivery deadlines. "Furthermore, our special cargo department has developed databases for existing aircraft engines, stand configurations and models which are necessary for their proper transportation. This simplifies and expedites request processing with customers reporting the engine model and ABC specialists ready to offer logistics solution with the correct stands," Kaldschmidt adds.
The group is developing an AOG center, which is at its final stage of introduction and implementation and will serve as a 'one-shop-window' for customers/airlines, experiencing AOG situation. 
A new facility has been developed in Michigan to help the aerospace industry with specialist testing requirements. Developed and operated by Drive System Design, the North American subsidiary of UK-based driveline engineering consultancy Drive System Design, the facility will offer a unique approach to the design, test and development of various sub-systems in the aerospace industry.
"As aircraft become more complex, so does the testing required to validate it, as a result we have seen an increase in demand for specialist testing expertise," says Jon Brentnall, president, DSD. "Our parent company has developed what we believe is Europe's most advanced, commercially-available development center for gearbox efficiency, with many test systems designed in-house to ensure that areas that have not previously received sufficient attention can now be investigated. It is our intention to build similar test capability tailored to the North American market."
The facility will initially house a loaded gearbox efficiency test rig and will be developed throughout the year to finally include three pieces of gearbox test equipment. The current rig, which is fully operational, is suitable for various applications, such as layshaft and planetary gearboxes for APU's and landing gear applications.
Further expansion throughout the year will include a hydraulic test stand for hydraulic valve body development and a dynamic tilt rig, which provides enhanced lubrication flow analysis capability. "This will require a larger facility in the area, which we are already investigating," says Brentnall. "We are delighted to be offering this opportunity for the automotive industry in North America, but also for aspiring engineers looking for their next challenge – the initial expansion has already generated nine engineering vacancies."
Outsourcing work to third-party providers gains ground
There is plenty of room for growth in aviation services and logistics as airlines and governments continue to outsource more maintenance and fleet support work.  
Operators (airlines and governments) want/need to focus on flying passenger and cargo, not buying spare parts or doing heavy maintenance checks on aircraft.  Given tight government budgets and commercial margins, they also want to reduce operating costs, as well as the capital costs associated with needing to buy and keep spare parts on-hand. So third-party providers can ease these pain points by handling the parts buying, forecasting and repairs for them - all aggregated under one supplier so that it is easier to manage.
Low-cost, regional carriers and start-ups in emerging markets were the first to embrace outsourcing given their limited balance sheet but now even legacy carriers are starting to see the benefits. "In an emerging market like India, we expect a lot of growth in this area. That is part of the reason we recently announced a joint venture with Indamer to build a maintenance, repair and overhaul (MRO) facility in Nagpur, which is already under construction and will handle heavy maintenance for narrow-body aircraft in India as soon as early next year," revealed Darren Speigel, vice president, OEM aftermarket services, AAR. 
Engineering services and expertise is critical to most of AAR's services – from heavy maintenance checks of airframes, to component repair to cabin modifications and upgrades.
While AAR has always sold used rotable parts for aircraft, it started selling OEM factory-new parts as an extension of commercial and government part manufacturer and the company sees this as a huge aftermarket opportunity in the sector, Speigel noted.
AAR now also provides integrated component support programmes based on flight-hours (known as Power-by-the-Hour), which provide not only access to the industry's largest inventory of parts but also to its rotable parts pools for exchanges and AOG, component repair and repair management and also allows the addition of other AAR services like airframe or landing gear maintenance and overhaul.
Integrating supply chain models with business models of aerospace companies
The biggest opportunity for the sector lies in out-of-the-box thinking - integrating and digitising logistics and supply chain business models with the business models of aerospace companies. Happily enough, the industry itself will put pressure to accelerate this development as there are huge challenges in the supply chain because of enormous increase in aircraft orders and production. The supply chain backbone will not be able to support this in traditional ways, and therefore, innovation and digitisation remains key.