Aeromexico starts service to Calgary, Canada from Mexico City
Jun 16, 2017: Aeromexico has started service on Calgary-Mexico City route on June 1, with daily nonstop service. This is the airline's fourth Canadian destination operated with Boeing 737-800 aircraft The addition of Calgary to our route network in Canada strengthens our presence by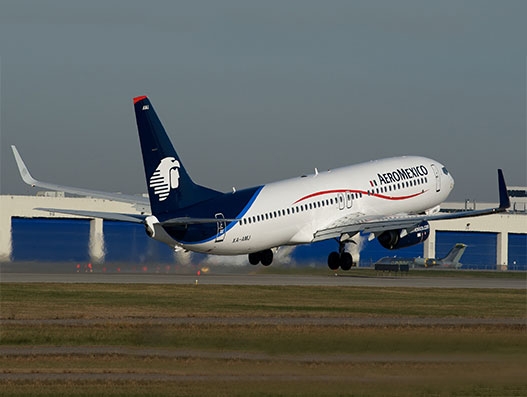 Jun 16, 2017: Aeromexico has started service on Calgary-Mexico City route on June 1, with daily nonstop service.
This is the airline's fourth Canadian destination operated with Boeing 737-800 aircraft.
"The addition of Calgary to our route network in Canada strengthens our presence by providing another travel option to Central Canada. Aeromexico currently serves the four largest cities in Canada, establishing us as one of the best options to travel directly from Mexico City to the province of Alberta while allowing our customers traveling from Canada to connect to Leon (Bajio), Guadalajara, Puerto Vallarta, among the 44 destinations we serve in Mexico," said Anko van der Werff, Aeromexico's chief revenue officer.
"This destination is known for its growing oil and gas industry, and is ideal for business travelers looking to fly directly to Calgary without having to stop in other cities in Canada. Calgary is also a hub where our codeshare partner WestJet allows us to aggressively expand connectivity options to 35 destinations nationwide," Anko added.
"Aeromexico's new daily non-stop service from YYC Calgary International Airport to Mexico City provides an important new link to a growing business market, allowing a number of industries in our province to benefit from a direct connection to one of Canada's largest trading partners," said Bob Sartor, president and CEO for The Calgary Airport Authority.
"As our city and province works to diversify the economy, YYC will continue to play a significant role in driving the economy forward by creating new business and tourism opportunities through our extensive route network."
"Increasing air access to keep the province competitive in the market place is essential as our government works to strengthen and diversify Alberta's economy. Alberta is ready to welcome more visitors, investors, and trade partners from Mexico," said Ricardo Miranda, Alberta Culture and Tourism Minister.
In 2011, Aeromexico started to serve the Canadian market with direct service to Montreal, Quebec and in just six years, the carrier has expanded its presence to the country's Central, Western and Eastern provinces. In addition, as of June 19 this year, the airline will increase service to two daily flights from Mexico City to Montreal, Toronto and Vancouver, for the summer season through August 20, offering more than 9,900 seats per week and more than 60 nonstop flights to all customers traveling to this northernmost country on the North American continent.
Photo Source: Wikimedia