ACL Airshop reveals expansions plans at IATA WCS 2017
<p style="text-align: justify;">Mar 16, 2017: ULD firm ACL Airshop has announced its long-range worldwide expansion plans at the IATA World Cargo Symposium in Abu Dhabi.</p> <p style="text-align: justify;">In 2016, the Greenville headquartered company opened four new hub locations and enhanced three others. New sites include Narita/Tokyo, Bogota, Mexico City, and Beijing. Service enhancements were added […]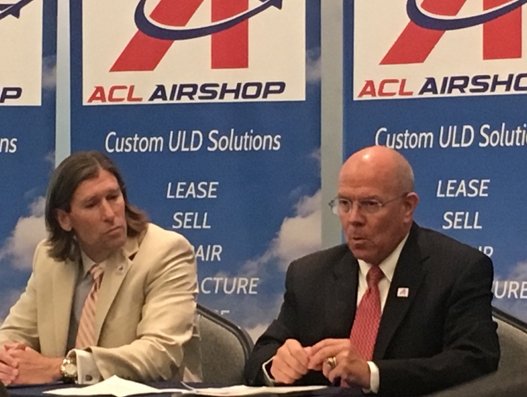 Mar 16, 2017: ULD firm ACL Airshop has announced its long-range worldwide expansion plans at the IATA World Cargo Symposium in Abu Dhabi.
In 2016, the Greenville headquartered company opened four new hub locations and enhanced three others. New sites include Narita/Tokyo, Bogota, Mexico City, and Beijing. Service enhancements were added at DFW Texas, IAH Houston, and LAX California. 2016 was a year of positive transitions and brisk growth of new sites with the strong new parent company of ACL Airshop, and now the organisation will begin accelerating its worldwide network investments on behalf of its hundreds of airlines customers. ACL Airshop serves over 200 airlines of all sizes and types, currently at 37 major airport locations.
For 2017 and beyond, the company plans to ramp-up its hub investments around the world. At the IATA symposium, the company also rolled-out its new logo and completely revamped website. This year, the growth will include at least 5 new service hubs, plus 2 new Repair Stations in Bogota and Hong Kong (adding to the existing service operations at those two key sites).
Tony Morgan, president & CEO of ACL Airshop, said, "We will grow the network by providing Custom ULD Solutions via Leasing, Sales, Manufacturing, Repairs, or Fleet Control. We will replicate our footprint at 70 or more global locations while maintaining the highest standards in quality, service, integrity, and loyalty to our clients and partners. We make our customers measurably more efficient; saving them time and money. And, our customers know that we are globally available around the clock every day. Our expansion strategy is exciting and well-capitalised: we are creating the strongest niche leader for Custom ULD Solutions in the world."
The company has a significant service presence at strategic locations such as Dubai, Hong Kong, Japan, and mainland China. Other related subsidiaries of ACL Airshop include DOT Tiedown (manufacturer of cargo nets and straps), and Animal Flight Services (flight transport for horses and other animals).
The February 2016 majority investment in ACL Airshop by Ranger Aerospace and its Private Equity partners won "Deal of the Year" award from M&A Advisor magazine, a worldwide financial publication.
Ranger Airshop of Greenville SC is the latest investment platform created and managed by Ranger Aerospace. As the parent company, Ranger brings additional capital strength and management resources to support ACL Airshop's continuing growth. Ranger's experience includes three large-scale, successful aerospace services consolidation platforms since 1997. Ranger previously grew similar aviation services operations such as "ASIG" to 56 airports across 12 time zones, and expanded "Ranger International" to 22 major air bases around the world, in addition to other quality-centered high-growth enterprises in aerospace. Ranger's plan is to enhance and expand ACL Airshop through strategic investments and organic growth, entering new lines of technical capacity, fostering deep operational improvements, expanding geographically, and possibly acquiring complementary companies.
Steve Townes, Ranger Aerospace founder and CEO of Ranger Airshop Holdings, stated, "Ranger has doubled and even tripled companies in previous ventures and we intend to do the same with ACL Airshop."
Ranger Airshop is capitalised by four large institutional partners and the company's senior management; the lead investor is Argosy Private Equity, part of the Argosy Capital fund family. This is Argosy's fourth venture with Ranger over the past 15 years.