Abu Dhabi Ports receives ISO 9001:2015 certification
<p style="text-align: justify;">Feb 15, 2017: Abu Dhabi Ports has obtained the ISO 9001:2015 certification, an internationally recognised standard for quality management systems. The scope of the awarded certificate covers all units and subsidiaries of Abu Dhabi Ports including Abu Dhabi Marine Services (SAFEEN) and Maqta Gateway, the company's innovative port community system.</p> <p style="text-align: justify;">The […]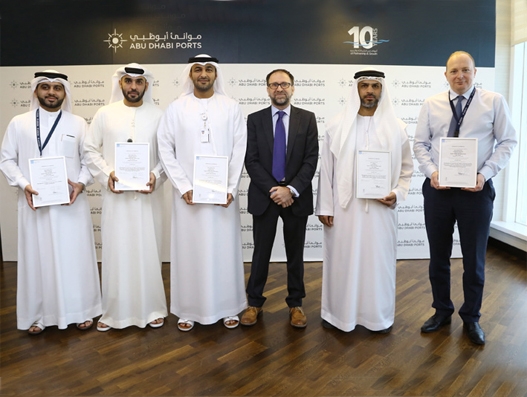 Feb 15, 2017: Abu Dhabi Ports has obtained the ISO 9001:2015 certification, an internationally recognised standard for quality management systems. The scope of the awarded certificate covers all units and subsidiaries of Abu Dhabi Ports including Abu Dhabi Marine Services (SAFEEN) and Maqta Gateway, the company's innovative port community system.
The ISO 9001 certification was awarded to Abu Dhabi Ports after the Lloyds Register of Quality Assurance (LRQA) carried out the audit of the company's management system.
"Ever since inception, instituting quality management processes has been at the top of our priorities in order to achieve excellence and enhance competitiveness. This was reflected on the services we provide to our customers to meet their demands and the expectations of the ports and maritime transportation sector. Becoming ISO 9001:2015 certified complements to the list of acclamations we have acquired over the years. It also reaffirms our commitment to maintaining world-class standards that serve the industry and facilitate global maritime trade. We are extremely proud of this achievement and I would like to thank the team at Abu Dhabi Ports for their dedication which has resulted in attaining this prominent certificate," said Captain Mohamed Juma Al Shamisi, CEO, Abu Dhabi Ports.
The ISO certification for quality management systems is based on principles such as customer focus, risk- and process-based approaches, and the commitment of top management to continuous improvement.
Organisations accredited the ISO 9001:2015 demonstrate the ability of consistently meeting customer and regulatory requirements, while enhancing customer satisfaction.