Abu Dhabi, Beijing airports collaborate to evolve as sister airports
December 26, 2017: In a strategic move to strengthening cooperation and ties between two international aviation hubs, Abu Dhabi Airports recently signed MOUs between Abu Dhabi International Airport (AUH) and Beijing Capital International Airport (BCIA) to evolve as sister airports. The MoU was signed at the BCIA headquarters. According to reports, the MoU has set […]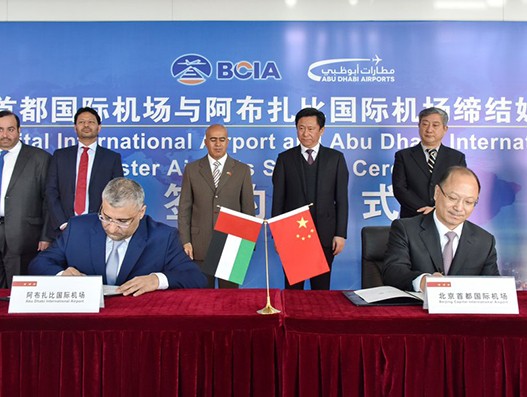 December 26, 2017: In a strategic move to strengthening cooperation and ties between two international aviation hubs, Abu Dhabi Airports recently signed MOUs between Abu Dhabi International Airport (AUH) and Beijing Capital International Airport (BCIA) to evolve as sister airports. The MoU was signed at the BCIA headquarters.
According to reports, the MoU has set the stage for mutually beneficial collaboration between both airports by way of knowledge and experience sharing. The airports are expected to collaborate in areas, such as staff training across all aspects of airport operations and management including terminal operations, airside management, route development, and commercial management.
The MoU also allows for cooperation on joint projects that will have positive returns on both entities, including hub development, airport planning, and service quality evaluation.
Abdul Majeed Al Khoori, acting CEO of Abu Dhabi Airports said: "We are excited to be collaborating with a globally leading aviation partner. This MOU will be the base for an ongoing strategic partnership and future collaboration between AUH and BICA. It will enable us to share best practices, explore challenges, and work together with an aim to elevate quality of services and facilities in both the international hubs."
Liu Xuesong, chairman of Beijing Capital International Airport said: "Both BCIA and AUH have state-of-the art infrastructure, besides having profound knowledge in airport operation and management. We welcome the opportunity to working together with our colleagues at AUH to share information and expertise, improve passenger experience, and strengthen the relationship between Beijing and Abu Dhabi."
Abu Dhabi Airports till date has entered into sister airport agreements with two other international airports%u2014Chicago Airport and Narita Airport, with the purpose of driving the growth and development of the aviation industry, locally and globally.