ABC Airlines ensures smooth flight ride for 200 breeding cattle bound for Russia
Nov 29, 2018: AirBridgeCargo Airlines (ABC) and animal transportation specialist Intradco Global have safely delivered 200 breeding cattle onboard a charter flight from Amsterdam to Yuzhno Sakhalinsk in Russia. To ensure their comfort and well-being, the Russian-based all cargo carrier transported the heifers in a carefully-maintained temperature environment. Their safe arrival in Russia will help […]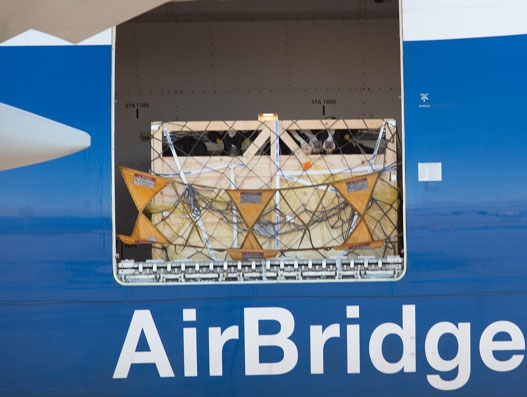 Nov 29, 2018: AirBridgeCargo Airlines (ABC) and animal transportation specialist Intradco Global have safely delivered 200 breeding cattle onboard a charter flight from Amsterdam to Yuzhno Sakhalinsk in Russia.
To ensure their comfort and well-being, the Russian-based all cargo carrier transported the heifers in a carefully-maintained temperature environment.
Their safe arrival in Russia will help to further develop the agricultural and farming industry in the Far East of the country.
The cows, each weighing some 500 kilograms, were transported onboard one of AirBridgeCargo's latest generation Boeing 747-8 freighters.
Tom Lamb, Intradco Global's project manager said: "This represents one of the largest single shipments of dairy cattle Intradco Global has ever coordinated."
Sergey Lazarev, general director of AirBridgeCargo Airlines commented: "So far in 2018, we have safely delivered various breeds of cattle weighing more than 450 tonnes to the region onboard four charter flights. The operational capabilities of our modern Boeing 747 freighter fleet, alongside our specialist 'abc ?are' services and our expertise in serving the Russian market, makes AirBridgeCargo the best choice as a long-term partner for the transportation of live animals by air."
In the first 10 months of 2018, ABC has transported approximately 2,000 tonnes of live animal cargoes, an increase of 35 percent on the same period of 2017, reinforcing its global reputation for moving live animals and recognizing the high level of customer demand for its specialist 'abc Care' services.