AAR signs component support agreement with Hawaiian Airlines
August 01, 2017: AAR has secured its first Airbus NEO fleet customer by signing a long-term component support agreement with Hawaiian Airlines. AAR will be providing comprehensive flight-hour component support for the airline's brand-new fleet of 18 A321neo's via AAR's inventory hub in Chicago, as well as stock positioned in Hawaii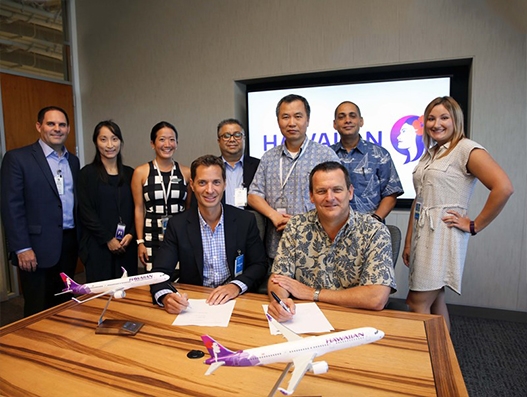 August 01, 2017: AAR has secured its first Airbus NEO fleet customer by signing a long-term component support agreement with Hawaiian Airlines. AAR will be providing comprehensive flight-hour component support for the airline's brand-new fleet of 18 A321neo's via AAR's inventory hub in Chicago, as well as stock positioned in Hawaii and other strategic operating hubs.
"AAR continues to expand our component flight-hour support business, and we are excited to add the A321neo to our broad range of supported platforms," said John Holmes, President & Chief Operating Officer, AAR, at a Hawaii signing to mark this important event. "Breaking into a new fleet type is even more exciting with a strong and successful customer like Hawaiian Airlines."
"This flight-hour agreement is the latest addition to AAR's long-term partnership with Hawaiian Airlines, which AAR has been supporting for over 15 years with our wide range of services," said Chris Jessup, chief commercial officer, AAR.
"We are excited to partner with AAR for component support for our newest A321neo fleet," said Jim Landers, vice president of Maintenance and Engineering, Hawaiian Airlines.
AAR is a leading provider of aviation services to the worldwide commercial aerospace and government/defense industries.