STIHL, Hellmann open new central warehouse in Voelklingen, Germany
Facility features modern warehousing technologies such as smartwatches that display stock levels and instructions.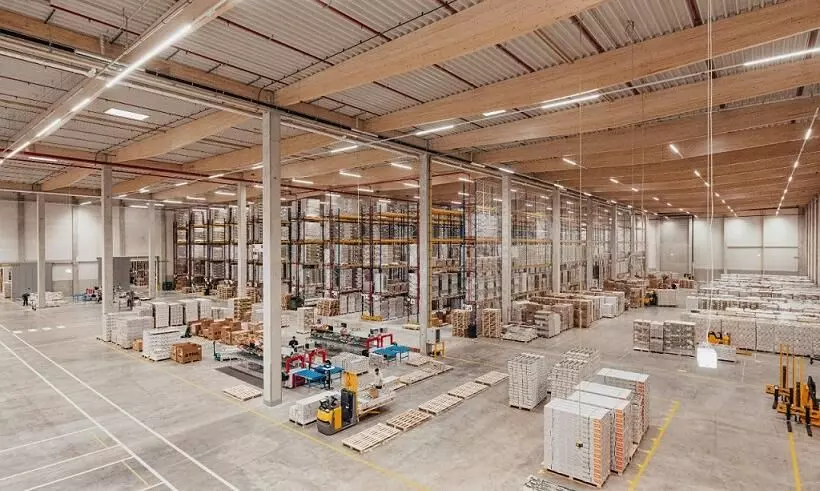 STIHL opened a new central warehouse in Voelklingen, Germany on November 14, 2022. "The logistics site was built by Dietz AG as the investor and is operated by Hellmann Worldwide Logistics," says a release from Hellmann.
With the new building, the STIHL Group is not only increasing its capacities but also improving its logistical efficiency and speed, the release added. "Battery products and all STIHL tools manufactured at the Tirol production site are stored at the new logistics and distribution location from where they are delivered to all STIHL sales companies and STIHL dealers worldwide - mainly in Germany, France and the Benelux countries. In addition, products ordered directly from STIHL's own online store are supplied from Voelklingen. While the first deliveries have already been handled from Voelklingen since August of this year, the warehouse will be fully operational from January 2023."
Nikolas Stihl, Chairman, STIHL Advisory Board and Supervisory Board, says: "With the central warehouse in Voelklingen, we are not only eliminating existing and foreseeable capacity bottlenecks but are also optimally positioning ourselves with a view to targeted growth, especially in the future field of batteries. After all, you can only remain a market leader in our industry if speed and cost efficiency in logistics are also internationally competitive in the long term."
The state-of-the-art warehouse has a total area of approximately 58,000 m² including around 3,000 m² of mezzanine space and 1,600 m² of office space. The facility features modern warehousing and picking technologies such as smartwatches that display stock levels and instructions, replacing the classic hand-held scanner. Thanks to the combination of narrow-aisle, live storage and wide-aisle storage, the facility is optimally adapted to the goods being stored and enables maximum flexibility, the release said.
"With the new building, we are optimising our processes from order handover to customer delivery," Georg Miehler, Head, Sales Logistics, STIHL. "I am firmly convinced that this highly competitive logistics system will enable us to meet the high demands of our customers in the best possible way."
STIHL will invest more than €150 million in the central warehouse during the agreed contract period until 2032. "For example, additional self-propelled picking equipment will be used as of next year. The 120,000 m² site also offers the possibility to expand the warehouse area by 30,000 m² as of 2025 so that STIHL is well prepared for oncoming rises in sales."
Volker Sauerborn, COO, Contract Logistics, Hellmann Worldwide Logistics says: "The inauguration of the STIHL central warehouse is a real milestone for all of us and we are very much looking forward to continuing to grow together in the coming years as part of our strategic partnership with STIHL."
Sven Eisfeld, Managing Director, Germany, Hellmann Worldwide Logistics, adds: "With the new location in Voelklingen, we are significantly expanding our presence in southwest Germany and thus creating the conditions for further growth in the region. At the same time, I am very pleased that we have created more than 120 new jobs in the Germany-France-Luxembourg triangle, which will further increase in line with the planned volume growth in subsequent years".