Seafood Souq signs RSA Global as global freight partner
RSA Global will also be exclusive supply chain partner in UAE to handle storage requirements and B2B distribution.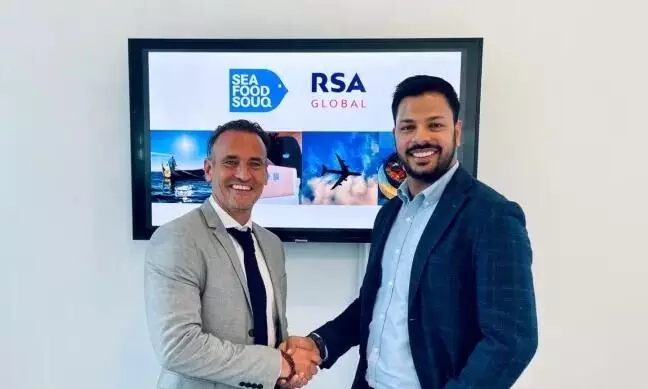 Seafood Souq (SFS), a digital ecosystem for the global trade of seafood, has signed RSA Global as their exclusive global digital freight and supply chain partner. RSA Global will also be the exclusive supply chain partner in the UAE to handle local storage requirements and B2B distribution.
"Seafood Souq is on a mission to tackle one of the world's most pressing environmental and food security challenges – the exploitation of our oceans," says a statement from RSA Global. To do so, they have created a digital ecosystem that enables global buyers to procure traceable seafood products directly from the source in support of the United Nations Sustainable Development Goals, the statement added.
"We are very delighted to be Seafood Souq's partner and share their goal of creating a sustainable seafood supply chain," says Abhishek Shah, CEO and Co-Founder, RSA Global. "With our most recent technology developments through our Click Ecosystem, we will streamline all aspects of their operations as well as strengthen our cross-border and international partnership. We are very excited to join Seafood Souq on their quest to grow their business and ultimately support the cause behind this revolutionary platform they have created."
Sean Dennis, CEO and Co-Founder, Seafood Souq, added: "We look forward to exploring the promising potential of an aligned partnership such as this one with RSA Global. Creating change entails harnessing the power of community and collaboration with like-minded businesses – from our seafood suppliers to operations partners, and be a bridge that connects them to the seafood customers around the world."