DB Schenker supports Porsche GT4 e-Performance Tour
The GT4 e-Performance Tour, with support of green logistics, will start with the GP Ice Race in Zell am See in Austria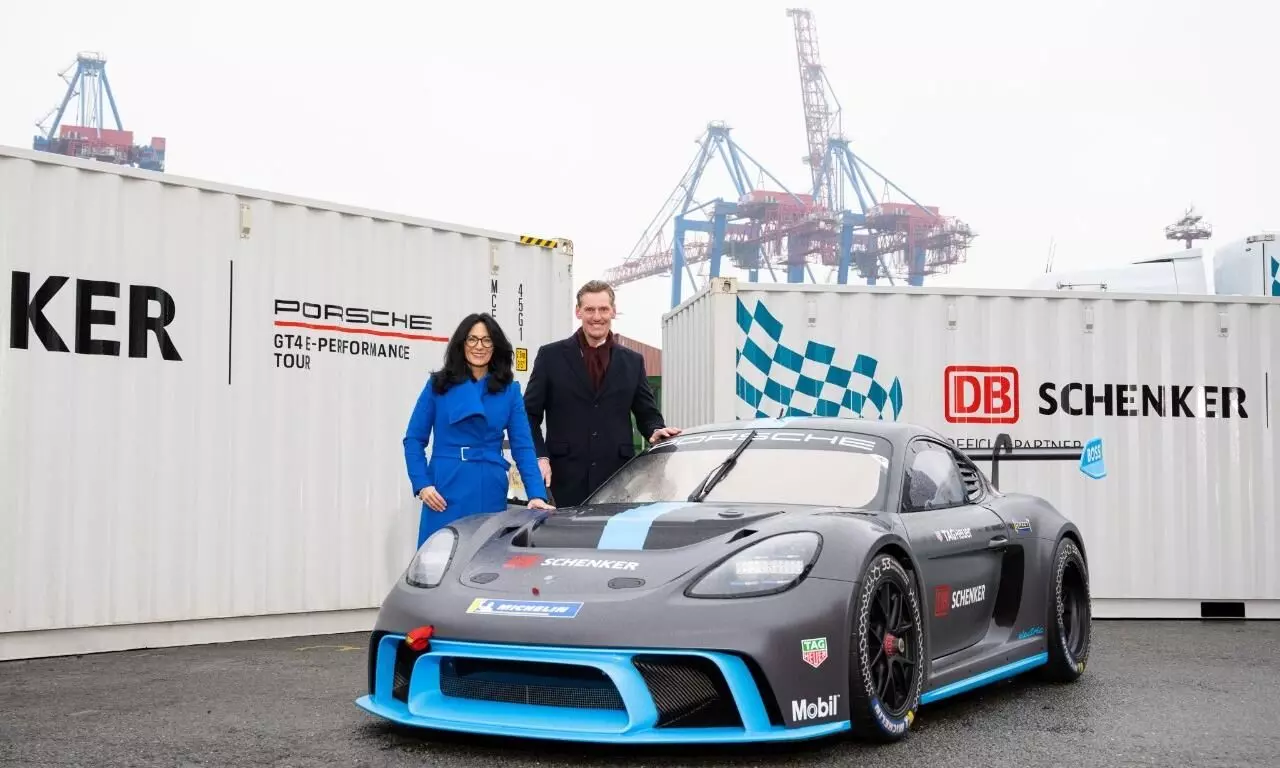 DB Schenker and Porsche Motorsport will launch a global demonstration tour for the electrically powered GT4 e-Performance race car prototype.
"DB Schenker has organised a complete sustainable logistics solution for the electric race car's trip around the world, which will include stops at select racing locations," says a release from DB Schenker.
"Among other things, only the most environmentally friendly modes of transport will be used for the tour, which will cover a total of 13,000 kilometres. The GT4 e-Performance Tour will kick off at the end of January with the legendary GP Ice Race in Zell am See in Austria. After that, the electric race cars will be transported in a sustainable manner by ship, rail, and trucks to other events in Europe, the U.S., and Asia."
Jochen Thewes, CEO, DB Schenker says: "This partnership is enabling us to take a major step forward together on the road to green mobility – we're very much looking forward to addressing this challenge, and we have the right solutions to ensure we'll be successful. During the tour, we will be able to highlight the progress we've made with the development of environmentally friendly transport and logistics solutions around the world."
The customised logistics solution for the GT4 e-Performance Tour includes environmentally friendly and emission-free rail transport of the concept vehicles as well as transport with all-electric trucks and ships powered by marine biofuels, the release said. The latter mainly consist of fuels made with used cooking oil methyl ester (UCOME).
"We're very happy that we were able to get DB Schenker onboard as a partner for our motorsports logistics," says Barbara Frenkel, Member, Porsche Executive Board. "Together, we want to generate additional momentum for sustainability and sustainable solutions. Porsche has an ambitious sustainability strategy that we are implementing together with our suppliers. We are now taking steps to make our value chain carbon-neutral on balance by 2030, and this also includes ensuring a carbon-neutral service life on balance for future battery-electric models."
Green logistics for PorscheThe GT4 e-Performance will offer Porsche the possibility to provide customers with a motorsports option with all-electric race cars in the future, the release said. "The strategy here makes use of the technology components in the IAA Mission R concept car, which Porsche presented in 2021 as a vision for the future, but which the company has now made a reality. The vehicle's body is made of, among other things, composite materials based on natural fibres. The prototype, which is not for sale, will be presented for fans and potential customer teams around the world. The electric race car will also collect valuable data during the tour, which will enable Porsche to gain new knowledge for use in the future – and not only for motorsports."
Thewes says: "We believe we have an obligation to continue our pioneering work and move ahead even further in the area of clean logistics – and ensure consistent and transparent communication in this regard as well."
DB Schenker plans to achieve complete sustainability transparency in 2023, the release said.