Will Tata-owned Air India make a comeback with a strong cargo footprint?
To understand the Air India origin story better, it's necessary to travel back to a time before Air India's fledgling years, and visit its precursor – Tata Air Services – later rechristened Tata Airlines.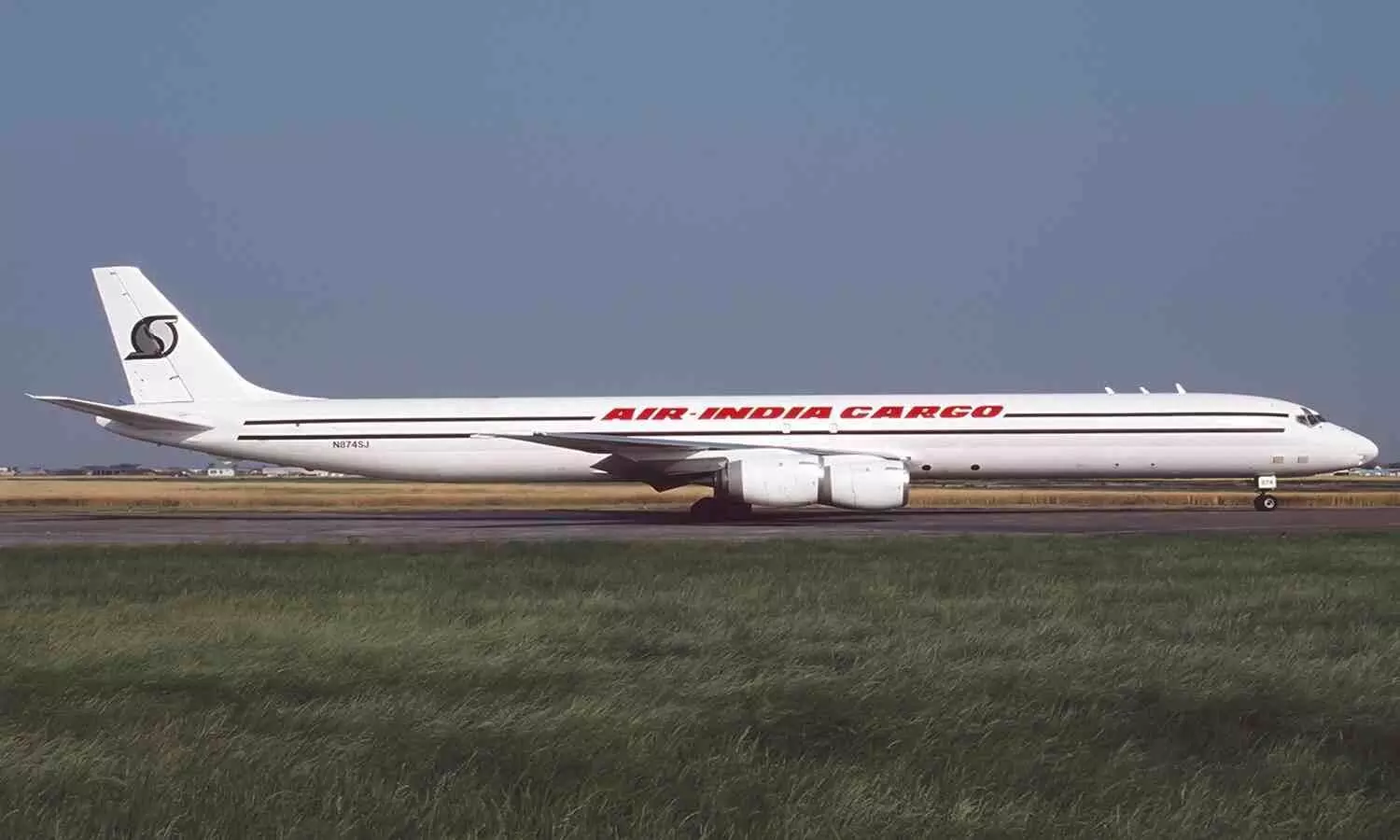 On October 8, 2021, one simple tweet from Ratan Tata, the chairman emeritus of the Tata group, sent Indians across the world into a tizzy.

"Welcome back, Air India."
The airlines' return to the Tata fold comes after 68 years of being with the government. In 1953, a nationalisation move gave the Jawaharlal Nehru government full control of the airline. Having shelled out ₹2.8 crore to the Tata Group, the government took over 100 percent stake in the venture.
Though Air India's homecoming gives many a reason to rejoice, the move comes with its own set of challenges. Experts from the aviation industry concur that it will take a couple of years for Air India to snap back on its own two feet.
More pressing, however, is the proverbial white elephant in the logistics sector that seeks a prescient answer to a looming question. How will Air India – once a leading cargo carrier – strategise its comeback to the industry?
A Trip Down Memory Lane
To understand the Air India origin story better, it's necessary to travel back to a time before Air India's fledgling years, and visit its precursor – Tata Air Services – later rechristened Tata Airlines.
It all began in April 1932, when Tatas bagged a contract enabling them to carry mail for the erstwhile Imperial Airways – a British commercial airline.
Two single-engine de Havilland Puss Moths – three-seater monoplane aircraft – comprised the Tata Air Services fleet, which later went on to include a de Havilland Leopard Moth as well. The aircraft was purchased from the British Havilland Aircraft Company.
On October 15, 1932, Tata Air Services charted history as it took its maiden flight from Karachi to Mumbai, and later to the trade hub of South India, Madras, now known as Chennai.

It was flown by none other than India's first licensed pilot – J.R.D. Tata, who had acquired his licence in 1929. Within the first year, the airlines went on to cover 2,60,000 km with about 10 tonne of mail, raking in a profit of ₹60,000 the same year.
Air India Cargo was born the very same year, earning the title of being India's very first Asian airline to operate freighters. Freighter operations began aboard a Douglas DC-3 aircraft. Air India Cargo went on to acquire a Boeing 747 and a Douglas DC-8 later, which were well used on international routes in the 1980s and 1990s.
Air cargo services briefly teetered and halted, before picking up pace once again in 2006. This time around the airline kick-started freighter services withIndian Airlines merging with its domestic subsidiary Alliance Air.
Reminiscing on Air India's glory days, Balasubramanian P, a former Air India employee, remembers working with Air India in the 1970s as a youngster, raring to go, juggling a range of roles. "It was my first first-ever job, and it was a small station back then in Madras. So, the benefit of working in a small station is that you're the jack of all trades," Balasubramanian chuckled.
Balasubramanian worked with Air India for 14 years before moving to Dubai to join Emirates where he worked for more than two decades managing its cargo global operations and cargo quality and standards. He is now the founder and CEO of Air Cargo Consultancy International Services (ACCIS) and provides consultancy and advisory services to airports, airlines and even governments on logistics and air cargo developments.
One of the roles Balasubramanian donned at Air India was that of a trainer since he was also involved with Indian Airlines despite being primarily employed by Air India. "With cargo, one has to follow procedures and regulations set down by the International Air Transport Association (IATA). During those days when Air India and Indian Airlines were separate, I was a trainer for some time. We used to be the main trainers for Indian Airlines because they did not have much international exposure."
He added that one of the major challenges with cargo is that it was always under the radar. However, he warns that the cargo sector must not be dismissed by any airline and should instead be leveraged.
Balasubramanian recalled a 1978 Air India's television commercial that went on to garner appreciation, even at a global level. "However, cargo is always under the radar. So, companies like Air India must consider it to the optimum. One must not miss out on it just because it's not always in the limelight."
A Southern Trade Hub

Critical to Air India's cargo story is the southern leather goods hotspot that was erstwhile Madras.
Balasubramanian added, "In the 1970s, Madras reigned as a traditionally export-oriented market that took up sizeable space and weight allocated to it, making it a significant station."
Back then, Chennai emerged as a leader in leather commodities. "Chennai was predominantly famous for finished leather, as well as leather goods and leather products, basically leather in every form."
Known as the 'leather belt', Vellore, Ambur and Gudiyatham regions were famous for leather goods. "We were predominantly famous in Chennai, especially for finished leather, leather goods, leather products, and even sort of leather in whichever form. Vellore was about two and a half hours from Chennai, and Ambur is the heart of the leather industry even today. So there'd be many trucks carrying these goods to Chennai port, one of the oldest ports, since the main transportation was by sea."
Chennai also played a significant role in cargo connectivity. "Madras was very significant as Bangalore and Hyderabad that had smaller airports were dependent on Madras at that time."
Ultimately, most of the cities in the south depended on Madras for commercial connectivity. "Bangalore was always a highly industrialised city, part of Mysore state then before it became Karnataka in 73. So, even Mysore state used to depend on Madras airport for all their imports and exports especially import more because they were all manufacturing unit."
"Cargo is always pushed under the radar. So, companies like Air India must consider it to the optimum. One must not miss out on it just because it's not always in the limelight."


Balasubramanian P, CEO & founder, ACCIS
Now, however, Air India has a range of airport options to choose from. "In yesteryears, one could depend only on a station called Madras but today, one can look several others. I am only limited by my vision and if I'm willing to have my vision far and wide, I can have my strategy not just be happy at a tactical level, but go strategise and reach for it. I don't have to fear foreign carriers coming and taking the cuts of my traffic available. If I am good, I am good, full stop. It is for my customer to feel and perceive that I am good so that he continues my business," Balasubramanian said.
On the Map
The 1970s ushered in an era of a booming cargo business for Air India. The airports in Madras and Bombay were the busiest cargo hubs. Unlike today, the operating system was very different. Being small stations, even with different departments, employees were multi-tasking and handling all sorts of daily operations.
Explaining the cargo routes, Balasubramanian said they had a couple of 747 cargo carriers operating through Chennai. Naturally, the 747 had excellent capacity for pallets and 18 containers. It was a shared flight, which meant all the cargo was not meant solely for Madras.
He explained that the routing was Sydney-Singapore-Madras-Bombay and back. "The base was always Bombay at the time. So, from Bombay, the flight would start and touch down in Chennai within an hour and 45 minutes. It would then take another three hours and 45 minutes to reach Singapore. Then, a seven-hour trip later it would land in Sydney, following which it would do the rotation back."
A while later, this was discontinued, and the 707 would fly out about five times a week. "This route was of Bombay, Madras, Kuala Lumpur, Singapore and back. But sometimes, they would do a 'round robin'. This meant that if you touch Kuala Lumpur on the first round, then you don't touch it on the way back and vice versa."
As to when Air India introduced the first freighter in their fleet, Balasubramanian quipped, "They did so sometime around the mid-70s. These freighters were mainly wet-lease aircraft from a few companies. Our first freighter was Seaboard World Airlines– a DC 873 F model – with a 65 tonne-70 tonne capacity. Altogether, it had 18 pallets, of which 17 would be east-west pallets and the 18th pallet will be a bit of north-south."
Balasubramanian recalls how the Wednesday routings schedule looked like with aircraft flying from Bombay, Madras, Rome and Frankfurt. "We had good freighters that regularly brought in sizable import cargo into Madras. We were still not a very open economy but still, we were very important for import-oriented countries."
On the list of commodities, textile ranked high as an industry. "Textile was one of the predominant industries so, textile machinery became very important. There were mainly mechanical parts, engineering parts, and also a little bit to assist automobile industry from a spare parts perspective."
Other equipment included telecom apparatus to cater to the growing needs of a burgeoning economy that was India at the time. "Since India was growing at the time, lots of communication equipment, especially telecom equipment was of great value. We used to support from fringe companies like L storm or other companies. Those companies would use our freighters to put the machinery back on the flight and then get into Bombay, Madras and other places."
"Air India has the largest global network for an Indian carrier. No Indian carrier flies to America to Europe to Japan to Australia barring Air India. So, you have got pilots and engineers who are running the show, you have a steady market share on which you can build the foundation."


Jitender Bhargava, former executive director, Air India
What Went Wrong
Despite its strong connectivity and robust cargo ventures, Air India struggled to sustain itself. Asked about how Air India lost sight of cargo as a priority, Balasubramanian said he had a two-pronged approach to the answer.
"Firstly, there was no dearth of cargo at all. The leather market and all other markets were thriving. The pharma market was not that strong at that point, but it was emerging. However, when the wet leases for the aircraft came to an end, Air India started considering acquiring its own aircraft and capacity. What went wrong here was how it was affected by analysis paralysis, where one keeps wondering 'what if?' and you never make a decision and it is left in limbo."
The second challenge was the lack of policy by the government. "There was not much change in policy. The license permit raj was prevailed in India. There was no regulatory change in the scenario either. So, then why would a transporter, in this case, Air India change its approach? They will simply build upon what you have been able to achieve during those late 1970s. However, the economy began opening up in the 1990s and you need to be a sustained player to build a market in such a case. In 1991, they should have scaled up on a sort of gradual change to keep up with the new, open markets," Balasubramanian said.
Once the government takeover of Air India was complete, the airlines started losing sheen. Caught in many a political crossfire, Air India was soon embroiled in a range of complex problems. The emergence of many cheaper and indigenous airlines across India only compounded Air India's struggle to remain afloat.
Jitender Bhargava, who retired as executive director of Air India, said competition only brought the airline's weaknesses to the fore. "There was little that could be done because people appointed as chairman and managing director were from the bureaucracy and their sense of commitment to the organisation was almost nil. Things began to worsen till a stage came when the government made it very clear that you cannot run Air India the way it was running."
Looking Ahead

As Air India positions itself to soar higher under the Tata wing, aviation experts detail the different challenges it faces today and in future.
Bhargava felt the ₹18,000-crore disinvestment by the government is 20 years late. "It should have been divested when the first exercise was initiated in 1999 and 2000. Unfortunately, people derailed it. Now, Air India has become a marginalised player in the market with only 12- – 13 percent market share, not having the public perception of a good airline."
He added that Air India currently has the largest global network. "No Indian carrier flies to America to Europe to Japan to Australia barring Air India. So, you have got pilots and engineers who are running the show, you have a steady market share on which you can build the foundation."
Tata Sons face the gargantuan task ahead with accumulated losses and non-operational fleets. However, with the added disadvantage of Covid-19, all eyes trained on how Tatas will keep Air India competitive in the market.
About the impact of the pandemic, Tushar Jani, chairman, Cargo Service Centre, said: "I would say till 2024 or 2026, there will not be any stability in air freight rates. The whole supply chain is disturbed. The shipping is taking longer, and the container turnaround time, which was about 35 days, is now gone to 55-60 days. So, you'll see a lot of disturbance in the shipping activity. And I believe that it will take longer for the prices to fall back to what they were before the pandemic."
Balasubramaian charted out a strategic blueprint for the airline's future through the lens of leveraging cargo practices. "The first thing Air India should do is to hit the nail on the head by leveraging its connectivity with critical European cities, especially Amsterdam and Frankfurt. Those are not just assets; they are valuable assets and should be leveraged from a capacity perspective. These routes have immense potential in terms of profitability."
According to Balasubramanian, another point to be considered is to take on a more global perspective. "With liberalisation, the modern economy and globalisation, India is focusing on Atma Nirbhar. It's imperative to take your mind off this rigid import-export physical barrier in every cargo warehouse in India and bring in efficient transhipment. If there is a package coming from Copenhagen, it has to go to Chennai to be delivered, get it through the documentary procedure and securities and deliver it."
He said there should be more focus on transhipments. "Shippers across the world will not look at Air India only as Chennai, Mumbai, Delhi, Kolkata, Bengaluru, Hyderabad. That is the only way you will get profitability focus on transhipments. Air India needs to understand that they are from a big country, India, and so be there in the forefront of the international fora be it the IATA, TIACA,- or the ICAO. The airline should be in a position to create history with its service, lead and influence the aviation industry to follow their footsteps. This is doable today for Air India," Balasubramanian ended.