Turkish transports 400 tonnes aid from Hyd
Operates two full freighters from Hyd to Turkiye carrying only relief materials; to carry materials on scheduled flights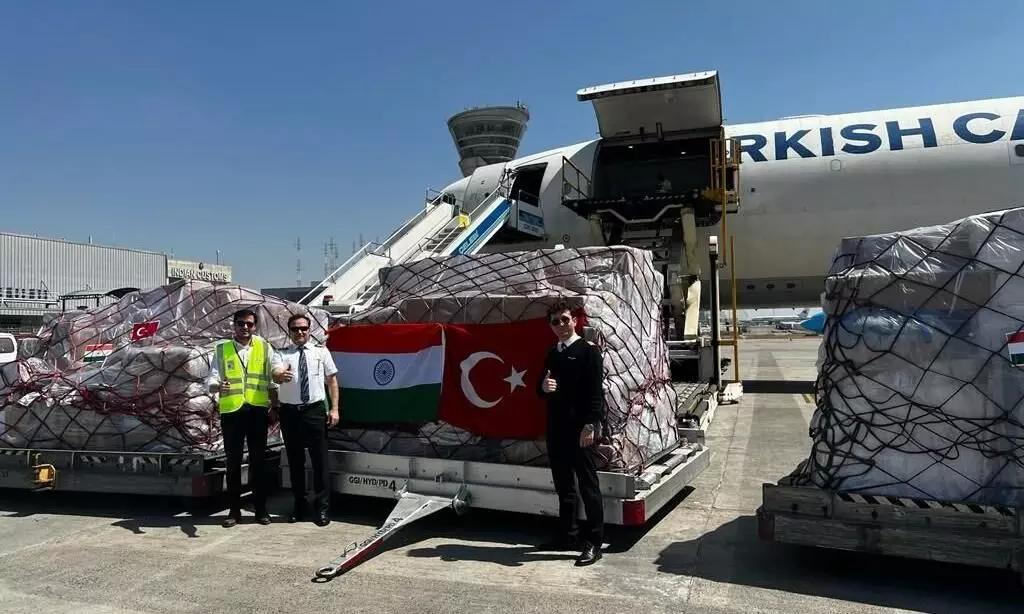 The people of Hyderabad collected more than 400 tonnes of relief material, most of which came from individual donations, helping efforts in Turkiye.
"In the last 15 days, in Hyderabad, a "miracle" unfolded before our eyes," writes Goksenin Gungor, Regional Cargo Manager, Hyderabad, Turkish Airlines in his LinkedIn post.
"Normally, only 15 or so Turkish citizens live in Hyderabad, and hence the level of response from the people amazed me, and witnessing the people coming even from 200+ km to deliver 4-5 boxes of medicines was genuinely incredible. We learned that people organised campaigns, urged each other, and spread the word. In the end, the Hyderabadi people proved that they were the true friends of Turkiye, who came to help in the darkest days.
"As the relief materials kept coming, my level of nervousness increased because with every box received, we were given the responsibility of delivering them. Due to airlines' normal role in the supply chains, we carry the cargo from airport to airport; however, this operation made us do the packaging, receiving, sorting, storing, documenting, and customs clearance. It was certainly the most challenging but, at the same time, the most meaningful task of my career.
"I am more than happy and relieved to share that we have operated two full freighters from Hyderabad to Turkiye carrying only relief materials. We will be continuing to carry relief materials on our scheduled flights."

Turkish Airlines, in coordination with the Ministry of Interior Disaster and Emergency Management Presidency (AFAD), continues efforts to ensure supplies following the devastating earthquake centred in Kahramanmaraş and affecting surrounding cities of Kilis, Diyarbakır, Adana, Osmaniye, Gaziantep, Malatya, Şanlıurfa, Adıyaman and Hatay.
"Turkish Airlines carried 238,112 search-and-rescue personnel with 1,324 aid flights while evacuating 230,980 citizens from the earthquake area with 1,302 evacuation flights. The airline carried 15,648 tonnes of aid material, free of charge, to the areas affected by the earthquake - mostly food, medicine, clothing, generators, hygiene kits and tents - with 156 cargo flights. While 6,198 tonnes of cargo were carried on flights conducted from 77 countries, the remaining 9,450 tonnes were from Türkiye."