Locus launches ShipFlex for flexible third-party delivery
ShipFlex brings same-day & next-day delivery to enterprises through simple integration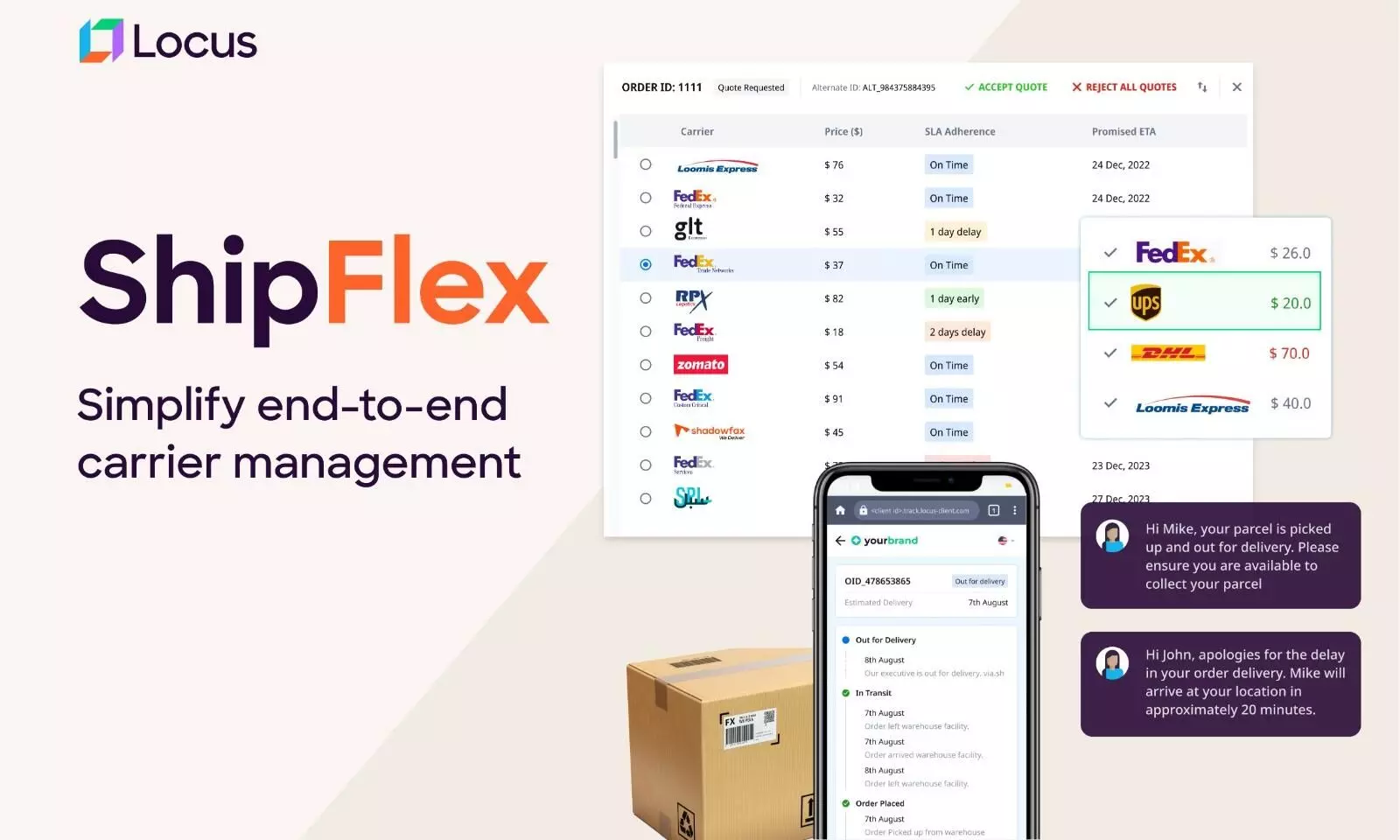 Locus, a global last-mile logistics technology company, announced the launch of ShipFlex, a third-party delivery platform that provides businesses with the flexibility to fully outsource their deliveries to a wide range of delivery carriers.
"ShipFlex helps businesses expand their reach and achieve break-neck delivery speeds, enabling them to offer same-day and next-day delivery capabilities in new geographies," says an official release.
ShipFlex addresses complexities by automating entire carrier workflows for the optimal price and delivering end-to-end visibility of order-to-doorstep deliveries across in-house, contracted, and outsourced fleets on a single dashboard. The platform also gives businesses access to Locus' global carrier partners such as FedEx, RPX Logistics, Loomis Express, Shadowfax and SPL, helping them with their delivery orchestration in a much more efficient and cost-effective manner, the release added.
"Predictability and transparency are the two pillars of modern-day logistics operations," says Nishith Rastogi, Founder and CEO, Locus. "To efficiently manage the colossal order volumes, achieve lightning-fast deliveries, and consistently deliver an exceptional customer experience, businesses need to have full control of their last-mile operations. ShipFlex is a result of our years of logistics industry experience and customer feedback. Through the integration with our dispatch management platform, ShipFlex will solve industry pain points by streamlining the entire last-mile fulfilment cycle, reducing costs, and improving the customer experience. ShipFlex is a game-changer for businesses that need fast, predictable deliveries to stay competitive."
Shinhas Majeed, Group General Manager, e-commerce, Lulu Group International adds: "As customer demand skyrockets, the complexity of managing our carrier network has proven to be a huge optimisation opportunity. With Locus' ShipFlex, we can streamline third-party deliveries with rich carrier integrations, real-time tracking, and more on a single dashboard. This has enabled us to take full control of our third-party order-to-delivery process, operate more efficiently, and ensure timely deliveries, resulting in an enhanced customer experience."
Founded in 2015 and backed by GIC Singapore, Tiger Global, Qualcomm Ventures and Falcon Edge, Locus has helped customers globally including Unilever, Nestle and The Tata Group execute 850 million deliveries across 30+ countries. Its technology has helped save $275 million in transit costs and offset 10 million kilograms in CO2 emissions, the release added.