What's in store for the drone market in 2023?
2022 was a golden year for unmanned aircraft systems (UAS), with several announcements, nods of approval, certifications, new deployments, incredible statistics, and cooperation from key government stakeholders. Get ready to witness the drone business booming and reaching new heights in 2023.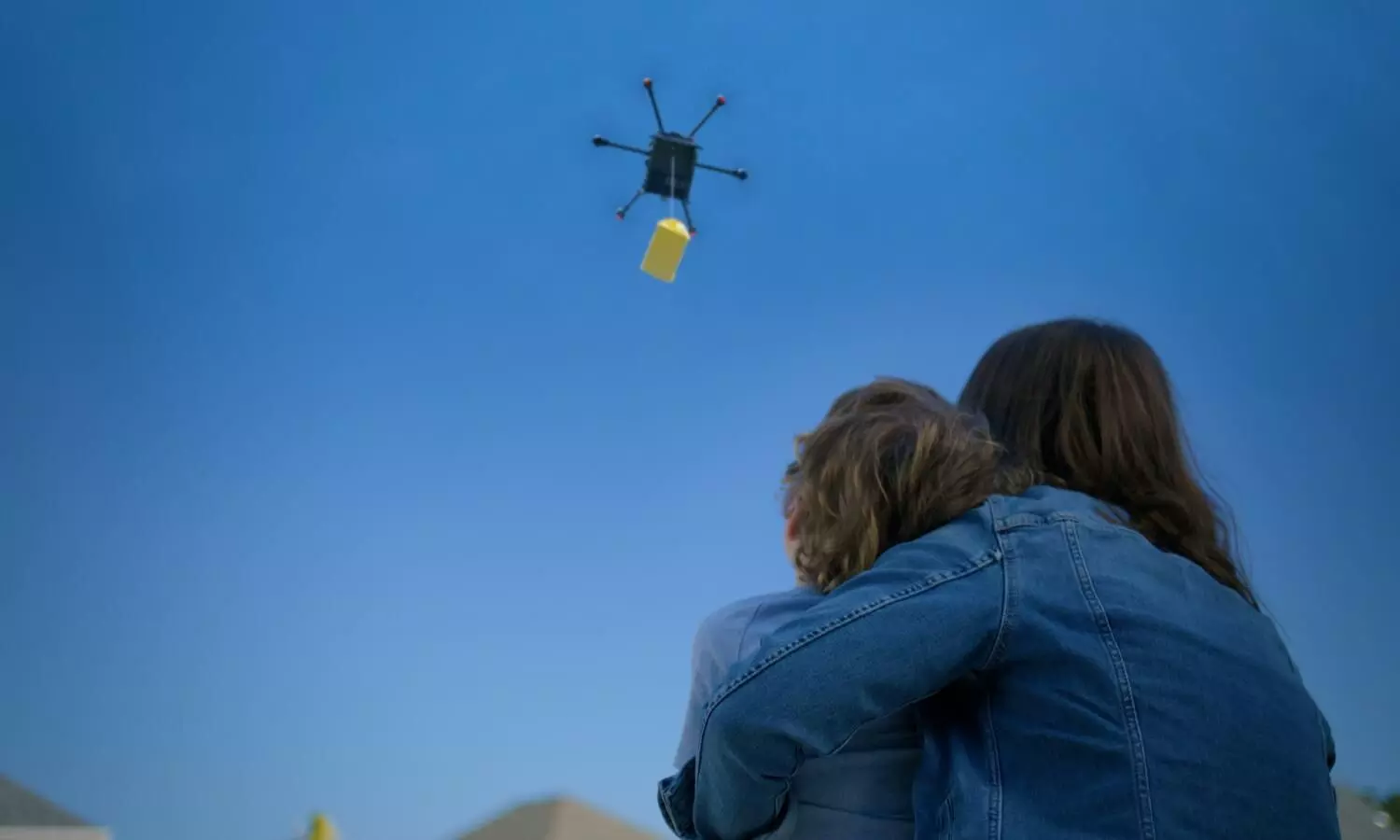 Drones, which were once thought to be military gadgets, have gained a substantial presence in the business sector during the last five years. Even throughout the Covid-19 outbreak, demand for drones remained high.
According to Fact.MR, the global cargo drones market will be worth US$ 10,580.2 million in 2023 and will increase at a 14.6% CAGR to reach US$ 41,337.1 million by the end of 2033.
Drone delivery has taken several years to get real - and legal. Finally, in 2022, Walmart expanded its regular drone delivery program with drone services partner DroneUp to reach millions of households. Flytrex has worked with fast food restaurants in many states. Wing and Zipline have expanded into the United States. In 2022, Matternet acquired the first type certification.
Drone delivery is being used by government postal services in Europe and Asia. Amazon has now begun testing in two US states. Still, most of us only think of drone delivery when we see an Amazon, UPS, or DHL vehicle go by. This might change this year. With beyond visual line of sight (BVLOS) flying becoming more regular, drone delivery is now set to scale. So, "What can we expect from the drone delivery industry in 2023?"
Increase in demand
Autonomous drones offer a wide range of uses in several industrial sectors, but they have seen tremendous demand in the e-commerce sector and food delivery services. Customers are more inclined to purchase online and seek faster and more efficient delivery of products and food, indicating a demand for autonomous drone delivery services.
"It's no secret that today's consumers want their items delivered quickly and affordably. While the sector has made significant strides, the current economic climate has shown balancing consumers' growing expectations for instant gratification with economically sustainable logistics is a major challenge. Luckily, drones not only provide faster and cheaper delivery but are designed to improve the quality of service, as quicker delivery means customers receive their goods fresh. Additionally, as opposed to being handled by human couriers, packages are securely carried throughout the flight, and then gently lowered to the ground using a tether mechanism, so items -- including eggs and coffee – are delivered in pristine condition," said Yariv Bash, Co-Founder and CEO of Flytrex.
E-commerce firms deliver faster, immediate, cost-effective, and precise delivery services to customers by utilizing autonomous drones equipped with GPS, cameras, sensors, and other features.
Like e-commerce, customer preference for food with faster and safer delivery services is growing, and the usage of a drone is more cost-effective for food delivery service providers than utilizing any vehicle.

"Finally, drone delivery is far more sustainable than traditional methods, making it more attractive to today's consumers, who are increasingly conscientious of the products and services they purchase, and place a higher value on brands' environmental and societal impact," added Bash.
With a growth in demand for drone delivery services in 2023, there will be a huge reliance on the Unmanned Traffic Management (UTM) system and drone safety.
"A surge in demand is a positive sign for the industry and the communities that drone operations are meant to benefit, but this also means that we have to accelerate our collective work in developing the right regulations, safety standards and public outreach efforts.
For a UTM system to be truly reliable and effective, it also requires harmonisation between all ecosystem stakeholders – from aircraft OEMs, to operators and the authorities. A UTM system must provide an accurate real-time picture of all elements that extend beyond our visual line of sight, and respond dynamically to ensure the safe and efficient use of our shared airspace. This means that we need unifying platforms and standards that bring together the multiple drone manufacturers vying for their space in the sky, a range of operators and individual pilots flying their aircraft simultaneously, feedback from other forms of land, sea and air transportation, and of course, the necessary authorisation and monitoring from the authorities. Any rogue element could cause a tremendous ripple effect to the rest of the network, and that is what AirBridge has been developed to address," said Fabrice Ancey, Co-Founder and CCO, Heron AirBridge.
More developments = more safety
Drone technology advancements have enabled manufacturers to develop a diverse range of models in various sizes, weights, and forms that can carry a variety of sensor payloads, making them suitable for a wide range of applications.
With fast-evolving digital technology, the development of future airspace traffic management (ATM) systems with higher degrees of automation will assist to enhance efficiency while maintaining the highest levels of safety, minimizing the capacity for human error, and increasing productivity.
"More intelligent automation is gradually being introduced in traditional airspace traffic management, but for reasons of commercial air traffic safety, it is not expected to radically change the way air traffic control (ATC) is being conducted in the short to medium term. Such intelligent automation technologies are however at the heart of UAS given the nature and expected volume of autonomous aircraft. UTM is therefore expected to lead the development of intelligent automation with traditional ATM gradually converging in preparation for the future seamless operation of unsegregated air traffic of commercial aircraft and unmanned systems.
Dynamic airspace management is another key development. Commercial airspace management traditionally relies on static pre-planned air routes. However, with increasing demand for air travel the need for improved efficiencies without compromising safety is essential and new models such as Trajectory Base Operations (TBO) are now being implemented in ATM," said Ancey.
Skyports is continuing to build on its expertise and skills, as well as on ever-maturing and innovative new technology, which means there is now more evidence to create a good safety case for drone delivery operations to be permitted.

"We have some of the most advanced capabilities to remotely operate our aircraft from anywhere in the world and we are already underway building our Remote Operations Centre in the UK which will be similar to our facility in Singapore. By Q2 2023, we will have expanded our operations into several new territories in the Asia-Pacific and Middle East," said Paul Rigby, Global Head of Business Development and Growth, Skyports Drone Services.
"Compared to other methods, drone delivery is by far the safest way to deliver goods between 2 points. Flytrex continuously updates its technology to meet the highest aviation safety standards for consumers and the general public. Our aircraft is designed with multiple redundancies, as well as ongoing real-time self-monitoring mechanisms that identify and react to different failure modes before they occur," said Bash.
North America, the potential drone market
According to Mordor Intelligence, the North American Drones Market is predicted to increase at a rate of more than 12% between 2022 and 2027.
With several FAA grants over the years, demand for drones has grown, and enterprise drones are likely to increase faster than consumer drones over the forecast period 2022-2027. But why is North America said as the most significant market in terms of demand?
The Covid-19 pandemic has had a significant economic impact on the United States. This feature has prepared the path for the region's adoption of autonomous drone delivery services, with these drones being used for food delivery, medical delivery, and other purposes. For example, in May 2020, Zipline worked with North Carolina's Novant Health to carry gloves, masks, gowns, and other things from a medical centre to a supplies storage location using a drone.
"North America, in particular, the USA, will always seem like the market to conquer for any startup or technology company due to its sheer size. Drones come into their own when you have a distributed population spread over large areas with limited logistics or infrastructure; something that the US has in abundance," said Rigby.
The FAA has also eased regulations regarding the use of drones in the region for the delivery of pharmaceuticals, food, and other commodities. The market in the area is predicted to expand at a high rate due to significant investment by government and commercial companies in the development and deployment of the last-mile delivery solution.

"Flytrex's autonomous drone delivery system is the perfect match for North American infrastructure, as it is specifically designed for ultrafast on-demand delivery directly to consumers' homes, providing unique short-range, high-bandwidth and low-margin last-mile fulfilment – aka faster, cheaper, and higher quality service

"There are over 82 million backyards across the suburban US, and until now, on-demand delivery has been seen as economically impractical, with traditional couriers able to make around only two deliveries per hour. Despite the high demand for instant gratification, this is a major untapped market for ultrafast delivery," Bash.

Trends and plans of market leaders in 2023
Drones became more popular as a viable delivery method in 2022, and drone delivery businesses began accumulating real-world experience testing their technologies. According to Bash, companies will concentrate on improving their drones in 2023 to accommodate harsher weather conditions, boost aircraft payload, and expand the delivery range. Regulatory authorities such as the Federal Aviation Administration (FAA) will also continue to strive to ensure that drones are integrated safely and efficiently into US airspace.
"Flytrex's continued mission is to aid in regulatory advancement while expanding its drone delivery operations across suburban America in a safe and efficient manner. The FAA, as well as other governing bodies, will continue to support drone delivery companies' expansion in 2023 by facilitating modifications in the FAA's framework. This will allow for the further adoption of drone delivery services across the US As drone delivery operations will become more widespread, and drone delivery companies gain more experience and insight, regulatory processes will advance in tandem to ensure the safe and efficient integration of drones across US airspace," said Bash.
Skyports plans to grow its shore-to-ship marine drone freight delivery operations and increase payload capacity in 2023, giving real-world value to its clients.
"We currently fly an average of 10 – 15 missions per day with a payload of up to 10kg in Singapore at distances of 30 – 40km. This is helping our clients improve safety, reduce carbon emissions, lower costs, and strengthen their overall productivity. APAC, LATAM and the Middle East are big growth markets for Skyports Drone Services, we are seeing the extension of services in terms of volume and mission complexities," said Rigby.
There is a big driver for all businesses to minimize carbon emissions and move toward net zero emissions while maintaining safe and on-time delivery operations.
"Electric drone delivery is a small piece of solving that problem and reducing 'carbon per parcel' when the whole lifecycle is considered. Companies now recognise that drone delivery can help meet those goals. As drone delivery operations grow the impact has the potential to be huge as long as we source the required energy from renewable sources," added Rigby.
While there is a global downturn in manufacturing and logistics activities, analysts predict a recovery beginning in Q3. Forward-thinking businesses would take advantage of the slowdown to accelerate technology adoption and digital transformation in anticipation of the need for leaner and more effective operations after recovery.
"The rise in demand will originate in force from sectors such as shipping and logistics, manufacturing and distribution. What we have witnessed over the past two to three years has been a positive sandbox for the wider deployment of drones in logistics operations, and the industry is now ready to scale up in terms of volume, mission profiles, distance covered and payloads carried. This means that the demand not only for drones, but also for skilled operators, physical logistics and landside hubs, and UTM systems will take greater precedence than ever before.

Consequently, will be a greater need to invest in cybersecurity infrastructure to safeguard the operations of wider-scale drone deliveries. From the operator and remote pilot's hands to the integrity of each individual drone, building cybersecurity resilience into the entire tech stack will be an essential element of a safe and secure take off for the industry," said Ryan Lee, Co-Founder and CEO, Heron AirBridge.
Leaders in the drone service industry are optimistic about 2023. New drones will launch at a higher pace this year, delivering more food and packages to consumers and reaching new and higher altitudes. The drone delivery business is gearing up to make 2023 the year of economic growth.