"We envision drone delivery as a communal infrastructure"
Manna drone delivery is offering consumers in Dublin with a drone experience like no other. In the near future, the firm intends to expand its service across Europe and the United States.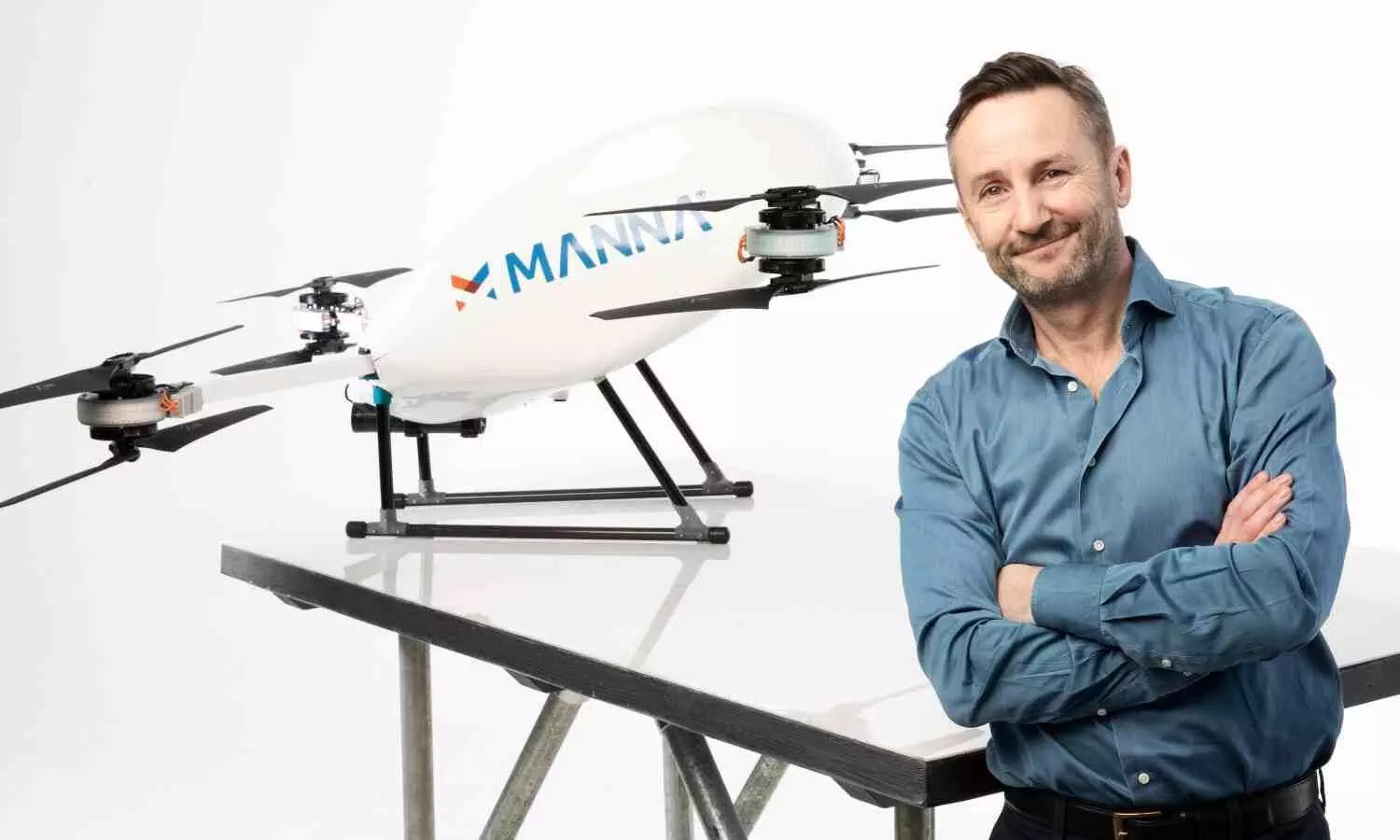 Manna Drone Delivery, based in Dublin, is a business-to-consumer drone delivery company founded in 2018 by Bobby Healy, who is also the company's current chief executive.

Manna has been piloting its drone delivery service in its native market of Ireland, with a full-scale debut completed in a Dublin neighbourhood, carrying food and groceries.
The drone delivery business plans to expand into six European regions next year, with mainstream drone delivery taking off in 2023.
"The people that work in the business are what make us unique. We have 110 employees in our team and have already developed three technological businesses together; this is our fourth. So I believe what distinguishes Manna is that we have a really strong, experienced team that has previously built large-scale enterprises. Second, I believe the fact that we are in Europe and fly under EASA regulations allows us to progress the business very quickly because EASA is leading the globe in its definition of drone regulations and its rate of implementation. So those two factors, our team and the region in which we operate, allow us to move faster than other people," said Healy.
Products Delivered by Manna
Manna has been flying orders from Tesco, the country's largest grocery store (UK), local coffee shops, and Just Eat takeaway. However, coffee delivery is Manna's most popular offering.
"Pastries, coffees, and chocolates are among the most popular products. We also have takeaway food, groceries, a hardware store, a bookshop, a variety of hot food vendors, pizzas, and pharmacies that are quite popular. When it comes to coffee, at least in Ireland, it's the one item that every adult buys every day, and where we operate, our flying time is 2 minutes and 40 seconds. As a result, it is the ideal drone delivery product," said Healy.
Even after delivering a variety of products to customers, Manna is looking forward to delivering one product in the near future. Manna is developing a larger drone for this purpose, which will be released in September of this year.
"Our aircraft transports 2 kilos and has a space of 15,000 cubic centimetres, which is insufficient for a 15-inch pizza. So now we are carrying a 10-inch pizza. We want to be able to provide larger pizzas, therefore I have a new aircraft that will be operational in September. The aircraft already has a substantial amount of space, value, and range capacity, and we have practically every product that we want to sell, so we have delivered prescription medication, defibrillators, and everything else you know. We envision drone delivery as a communal infrastructure, therefore it will eventually deliver everything," said Healy.
In addition, the drone delivery startup has teamed with Blasta Street Kitchen, an Irish food truck that delivers food to customers' doorsteps in 3 minutes or less. Manna and Blasta first met in April 2021 and began working together in October of that year.
"We are carrying a 10-inch pizza. We want to be able to provide larger pizzas, therefore I have a new aircraft that will be operational in September,"

Bobby Healy, Founder and CEO, Manna Drone Delivery
"Manna was our first experience with a delivery-only approach. Also, my concerns were if our food will be suitable for delivery. Like how well tacos can travel, how well a nacho bowls can travel, how well fresh burgers can travel, what's going to travel the best? At first, I had concerns such as, "Will the meal be hot?" When will it be delivered? Will the customer have a positive or negative first impression of my brand? I took a chance but to be honest, we have received nothing but positive responses," said Seany Mc Cleary, Founder, Blasta Street Kitchen.
Blasta has had a positive consumer reaction, and as a result, the food truck ensured that the customers had a pleasant experience.
"On Instagram, I see people tagging me and saying, "Oh, that's Blasta Street Kitchen from Manna Drone Delivery." I write to them personally via social media for their honest experience. I must say, everything has been fair and wonderful. Now, I am not suggesting that it's entirely due to the novelty aspect, where they're just so thrilled and it's a very amazing experience for them. My major interest, though, is food, and food has always been hot. According to my understanding, everyone appears to be happy about that. Even coffee lovers think it's odd because the coffee doesn't spill or leak. Whatever technology they employ, such as counterbalancing weights, specialised coffee cups, and specialised lids, special kind of cupholders and the way they pack it in and everything is so great," says Mc Cleary.
Blasta Street Kitchen's collaboration with Manna has benefitted the food truck business since more people are becoming aware of Blasta Street Kitchen as the only street food in Ireland/UK that delivers via drone.
Introducing Business to a New Community
Manna has been operating in Balbriggan, a north Dublin neighbourhood. Healy said the town was a perfect place for Manna to prove its worth, with a population of over 25,000 people and growing and a dense mix of building types.
When moving into a new community, it is important to reach out to the community, build trust, and communicate as effectively as possible.
"We take good care when entering a new community and we engage with the community ahead of time. We meet with all of the local schools, the local chamber of commerce, local government, local council, all of the stakeholders, because we are flying in a community, and the community is giving you permission to conduct a business in their airspace. It's important that the community be a part of the project, so all the local merchants, the small coffee shops, the little book shops, all these individuals who can utilise our service can be in the system automatically, and we don't charge them," Healy said.
"Manna was our first experience with a delivery-only approach. I took a chance but to be honest, we have received nothing but positive responses,"

Seany Mc Cleary, Founder, Blasta Street Kitchen
"Then there are Balbriggans, who number around 35,000 people and we have virtually zero complaints. Out of 35,000 people, we have less than 10 complaints in total. Now that's where you want to be. But if you don't do it collaboratively, and if you don't communicate properly, people will just reject the idea and you will have a much bigger problem and once you have created the problem, it's very difficult to uncreate itself," Healy continued.
Operating under Different Regulations
Manna Drone Delivery has been operating in a number of countries/regions under a variety of norms and regulations. And it is not always easy to meet the standards. We asked Bobby which locations are easier to work in and which are more difficult, and also why.
"Working in the European and American markets is significantly different. I would not use the words simple or difficult since regulations are just rules, and if you follow the rules, you will meet the standards. It is neither simple nor difficult. The timeframe in the United States to regulatory clarification on when we will be authorised to fly beyond visual line of sight at scale is different. And when we will have them in place is highly questionable. And we don't know if it will be a year or three years away. In Europe, however, that timescale is literally etched in stone, and it is now the law," said Healy.
But why is the certainty of timing so important? "Startups and businesses like ours will not generate money for years unless we expand the business. And in order for us to exist, we need to raise venture money and investor investment. And investors don't back enterprises with regulatory uncertainty. But it's both easy and difficult, and I'd say it's the oxygen to support your development in the form of cash. Because of the certainty, it is simple to obtain in Europe but difficult to obtain in the United States," he added.

Drone Design Strategies
In May 2021, Manna, received the first light unmanned aircraft system operator licence (LUC) from the Irish authority, opening up potential for expansion across Europe.
Following the implementation of EU drone regulations at the beginning of the year, the LUC is now recognised throughout the European Union.
Three important aspects have been explored for the new drone that Manna expects to debut in September:
1. It is designed for ease of manufacture, ease of maintenance, and regulatory clarity of design. Lot more process-driven and methodical, so the present aircraft is safe.
2. Collaboration with partners, especially Tesco. Manna saw that additional capacity was required to satisfy the supermarkets, which can handle around 8 pounds of cargo. As a result, the new drone's volume has been increased in the new design. So it was a marketing plan based on size and weight, which are 90% of what consumers require.
3. Then, finally, merely the flying envelope parameters. Manna wanted to be able to fly at 15 metres per second in weather conditions like heavy winds, rain, and fog.
"If we are going to replace the road, if we are going to totally replace role-based delivery, we need to be accessible virtually all of the time, therefore our new aircraft will fly in around 98% of European weather. That was an important aspect of our design specifications," said Healy.
Plans for Expansion
Manna intends to begin operations in the United States and Europe later this year.
"We will pilot one location in the United States in the second part of this year, and another in Europe the following year. We have a rough plan that includes six markets and 70 locations, including Ireland. We will require around 500 aircraft to be operational by 2023. We have new aircraft that will meet the needs of those markets. As a result, the US has a significantly greater range than Europe. However, some of the suburbs that will go to in Europe will have nearly double the range that we have now," said Healy.
The aim is to have shorter-range drone deliveries since Healy believes that last-mile deliveries should be between 2 to 3 miles.
"We believe that last mile delivery should be roughly 2 to 3 miles and longer ranges are not necessary because when you are based in the centre of the city or town, you are serving way too many customers from one central location which means flying over people's houses a lot more often. As a result, we will be in a smaller range," ended the company's Founder and CEO.