Skyports partners with Equinor for drone deliveries in North Sea
The two-month programme marks the first time that daily, on-demand offshore services have been piloted from shore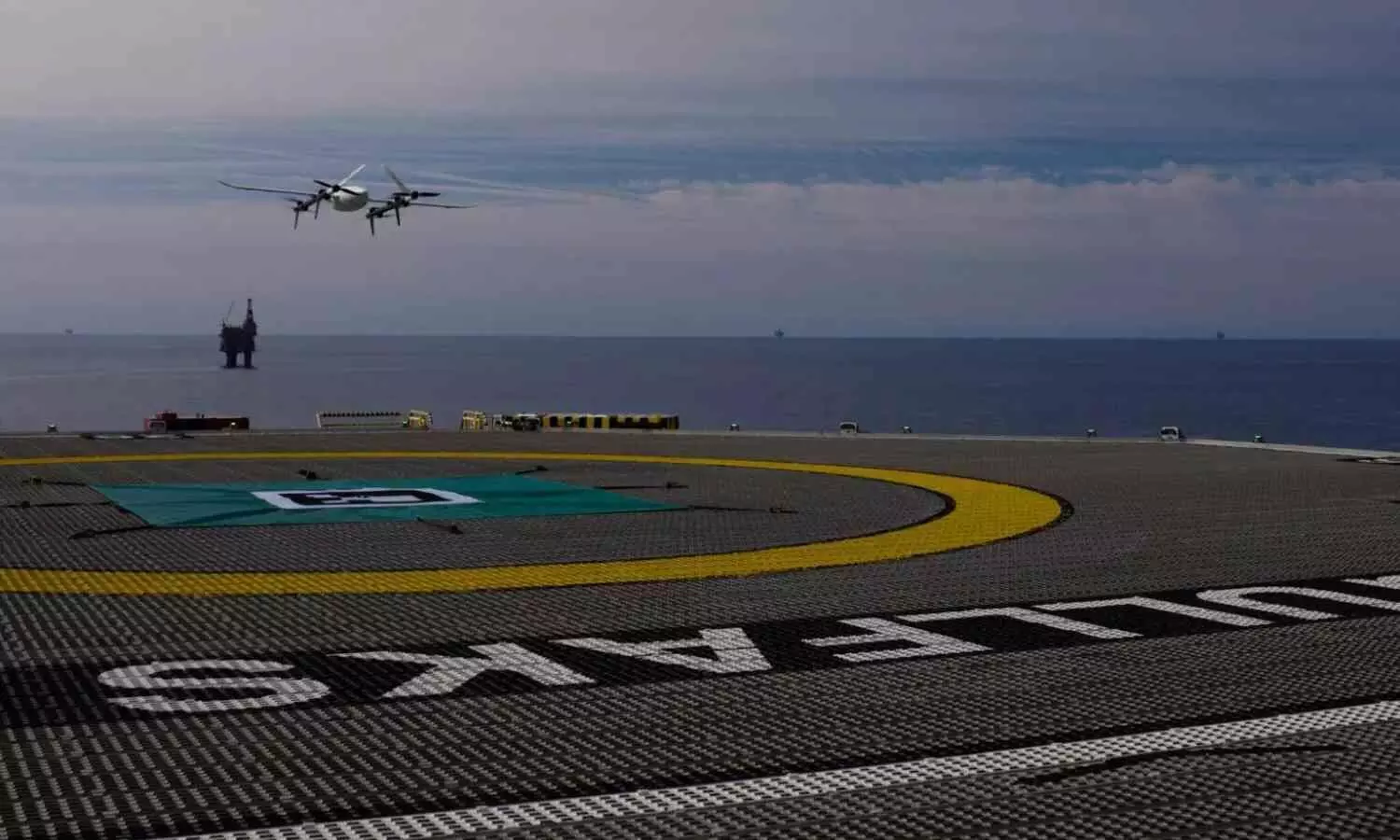 Skyports Drone Services, a leader in drone logistics, survey and monitoring operations, and Norwegian energy firm Equinor have partnered to trial electric drone deliveries to oil installations (oil rigs) in the North Sea. The project aims to demonstrate how on-demand cargo drone services can solve logistical challenges and improve safety and sustainability in the offshore environment.
The two-month flight programme, launched in early September, marks the first time that daily, on-demand drone services offshore have been piloted from shore. The highly automated cargo drone, Swoop Aero, flies distances of up to 114 kilometre, operating cargo deliveries between Equinor's processing centre site in Mongstad on the west coast of Norway and three installations in the Gullfaks oil field in the North Sea as well as intra-installation. The North Sea operations with Equinor are Skyports longest flights to date.
Skyports has already operated dozens of flights for the project and is scheduled to operate hundreds more throughout the trial, carrying a range of cargo, including spare parts, equipment and care packages.
Uncrewed drone services are substantially cheaper, faster to mobilise, and safer than conventional transportation methods and can fly in much lower visibility, including thick fog, which Equinor and Skyports hope to enable, regulation permitting, in the future. The service is also profoundly more sustainable than internal combustion engine transportation, with the electric drones producing zero operating emissions.
For Skyports and Equinor alike, a key focus of the trial is to explore how the service can be scaled with minimal human intervention. The aircraft are remotely piloted by a small Skyports team from the newly opened Equinor ROC in Bergen. The aircraft fly automatically with Skyports' experienced remote pilots overseeing the duration of the operations. Equinor staff located on the installations have been trained by Skyports to load and unload cargo, switch and charge batteries, safely interact with the drones, and have completed installation side activities for all flights conducted to date.

Early project results have been positive and highlight the ease with which deliveries could be extended to include additional installations.
Alex Brown, Director, Skyports says: "This project with Equinor proves that drone delivery can offer a safer, cost-effective, more sustainable alternative to conventional transport methods in offshore environments. The offshore energy sector is perfectly placed to benefit from drone deliveries due to the inherent time sensitive nature of working offshore as well as the extreme remoteness and ruggedness of operations. We are currently exploring how we can expand this groundbreaking work into adjacent sectors such as offshore wind and ship resupply".
Skyports has worked with Avinor and the Civil Aviation Authority of Norway to secure flight permissions.
During the trial period, Skyports has opted to employ the Swoop Aero Kite aircraft. The fixed-wing drone is the latest solution from Swoop Aero, the Australian logistics platform and long-time partner of Skyports.The fully electric aircraft has a 5kg payload capacity and range of up to 175 kilometre.