Skye Air Mobility collaborate with Vegrow for green grocery delivery
For the trials, Skye Ship One carried a payload of 5 kg per flight and 4-8 flights were scheduled for every day.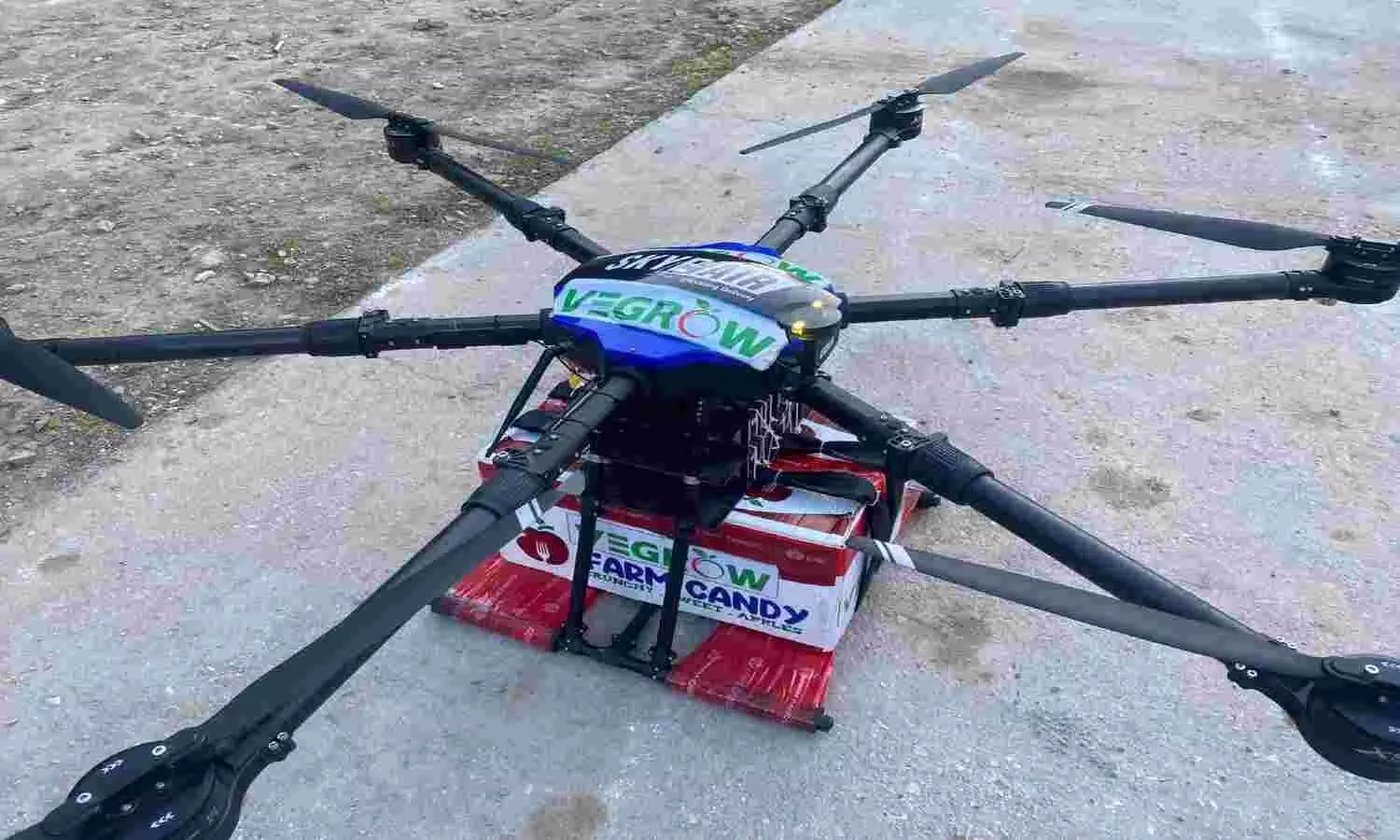 Skye Air Mobility conducts a three-day drone delivery trial with Vegrow in Himachal Pradesh to deliver over 100 kgs of apples from farmland to the Vegrow Hub, therefore addressing a larger transportation problem that exists today.
Vegrow is the top fruit business in India. The company is in the business of selling fresh fruits and vegetables, with a $43 billion addressable market. Through partnerships, the tech platform collaborates with farmers by aggregating supply and selling to organized demand.
The 3-day trials began at Nichar in Kinnaur district of Himachal Pradesh, from 11th November to 14th November. Skye Air has used its most reliable UAV, Skye Ship One, to facilitate real-time deliveries. For the trials, Skye Ship One carried a payload of 5 kg per flight and 4-8 flights were scheduled for every day. Following the completion of these three days of trials, Vegrow shall be building up a business case to roll out drone deliveries at scale within the region.
"We are happy to announce our association with Vegrow for the deliveries of Agri-Commodity (Fruits) in the State of Himachal Pradesh. This association is significant as it highlights the role of drone technology in transporting Agri-commodity in tough terrains like Himachal Pradesh. Farmers are the backbone of our great nation and through our drone services, we will assist in easing their product reach to the Vegrow hub in the fastest manner possible. At present, it takes more than 2-3 hours for the farmers today to deliver the product to the Vegrow Hub; with Skye Air drones, this is being shortened to minutes. With Vegrow, we plan to take this to a higher scale within the state," said Ankit Kumar, CEO, Skye Air.
Further commenting on the collaboration, Shobhit Jain, Co-Founder, Vegrow, said, "We are excited to work with Skye Air on this revolutionary project and hope to bring as much technology to the fruit industry as possible to help farmers across the country maximize their returns."
It is noteworthy to mention that Skye Air has successfully delivered over 7,20,000 packages across India during the last few months. Also, earlier this year, in July, Skye Air Mobility entered into an agreement with HPSEDC (H.P. State Electronics Development Corporation Ltd.) to lend its support by offering delivery as a service throughout the State of Himachal Pradesh.
Skye Air has been conducting flights in the Mandi district, and through its efficient and cost-effective deliveries, it is making its mark within the state.Skye Air Mobility collaborate with Vegrow for green grocery delivery