Skye Air begins frozen food delivery trials in Delhi
From July 25 to July 31, a series of beyond visual line of sight (BVLOS) trials will be conducted, carrying about 5 kilos of frozen food per flight, covering a road distance of about 30 km.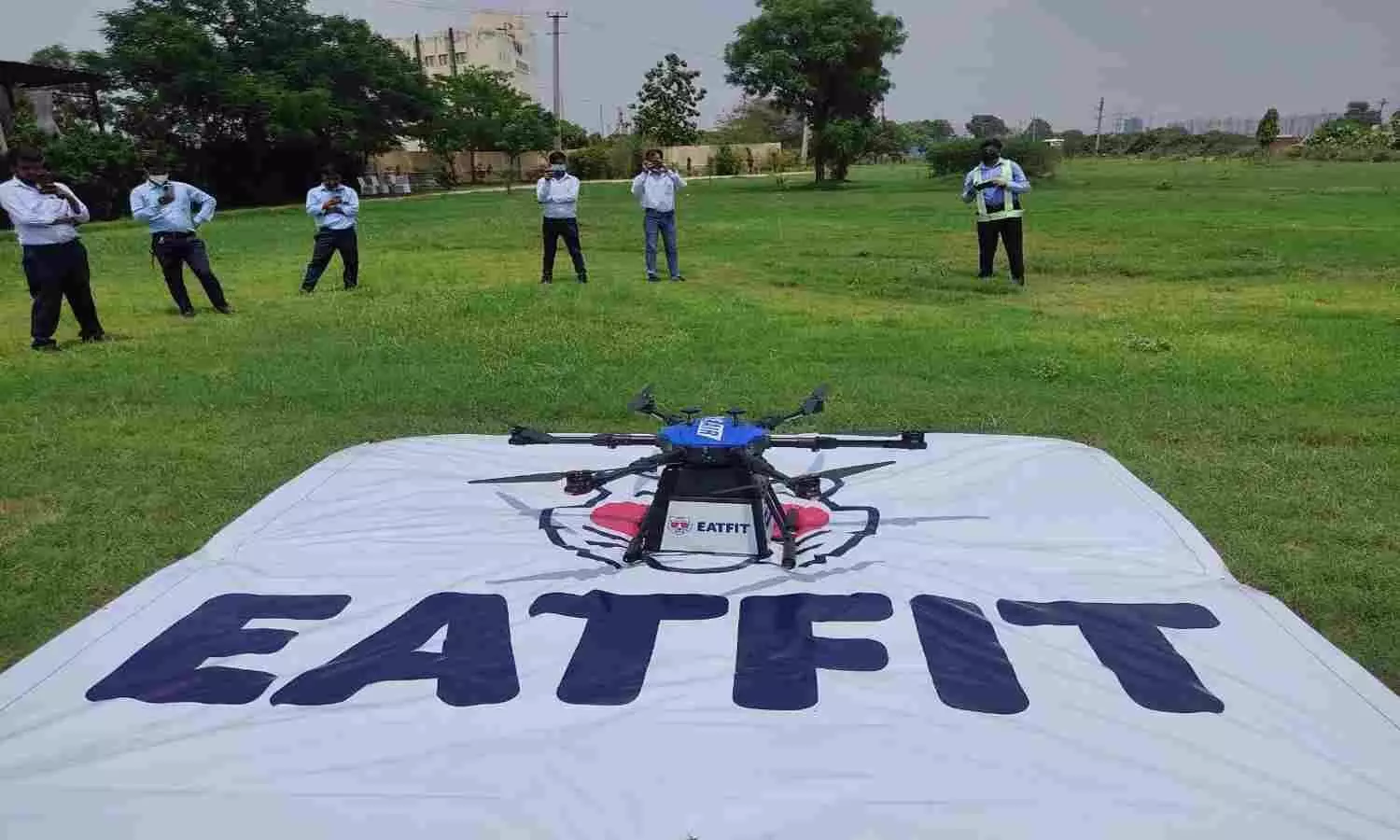 Skye Air Mobility collaborated with Curefoods, a cloud kitchen startup founded by Cult.fit co-founder and former Flipkart executive Ankit Nagori in 2020, to deliver frozen food in specially built temperature-controlled packaging via drone.
From July 25 to July 31, a series of beyond visual line of sight (BVLOS) trials will be conducted, carrying about 5 kilos of frozen food per flight, covering a road distance of about 30 km from Curefoods' warehouse in Jhund Sarai to the Curefoods kitchen outlet on Golf Course Road in Gurgaon, near Delhi.
During the trials, the drone will complete an aerial distance of 20 km in less than 30 minutes. Once the drone is deployed for commercial use, Skye Air plans to carry about 50 kilos of frozen food in a single flight.
"During the pilot, we are deploying drones that will complete around 8 trips daily and carry close to 40 kilos on average. In the future, when we consider how we might scale this, we will send out a drone to carry the payload of 50 kilos. Because this food is frozen, we are keeping the temperature at minus 20 degrees during the flight, and making sure that the food's quality does not degrade during the journey. Another essential component of this project is giving the client feedback in real-time," said Ankit Kumar, CEO, Skye Air Mobility.
Skye Air will use the Skye Ship One drone, which has a capacity to carry 25 kilos on a single charge and covers an aerial distance of 20 km with a speed of 35 km per hour, to facilitate real-time deliveries ensuring optimal flight safety and temperature monitoring. Skye Ship One is currently the most reliable delivery drone in India, having completed more than 1200 flights.
Ankit Nagori, Founder, Curefoods said, "With the immense technological advancements of today, in the food-tech space, drone delivery is going to change the game for food delivery in the future. With drone delivery being initiated globally, this association with Skye Air Mobility is a pilot experiment to explore drone delivery as a viable food delivery option. Starting with B2B pilot kitchen deliveries which ensure a larger quantity at a lesser cost, we will be looking at B2C food deliveries soon in the future. I am delighted to partner with Skye Air Mobility, and I look forward to bringing food-tech delivery to the forefront in India."
Launch pads near the warehouse and on the roof of the Curefoods kitchen building are built for the drones to take off and land. The testing will help Skye Air understand the cost savings they can provide Curefoods through drone delivery.

"In order to maintain the desired temperature, Curefoods uses expensive reefer vans and spend about Rs. 1.5 lakh on the van each month. To combat that, we may look into reducing the cost, which is close to 1.2 to 1.3 lakhs each month. These numbers are approximate; they're still being worked out. However, this research and the data from this trial will assist us to look at how much we can save by using drones. We are aware of the expenditures associated with conventions, but what would it cost to really support them with drones, we will figure it out after this trial," said Kumar.
After Gurgaon, Skye Air intends to expand where Curefoods may use their drone delivery service, including Bengaluru, Hyderabad, and Pune. The initial idea was to start the drone trials in Bengaluru, but owing to restrictions and the fact that Bengaluru's cloud kitchen is situated in a red zone, Skye Air chose to start the trials in Gurgaon.