Skye Air, Aster DM to begin medical drone deliveries in Kerala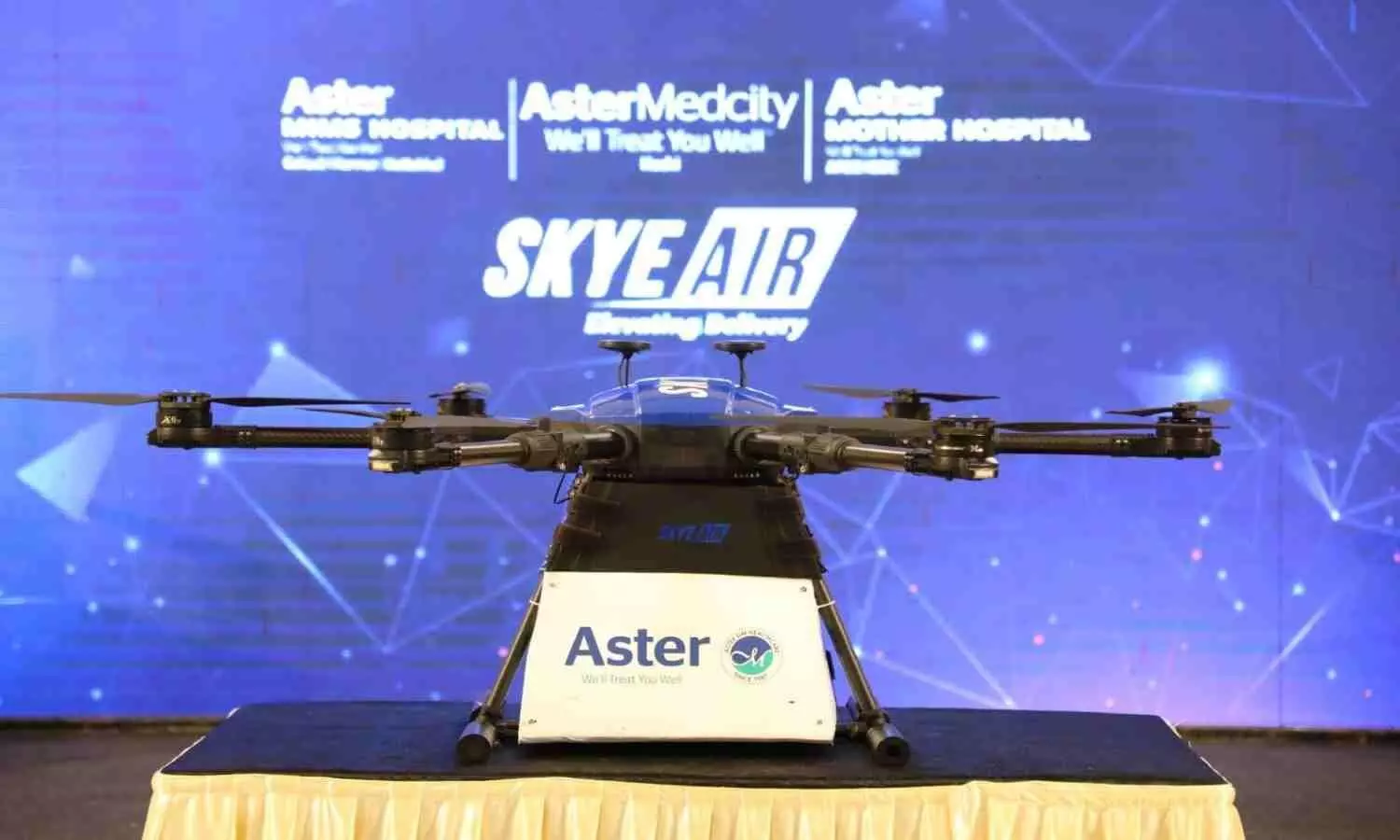 Skye Air Mobility and Aster DM Healthcare have teamed together to use drones to deliver vital medicine and lab samples from Aster MIMS Hospital to Aster Mother Hospital Areekode, Kerala, covering a distance of about 32 kilometres.
"Skye Air Mobility has started 5-day BVLOS drone delivery trials in Kerala, thanks to our cooperation with Aster DM Healthcare Aster MIMS. Our objective and goal are in line with Aster DM Healthcare's aim of offering high-quality healthcare, improved accessibility, and affordability to the general public," said Ankit Kumar, CEO, Skye Air Mobility.
Skye Air and Aster DM announced an end-to-end delivery cooperation in Bengaluru in May, and the trials began with a drone deploying with a payload capacity of 5 kilos and a range of 30 kilometres on a single battery.
Skye Air will demonstrate how drone technology can speed up the delivery of medical and diagnostic samples. This collaboration is intended to overcome logistical challenges while also shortening turnaround times. Following the successful conclusion of the 5-day BVLOS trials, Skye Air plans to fly 50 times, each delivering blood samples and medications for Aster MIMS Hospital.
"These trials aim to demonstrate a faster supply chain for sample collection by effectively using drone delivery technology. The technology illustrates the cost effectiveness and reduction in delivery time. Therefore, it acts as a case model on how the unmanned aerial systems could help hospital chains like Aster MIMS hospital better serve its patient's needs and provide opportunities for network improvements that generate efficiencies thereby enabling it to grow its business. These trial runs will result in commercial rollouts in different locations for the healthcare service provider across India. The single most important goal is to make healthcare available to everyone! We want to give such solutions to 35 million people in Kerala in the next few days, starting with Calicut," said Kumar.
This would be the first time in Kerala that people will see live drone technology being used in healthcare. These tests are taking place on Skye Air's flagship product, the 'Skye Ship One.'
Veneeth Purushotaman, Group Chief Information Officer, Aster DM Healthcare said, "This collaboration is an onset to a complete digitization of healthcare in India. In Aster, we have been at the forefront of adopting digitization, technology and innovation into our core operations which is now essential to support patients as per their needs. This paradigm shift from the traditional workflow of the healthcare system to a digitised healthcare will streamline all our operations and ensure an efficient delivery system. We are thrilled to partner with Skye Air as we pave the way to successfully adopting cutting edge digital technology and innovative solutions to efficiently assist our core operations. With rapid digitalization of healthcare delivery systems, we will continue to invest more on improving our health equity in India and world over."
A designated Skye Air cold chain specialist loads the medicine and diagnostic sample into a temperature-controlled payload box before the drone-led delivery system is launched. Drone pilots steer the drone along a planned route to a specified location after loading the payload box into the drone.
Farhan Yasin, Regional Director, Aster Kerala and Oman Cluster said, "The possibilities of modern technology are endless. It is important to make the best use of these possibilities. Drones are generally used only for purposes such as shooting. In this scenario we think why this technology could not be used for the transfer of drugs and transfer of lab collections. It's a revolutionary thought. We plan and implement this idea precisely. In the first phase of the experiment, a drone connection was established between Aster Mother Areekode and Aster Mims Calicut. If it turns out to be successful, our drones will be able to reach every home in our state in case of an emergency and execute such transfers effortlessly.
Skye Air intends to take multi-city interactions to the next level with the new partnership, which will soon commence large-scale deployment in Kerala.
Ankit Kumar unveiled its new Long Range UAV "Artemis" on May 31st at the Air Cargo India 2022 event. The new UAV's key selling point is that it has the widest wingspan electric vertical take-off and landing (EVTOL) in India.
Artemis, designed for inter-city, inter-district, and inter-state cargo movements, is three times quicker than multi-rotors, with a top speed of 100 kmph and an endurance of 90 minutes.

"We are concentrating our efforts in Himachal Pradesh, Uttarakhand, and Assam. We no longer conduct trials. This year, we're focusing more on commercial operations. The Indian drone market now ranks third in Asia, and by 2025, India will be at the forefront of drone delivery usage," Kumar said at the Air Cargo India event.
Skye Air, which has a payload capacity of 6 kg and a range of 100 kilometres, intends to transport diagnostic samples, healthcare, and immunizations. Smaller food products can also be transported from Uttarkashi, a town in Uttarakhand, to Dehradun.