Rhenus takes strategic holding in Wings for Aid
Rhenus is now taking a strategic holding in the innovative company Wings for Aid, which is aiming to make emergency aid supplies more reliable by means of an innovative cargo drone delivery system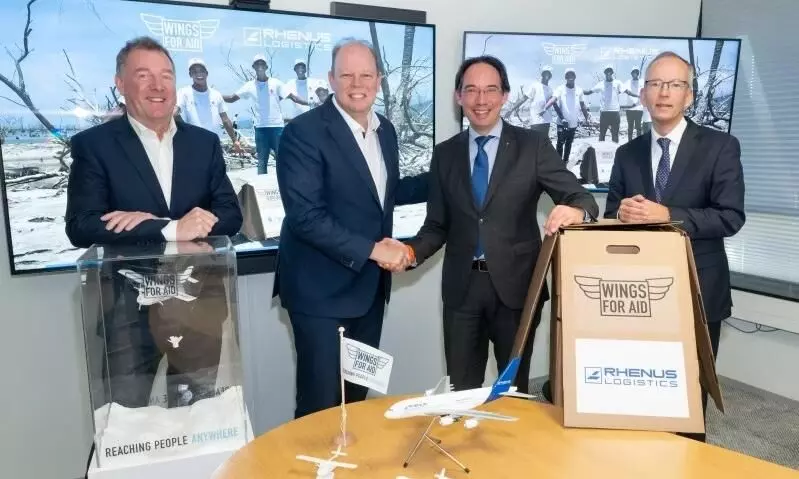 Coping with the last mile is a particularly serious logistical problem when providing supplies to crisis regions. About 100 million people in crisis areas around the globe require emergency relief every year, but the services provided are sadly often inadequate.
Rhenus is now taking a strategic holding in the innovative company Wings for Aid, which is aiming to make emergency aid supplies more reliable by means of an innovative cargo drone delivery system, cited a press release from the company.
The logistics specialist will be responsible for the logistics operations behind the humanitarian support projects in the future and will set up the regional and in-field support bases together with Wings for Aid. The latter developed a Remotely Piloted Aircraft System (RPAS) and intelligent technologies to carry a 160-kilogram payload per flight in a range of 250 kilometers.
The system includes an award-winning and patented cardboard delivery box that requires no parachute for airdrops. Thus, Rhenus and Wings for Aid can ship 20-kilogram boxes full of emergency relief goods precisely to otherwise inaccessible places.
"It's our goal to be able to be on the ground anywhere in the world within 72 hours to deliver emergency aid. Rhenus is helping us with its expertise and its global network so that we can transport our system to the response area quickly and efficiently," says Barry Koperberg, the General Manager of Wings for Aid, explaining the significance of the latest development.
In signing this strategic participation agreement, both partners are expanding their working relationship, which has existed since 2018, and are confirming their common goal of supporting last-mile delivery solutions for emergency relief goods to otherwise inaccessible disaster regions. The system is not only suitable for disaster aid, but also for supplying medicines to remote areas.
Frank Roderkerk, the CEO of North-West Europe at Rhenus Air & Ocean, emphasizes the importance of humanitarian work. "The logistics operations account for about 80 percent of the costs when transporting any aid supplies. In this respect, Rhenus and Wings for Aid can achieve a significant difference for people in need."

The Remotely Piloted Aircraft System is currently in the test phase. Rhenus and Wings for Aid expect to start the first RPAS operations for humanitarian actors in Q4 2023. The Rhenus Group is one of the leading logistics specialists with global business operations and they develop innovative solutions along the complete supply chain.