DDC Care by Air project with DSV & Halton Healthcare is commercially operational
The six-month pilot project will use DDC's Sparrow drone, DroneSpot takeoff and landing zones, and FLYTE software to enable defined-route deliveries.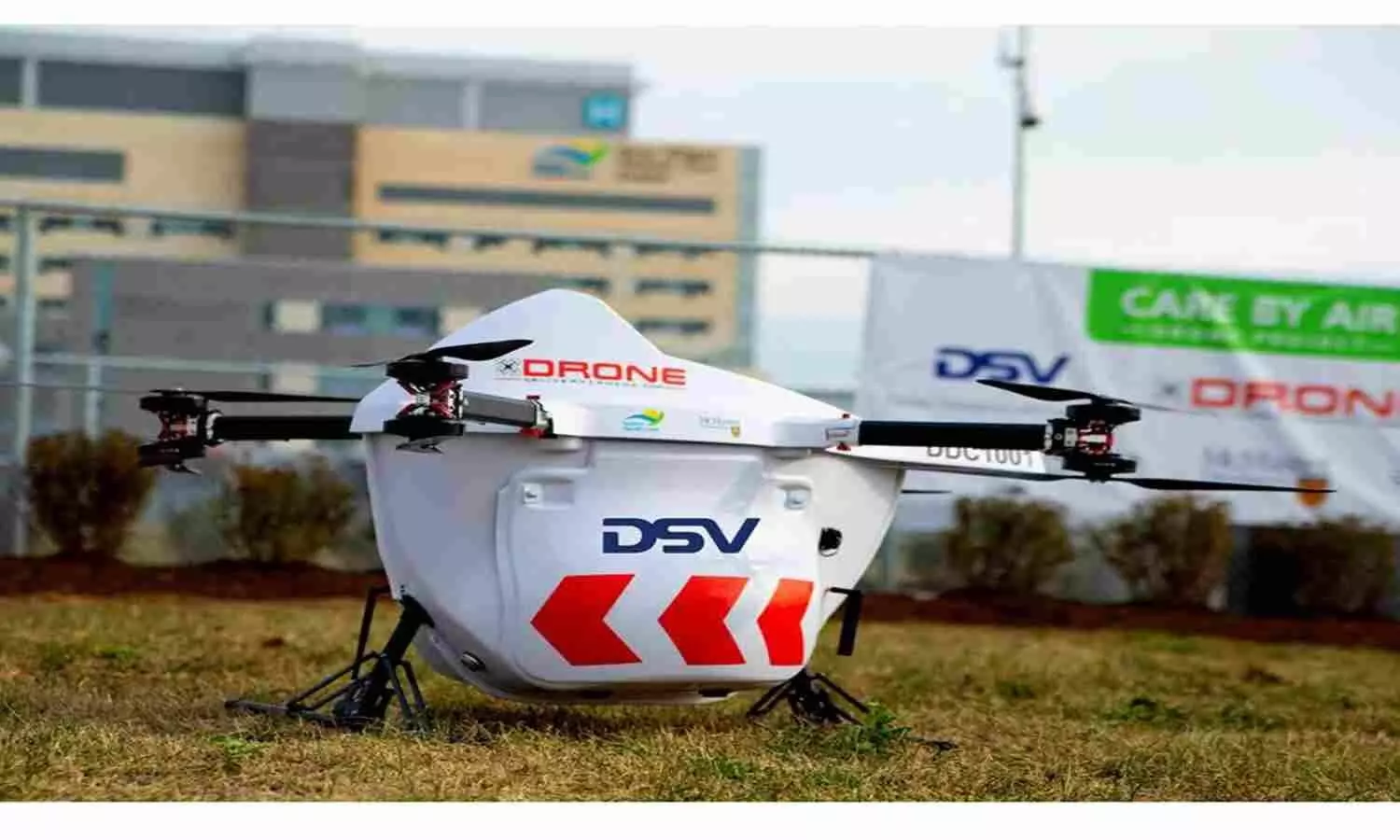 The future of next-generation logistics for a safe and secure healthcare supply chain is here. DSV is partnering in the launch of the Care by Air project, in collaboration with Drone Delivery Canada (DDC), McMaster University, and Air Canada Cargo, to assist develop a reliable, and efficient process for transporting medical supplies and products through a drone delivery system.
The Care by Air Project, which began operations on November 7, is an innovative method of transporting medical supplies. The six-month pilot project will use DDC's Sparrow drone, DroneSpot takeoff and landing zones, and the Company's proprietary FLYTE software to enable defined-route deliveries.
The solution will be utilized to transport a wide range of healthcare supplies, including medical isotopes for cancer care (provided by McMaster University), using cargo drones to Oakville Trafalgar Memorial Hospital in Oakville, Ontario, for quick and effective delivery.
This drone delivery of vital medical supplies is the first of its type in Canada, delivering healthcare items directly to a hospital for on-site patient diagnosis, treatment, or care. Drone delivery innovation will facilitate the delivery of time-sensitive commodities, allowing the next frontier in healthcare delivery.
"The post-pandemic era has highlighted the need to find innovations in healthcare, enabling safe, secure and reliable ways to deliver vital or urgent medical supplies to facilitate patient care," explains Martin Roos, Managing Director of DSV Air & Sea Inc. Canada. "The Care by Air Project represents a critical step toward optimizing these supply chains. We are excited to take this next step in drone logistics by partnering as the hub for deliveries to Oakville Trafalgar Memorial Hospital and to play an integral role in developing drone delivery routes in our communities. This will benefit Halton Healthcare's hospitals and the patients they serve."
All operations will be conducted in accordance with appropriate Canadian regulations. Flights will be remotely monitored by DDC from its Operations Control Centre located in Vaughan, Ontario.
"This partnership with Halton Healthcare and DSV is highly innovative and groundbreaking. The pilot project is just the first step of the overall vision of connecting all hospitals within the Halton Healthcare umbrella. We are very proud to commence the operations and look forward to supporting other hospitals in Ontario as well as in Canada for that matter. Our proprietary drone logistics platform is a perfect fit for delivering high-value and high-risk cargo, as is typical in the healthcare market," said Steve Magirias, CEO of Drone Delivery Canada.
The project's aim is to demonstrate the worth and usefulness of a drone delivery system in healthcare to more traditional transportation techniques.
"At Halton Healthcare, we are committed to advancing how we deliver care, which includes finding new and efficient ways to use technology. Being at the forefront of an innovative drone delivery system is the ideal way to contribute to the advancement of healthcare so we can be more responsive to the care needs of our patients, families and communities," says Hilary Rodrigues, Senior Vice President, Corporate Services, Performance & Chief Financial Officer, Halton Healthcare.
The project also intends to gain support and clearance for the future transportation of a wide range of healthcare supplies and products by cargo drones, such as specimens such as blood or human tissue to diagnose and cure heart disease and cancer.
"McMaster is a recognized leader in the discovery and commercialization of medical isotope technologies, some of the most time-critical medical supplies in the world. We are excited to be collaborating with the Care by Air team to create an innovative transportation solution that will improve access to medical diagnostics and therapies for patients not only in Canada, but around the world," says Andrea Armstrong, Adjunct Professor and Research Scientist at McMaster University.