Bristow gets early delivery positions for five Chaparral aircraft
Bristow to use Chaparral internationally to move time-sensitive cargo for logistics, healthcare & energy applications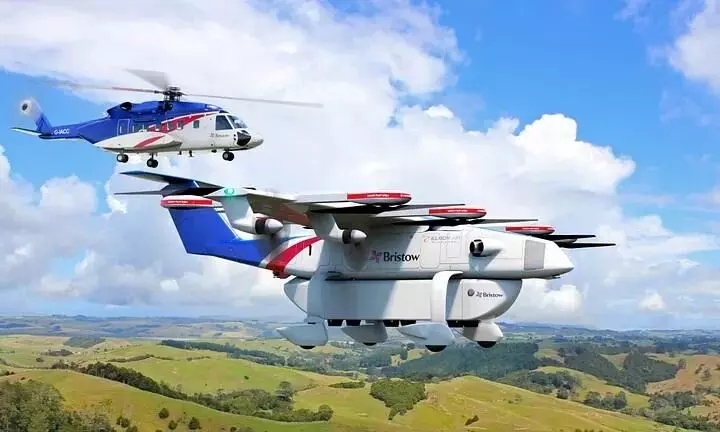 NYSE-listed Bristow Group, a leading global provider of innovative and sustainable vertical flight solutions, has reserved early delivery slots for five of Elroy Air's vertical take-off and landing (VTOL) cargo systems, the Chaparral. Bristow had signed a letter of intent (LOI) with Elroy Air to pre-order 100 Chaparral hybrid-electric cargo VTOL aircraft last year.
The Chaparral will be the first of its kind VTOL aircraft dedicated to cargo movement to be introduced into Bristow's aircraft fleet, says an official release from Elroy Air. Bristow plans to use the Chaparral internationally to move time-sensitive cargo for logistics, healthcare, and energy applications.
"Securing these early delivery positions underscores our commitment to leading the advanced air mobility market, and builds on our 75+ year legacy of vertical lift innovations," says Dave Stepanek, Executive Vice President and Chief Transformation Officer, Bristow. "At Bristow, we're excited to usher in a new era of vertical lift operations and collaborate with Elroy Air to meet the emerging market of express shipping cargo in cities and regions without relying on existing or new airport infrastructure."
The Chaparral is a lift plus cruise hybrid eVTOL cargo aircraft that leverages the benefits of both conventional turbines and electric propulsion for efficient autonomous operation and longer range. Engineered with an advanced carbon composite airframe, Chaparral can be configured to ship inside a 40-foot container or in aircraft for rapid global deployment.
"Getting to this stage of the process — reserved delivery positions secured with deposits, underscores our relationship built with Bristow and we are extremely pleased to be at this stage in development," says Kofi Asante, Vice President, Business Development and Strategy, Elroy Air. "Bristow's expertise is a strong catalyst for bringing new aircraft like ours to the market. Their rotorcraft expertise, global footprint, and innovative mindset have made them a strong partner and we are excited for the next chapter together. We look forward to seeing the Chaparral operate internationally as part of the Bristow fleet."