Amazon's Prime Air drone delivery service to take off in California's Lockeford
Since Prime Air's inception, Amazon has designed, built, and tested many drones, reportedly creating over two dozen prototypes.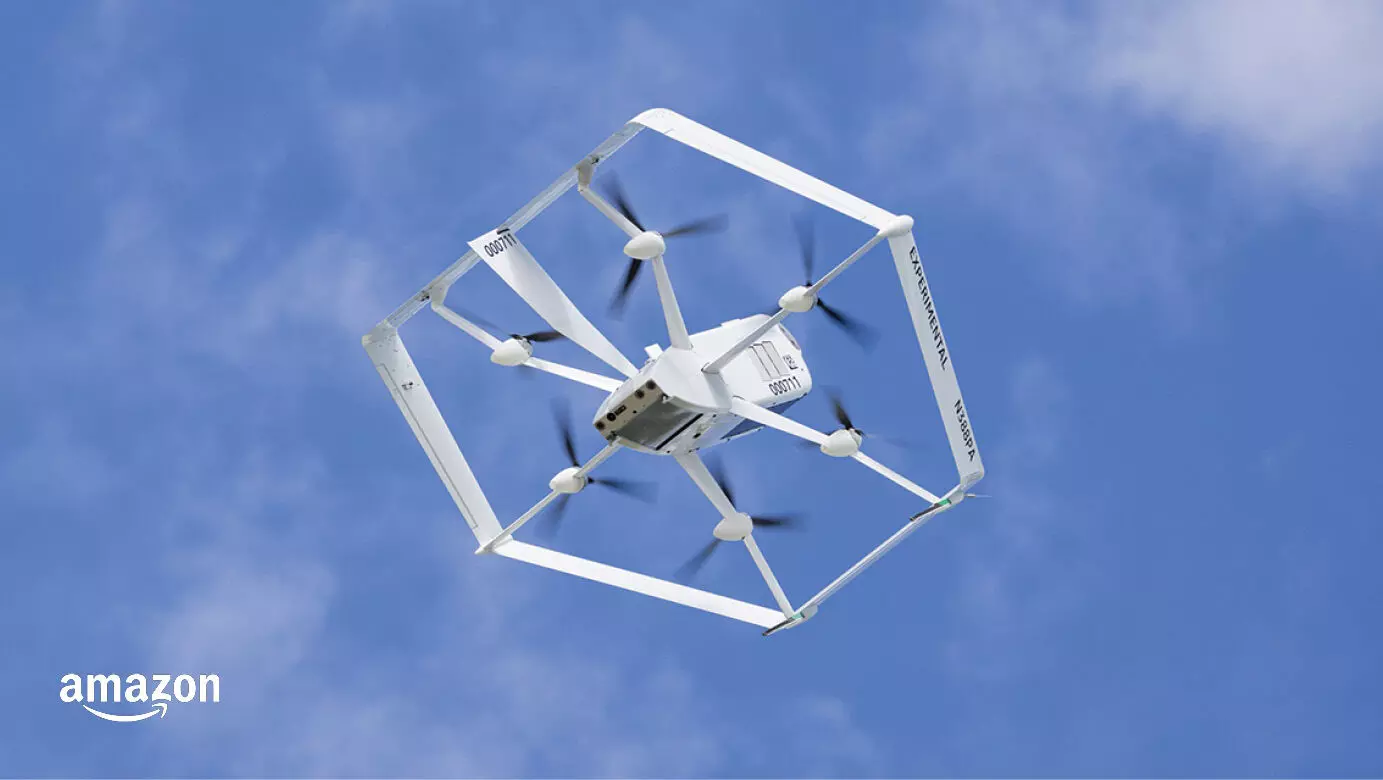 "The promise of drone delivery has often felt like science fiction. We've been working for almost a decade to make it a reality."

With these words, Amazon announced the launch of its drone air delivery service – Prime Air – at Lockeford, California in the US.

Laying down 'the challenge', Amazon outlined the pain points it aspired to overcome through its drone delivery service. "How do you get items to customers quickly, cost-effectively, and—most importantly—safely, in less than an hour? And how do you do it in a way that can scale? It's relatively easy to use existing technology to fly a light payload a short distance that's within your line of sight, but it's a very different challenge to build a network that can deliver to customers across large communities."

Amazon had first announced its drone delivery service – Prime Air – in 2013. However, it was only in August 2020 that the firm received a go-ahead from the US aviation regulator – the Federal Aviation Administration (FAA). According to a Reuters report, Amazon Prime Air received the FAA's approval to test delivering orders using autonomous drones at the time.

Amazon affirmed that they were following the regulatory routes set out by the FAA for the rollout of the Prime Air service in Lockeford. "We are working with the FAA and local officials in Lockeford to obtain permission to conduct these deliveries and will continue with that collaboration into the future."

"Lockeford residents will soon have access to one of the world's leading delivery innovations," said California State Assemblyman Heath Flora, whose district includes Lockeford. "It's exciting that Amazon will be listening to the feedback of the San Joaquin County community to inform the future development of this technology."

Behind the Scenes
Amazon further acknowledged its commitment and effort to making Prime Air a reality. "Our teams of hundreds of scientists, engineers, aerospace professionals, and futurists have been working hard to do just that—and later this year, Amazon customers living in Lockeford, California, will become among the first to receive Prime Air deliveries."
According to Amazon, what sets Prime Air apart is the team effort that has gone into the launch. "We're building something different. We've created a sophisticated and industry-leading sense-and-avoid system that will enable operations without visual observers and allow our drone to operate at greater distances while safely and reliably avoiding other aircraft, people, pets, and obstacles."
Amazon designed the "sense-and-avoid system" for two main scenarios – to be safe when in transit, and to be safe when approaching the ground. "When flying to the delivery location, the drones need to be able to identify static and moving obstacles. Our algorithms use a diverse suite of technologies for object detection. Using this system, our drone can identify a static object in its path, like a chimney. It can also detect moving objects on the horizon, like other aircraft, even when it's hard for people to see them. If obstacles are identified, our drone will automatically change course to safely avoid them. As our drone descends to deliver the package into a customer's backyard, the drone ensures that there's a small area around the delivery location that's clear of any people, animals, or other obstacles."
Why Lockeford?
By launching the service in Lockeford, Amazon in its own way attempts to pay its tribute to Lockeford's long association and contribution to the aviation industry. "Lockeford has historic links to the aviation industry. The community boasts one of the early pioneers of aviation—Weldon B. Cooke, who built and flew early planes in the early 1900s—as a former resident. Now, over a century later, residents will get the opportunity to sign up for free drone delivery on thousands of everyday items."
The firm stated that the Lockeford community will be Ground Zero for its pilot Prime Air project. "Lockeford residents will play an important role in defining the future. Their feedback about Prime Air, with drones delivering packages in their backyards, will help us create a service that will safely scale to meet the needs of customers everywhere—while adding another innovation milestone to the town's aviation history."
It emphasised empowering the local community nurturing partnerships and spurring employment opportunities. "As we launch the service in Lockeford, we'll also be investing in the community, creating new jobs, building partnerships with local organisations, and helping reduce carbon emissions—all thanks to this futuristic technology that could one day become just as common as seeing an Amazon delivery van pull up outside your house."
Since the inception of Prime Air, Amazon has designed, built, and tested many drones, reportedly creating more than two dozen prototypes. Check out the graphic below to view some of the designs, including the latest version, which will be used to make customer deliveries in real-world environments.
The Road Ahead
Amazon has said that once onboarded, customers in Lockeford will see Prime Air-eligible items on Amazon. "They will place an order as they normally would and receive an estimated arrival time with a status tracker for their order. For these deliveries, the drone will fly to the designated delivery location, descend to the customer's backyard, and hover at a safe height. It will then safely release the package and rise back up to altitude."
(Graphic designed by Manjula Nair)