Sustainability: The Aviation Industry's Roadmap to a Greener Future
While sustainability is sometimes thought of as an ecologically oriented concept, it is actually a comprehensive strategy that examines three elements - ecological, social, and economic, all of which must be taken into account in order to achieve long-term success.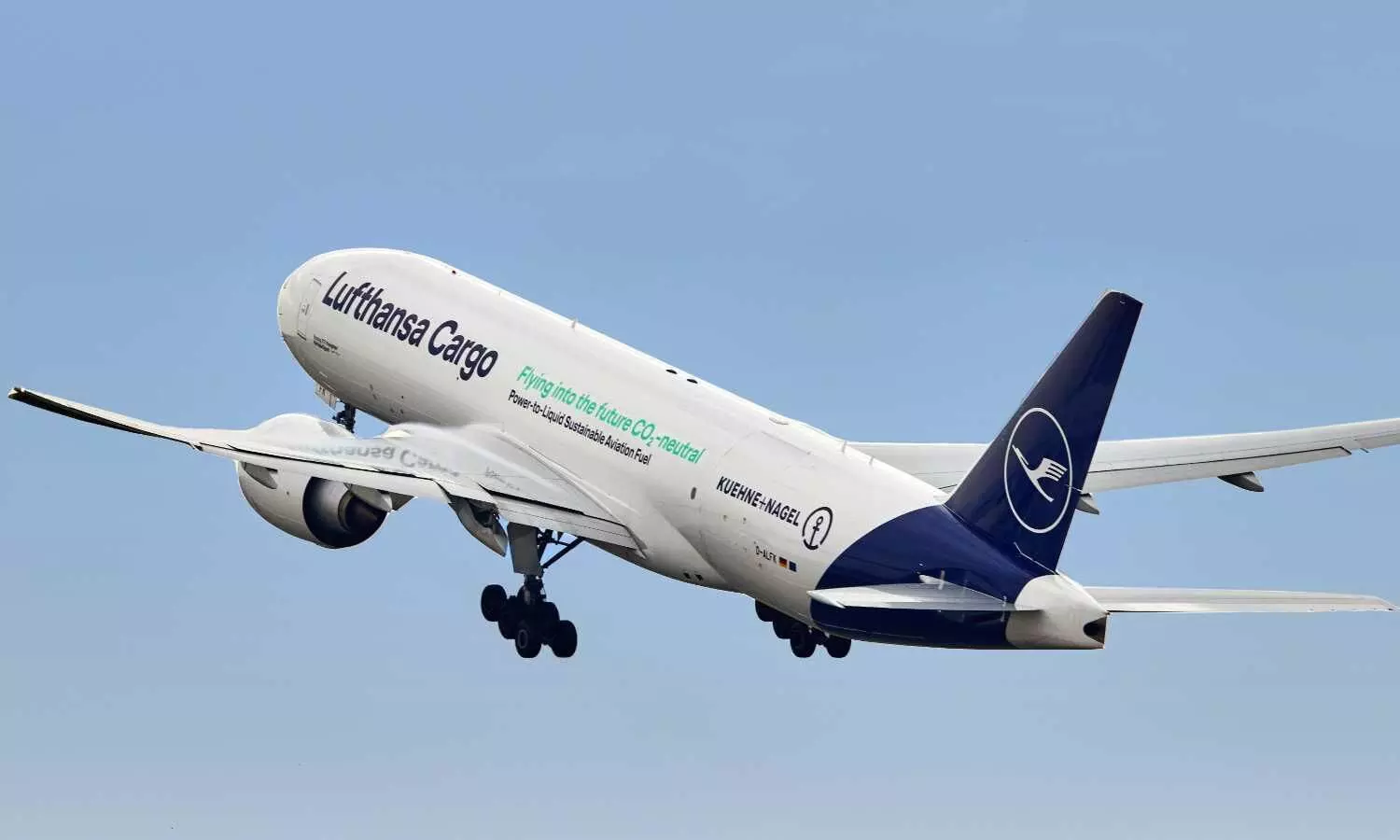 The 2030 Agenda for Sustainable Development, agreed by the United Nations' 193 member states in 2015, is built on the foundation of sustainability.
The establishment of long-term policies and investments to build a sustainable aerospace industry, including general aviation, commercial aviation, and air freight, is critical to ensuring the sector's future.
However, considering the pandemic's tremendous impact on consumer airlines globally, most have simply prioritised survival. Governments must step up and give financial incentives to these crucial parts of the aviation supply chain in order to reduce their carbon impact.
The air cargo business is dedicated to reducing its environmental footprint through decarbonization and waste reduction programmes and has a duty to eliminate, minimise, or compensate for its negative effects. Previously, lofty goals were established, and many businesses are leading the way with bold and inspirational projects.
To reach globally accepted objectives such as the 17 United Nations Sustainable Development Goals and the Paris Agreement, all air cargo businesses must begin or accelerate their sustainable transformation.
"Some governments are stepping in to support aviation by linking Covid-19 relief funds with sustainable initiatives and impact. With the aviation industry under a strong spotlight as the world increasingly prioritises environmental sustainability, the air freight sector too, must continue to invest in innovative green solutions," said Joshua Ng, Director, Alton Aviation Consultancy.
Data on Aviation Carbon Emissions
According to the International Air Transport Association (IATA), 61 million tonnes of goods were transported by air in 2019, valued at $6.5 trillion. Under normal circumstances, it accounts for around 35% of global trade value. The value of worldwide aviation trade will exceed USD 8 trillion this year.
Global CO2 emissions declined 5.8 % in 2020, or around 2 Gt (Gigatonnes) CO2 – the largest ever drop and nearly five times greater than the drop following the global financial crisis in 2009. As a result of the pandemic, CO2 emissions fell faster than energy consumption in 2020, reducing demand for oil and coal more than other energy sources while increasing demand for renewables.
"Within the broader aviation industry, the largest contributors to carbon emissions are commercial passenger and cargo operators. The International Civil Aviation Organization (ICAO) estimates global aircraft operations contribute approximately 80% of aviation CO2 emissions and 3.5% of the total radiative forcing (a measure of change in climate) by all human activities," said Joshua.
"This fuel is considered the fuel of the future, capable of bringing the CO2 footprint of aircraft engines to zero. It is not just beneficial to us and our customers, but to the logistics industry as a whole."

Daniel Randig, Senior Vice President Air Logistics, Middle East & Africa at Kuehne+Nagel
Despite the 2020 decrease, global energy-related CO2 emissions remained at 31.5 Gt, contributing to CO2 reaching its highest ever average yearly concentration in the atmosphere of 412.5 parts per million — more than 50% more than when the industrial revolution began.
Sustainable Aviation Fuel: A Game-Changer
The development of Sustainable Aviation Fuel (SAF) has facilitated the way for airlines around the world to reach net-zero emissions in the upcoming years. While it is certainly a much cleaner and less polluting alternative to conventional fuel, there are still some disadvantages of sustainable aviation fuel. Globally, SAF still makes up less than 0.1% of aviation fuel and it costs about four times as much than kerosene.
Furthermore, some experts argue that investing in SAF is not the right strategy to decarbonise the engine technology and believe a much better way would be to invest in technologies like hydrogen and electric propulsion as these are the only long-term solutions to aviation emissions.
Nonetheless, more and more companies are now investing in groundbreaking technologies to turn a variety of feedstocks into aviation fuel and an increasing number of airlines are betting on it, making some decisive steps in the right direction in the run to net-zero emissions.
As part of The International Air Cargo Association's (TIACA) sustainability initiative, which was launched in November 2019, the organisation conducted a large-scale industry study comprising supply chain partners from all over the world, as well as from every industrial sector and business size. This year's results show a much complete study of the sector, with a 62% increase in participation. The replies have been analysed and released to show how the sector has developed since the 'ground zero' first evaluation in 2020.
"Much of the air cargo sector is banking on these fuels as a significant part of the industry's effort to cut emissions and become carbon neutral by the middle of the century. As the issue gains prominence throughout the supply chain, industry organisations such as the Airforwarders Association (AfA) are establishing working groups of key players, including stakeholders such as airlines, trucking interest groups, and airports," said Joshua.
Alton Aviation Consultancy anticipates that the market for SAF will be supply-constrained over the next 5 – 10 years, based on demand and supply. While there is a need for SAF, there are not enough SAF plants to supply that demand. Investments are needed to develop novel SAF routes, reduce SAF production costs, and build new or convert existing plants to generate SAF.
SAF Benefits
"SAF is a drop-in fuel that is compatible with the ground infrastructure and aircraft of today and presents an immediate opportunity for reducing carbon emissions. SAF currently makes up less than 0.05% of global jet fuel demand, at a cost typically three to four times more than that of conventional jet fuel. A few countries have already taken steps to increase the usage of SAF, by increasing its production and hopefully reducing its cost," said Joshua
SAF is an important component in mitigating the impact of aviation on climate change. While the carbon lifetime of fossil fuels is linear and produces extra CO2, the carbon lifecycle of SAF is circular, with the goal of reusing waste or biomass and reducing emissions.
"With the aviation industry under a strong spotlight as the world increasingly prioritises environmental sustainability, the air freight sector too, must continue to invest in innovative green solutions"

Joshua Ng, Director, Alton Aviation Consultancy
"The result of SAF use is a significantly reduced amount of additional carbon introduced into the global carbon cycle of at least 75%. SAF is a cleaner substitute for conventional jet fuel. Having similar characteristics to traditional jet fuel kerosene, SAF can be blended up to 50% with traditional kerosene safely and is already being used on many flights," said Daniel Randig, Senior Vice President Air Logistics, Middle East & Africa at Kuehne+Nagel.
Airlines, through IATA, declared that the net-zero objective will be met through a combination of maximum elimination of emissions at source and the use of approved offsetting and carbon capture technologies:
• 65% usage of SAF sourced from feedstocks that do not degrade the environment or compete with food or water
• 13% investment in new aircraft technology, including radical new aerodynamic and alternative propulsion (electric or hydrogen) solutions
• 3% continued improvement in infrastructure and operational efficiency, with a particular focus on improved air traffic management
• 19% usage of approved offsets including carbon capture and storage technology.
"This fuel is considered the fuel of the future, capable of bringing the CO2 footprint of aircraft engines to zero. It is not just beneficial to us and our customers, but to the logistics industry as a whole. However, it is important to consider that achieving carbon neutrality is an enormous undertaking, which will require more than new technology, innovative solutions, and even fuel transformation," said Randig.
Net-Zero-Carbon-Emissions Initiative
LATAM stated its intention to attain 5% SAF use by 2030, prioritising Latin American companies in the process, during IATA's Wings of Change America event in Chile, which focused on sustainability.
In the United States, environmental sustainability advocates, including the airline and air cargo industry, welcomed US President Biden's recently announced goal of replacing all jet fuel with sustainable alternatives by 2050.
Rolls-Royce and Air bp have agreed to minimise carbon emissions from gas turbine testing. All aviation fuels provided for engine tests at the Dahlewitz facility in Germany and the Rolls-Royce sites in Derby and Bristol in the United Kingdom will be a 10% SAF mix under the arrangement.
Enerkem, a Canadian biofuel company, has won the "Sky's the Limit Challenge" for their SAF made from forest biomass. Air Canada has announced that four commercial flights would depart from San Francisco towards its major hubs of Toronto, Vancouver, Calgary, and Montreal. Aemetis, Inc. signed a $530 million, 10-year offtake agreement for 125 million gallons of mixed SAF with JetBlue in the United States.
In Asia, the New Energy and Industrial Technology Development Organization (NEDO), which is funded by the Japanese government, would invest 114.5 billion yen ($892 million) in the development of new synthetic fuels. TotalEnergies and ENEOS Corporation have launched a cooperative feasibility study to evaluate the production of SAF at the ENEOS Negishi Refinery in Yokohama, Japan. Cathay Pacific has created Asia's first big corporate SAF programme in Hong Kong.
In Europe, Ryanair will collaborate with Neste Holland to use a 40 percent SAF blend to power about a third of its aircraft at Amsterdam Airport Schiphol.
Minister Datuk Seri Dr. Wee Ka Siong has assured Malaysia's commitment to working with the ICAO to solve climate change problems. At the Future Aviation Forum in Riyadh, Saudi Arabia, Siong met with partners from across the world. He noted that the worldwide aviation industry is confronted with several issues, including the Covid-19 outbreak, the economic crisis, and the need to cut carbon emissions. He also believed that SAF was vital to lowering carbon emissions and reaching the aviation industry's worldwide goals.

On the evening of 6 May 2022 in Brussels, at the Single European Sky ATM Research (SESAR) 3 JU programme, SEA, the company that manages Milan Airports, signed the commitment to the new partnership that aims to accelerate, through research and innovation, the achievement of a more inclusive, resilient, and sustainable Digital European Sky.
"New manufacturing technology is also reducing waste in the creation of new parts and components. Subtractive manufacturing method, which involves beginning with a solid block of material and eliminating material by cutting, boring, and drilling, has buy-to-fly ratios as low as 10%. (i.e. 90 percent of material is wasted during the manufacturing process). The ratio is enhanced to 50 percent or greater by using fledgling additive manufacturing technology, in which a complicated object may be fashioned by material deposition in the exact geometries necessary. This advancement not only helps to decrease waste, but also allows design engineers to create lighter complicated pieces, which is another key source of fuel savings," said Joshua.
Digitization: Key Towards Sustainability
By eliminating inefficiencies and streamlining the procurement and administration stages of a charter operation, digitization of the cargo charter market has the potential to play a significant role in assisting freight forwarders in meeting their sustainability goals.
The digitization of airports will allow for the implementation of customer-centric management through the use of technology, which will optimise work processes while also allowing for the segmentation of services, identification of demands, and even the prediction of trends or prospective problems.
India is on track to meet its aim of having 220 airports by 2025, with 80 new airports opening in the next three years. The goal is to do this while also addressing sustainability through digitisation.
At COP26, Indian Prime Minister Narendra Modi declared "Net-Zero" by 2070, and digitalization and energy management are undeniably sowing the seeds of sustainability in the aviation sector.
"Digitization of the cargo charter market can help in various stages of the supply chain. At the request stage with aircraft availability known, more optimal routing or carrier combinations can be calculated, cutting both cost and time to delivery for the forwarder and end client. By reducing the flying time involved with the charter, this optimisation also has the added benefit of reducing CO2 burn of the aircraft chartered for the operation," said Simon Watson, co-founder and director of CharterSync.
CharterSync, a technology used by an air cargo charter company, removes the need for time-consuming emails and phone calls by centralising all phases of cargo charter into a single, simple-to-use system, simplifying, accelerating, and streamlining the air cargo charter process.
"For time critical charters, optimisation of the aircraft routing with road transport can remove unnecessary positioning sectors whilst still meeting the deadline for delivery. For forwarders that charter regularly, optimisation of routings could greatly assist them in meeting their sustainability goals," said Watson.
The usage of fossil fuels adds considerably to aviation's carbon footprint in terms of emissions. While aircraft manufacturers are investing in research to create new aircraft concepts that utilise electricity or hydrogen as their principal fuel, these technologies are unlikely to be accessible until the second half of this decade, if at all.
With each new generation of aircraft developed over the previous few decades, the aviation industry has been quite successful in increasing its environmental footprint and sustainability initiative acceptance. The world's leaders have pledged to work toward a zero-emissions future. It is now up to policymakers to implement policies that will assist nations in achieving their objectives. Although widespread implementation of SAF is still a few years away, its use is unavoidable and will only increase. Decarbonizing air cargo is a revolutionary journey, and more must be done to reach the sector's and businesses' targets.