EFW receives STC for world's first A320P2F
The A320P2F is the second variant in Airbus narrow-body P2F solutions.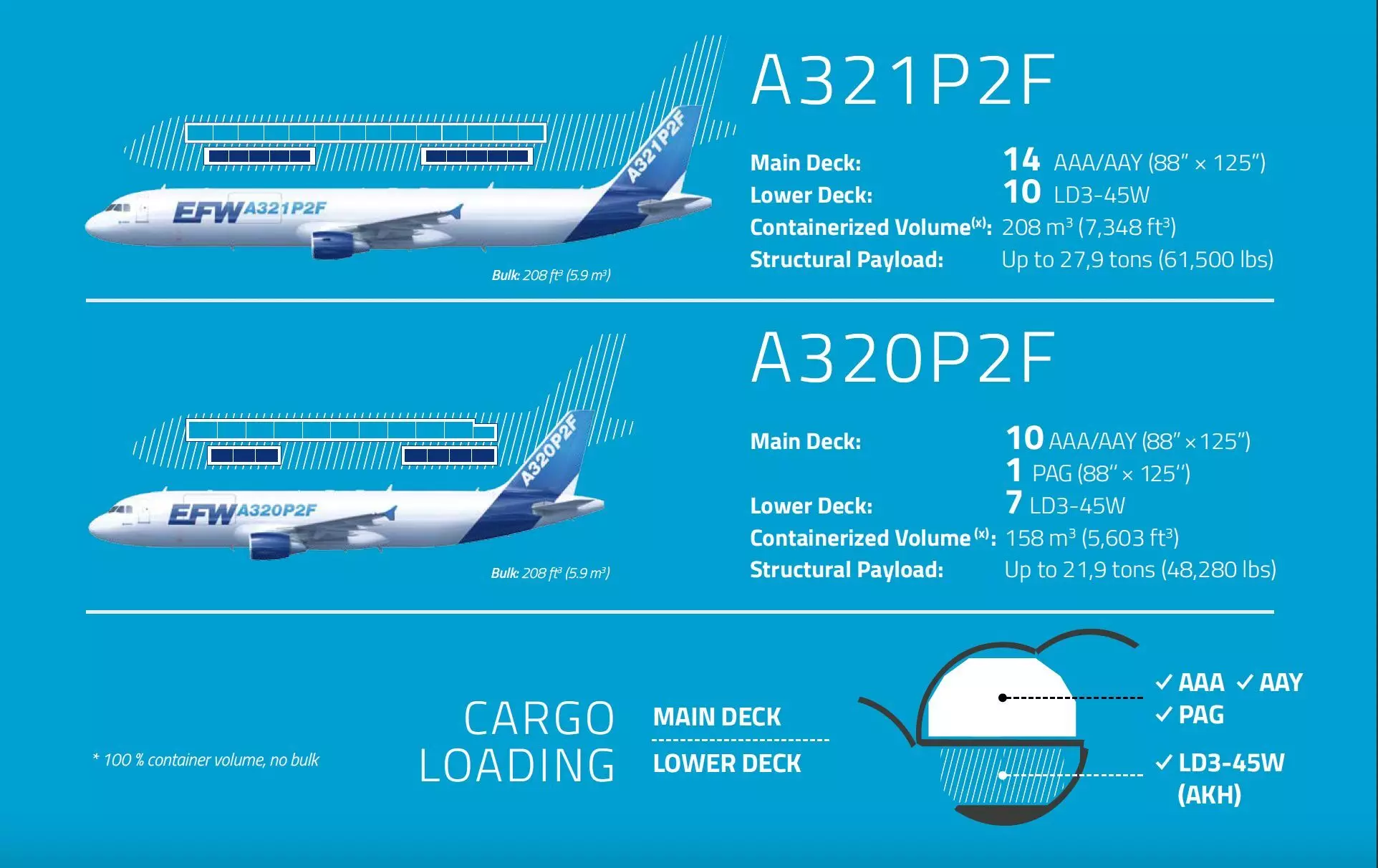 Elbe Flugzeugwerke (EFW) – a centre of excellence for Airbus freighter conversions – has received the Supplemental Type Certificate (STC) from the European Union Aviation Safety Agency (EASA) for its head-of-version A320 Passenger-to-Freighter (P2F) aircraft.
This prototype unit is the first A320P2F aircraft to be developed in the world, joining a family of Airbus P2F programmes that include the A330-200P2F, A330 300P2F and A321P2F.
The A320P2F is the second variant in Airbus narrow-body P2F solutions. Similar to the A321P2F variant, the A320P2F is a collaboration between EFW and its parent companies – Singapore Technologies (ST) Engineering and Airbus, with EFW leading the overall programme as well as marketing and sales efforts. The prototype A320P2F aircraft is owned by the aviation leasing arm of ST Engineering. It will be the first of several converted freighter aircraft on lease to Vaayu Group, an aviation solutions and services group of companies.
On February 14, ST Engineering had announced that its commercial aerospace business signed an agreement to lease up to five Airbus A320 Passenger-to-Freighter (P2F) aircraft to Vaayu Group (Vaayu) which is a leading UAE based aviation solutions player. In line with this development, leading Nairobi-based all-cargo airline Astral Aviation will be the launch operator for the first two of the five A320P2F aircraft which will be sub-leased to them from Vaayu.
Incidentally, this is the world's first A320P2F aircraft by Elbe Flugzeugwerke, a joint venture of ST Engineering and Airbus that is currently in its certification phase and is expected to be ready for revenue service in the first half of 2022. This will also be the world's first A320P2F aircraft to go into operation. ST Engineering is also slated to convert and lease the remaining four freighter aircraft progressively.
"With this STC, we have added another first in the world to our family of Airbus P2F platforms," said Andreas Sperl, EFW's CEO. "The A320P2F is a great complement to our other conversion programmes. Airlines which employ different Airbus freighters to meet their various needs will get to enjoy improved operating economics due to the commonality across these platforms. Being a newer-generation freighter, it also offers greener fuel burn outcomes for its operators."

The current global Airbus A320 passenger fleet comprises thousands of aircraft, offering good-fitting options for airlines and leasing companies wanting to invest in converted freighters. The A320P2F is able to accommodate 10 container and 1 pallet positions in the main deck, and seven container positions in the lower deck. Given its gross payload of up to 21 tonnes at a maximum range of 1,850nm and total usable containerised volume of 159m3 (5,603ft3), the freighter aircraft has 85% stowage efficiency. This makes the A320P2F an ideal freighter platform to serve the fast-growing ecommerce market globally.

The widebody A330P2F programme also comes in two variants – the A330-200P2F and A330-300P2F. The A330-200P2F can carry a gross payload of up to 61 tonnes for over 7,700 km. The A330-300P2F offers a gross payload of up to 63 tonnes and a containerised volume of up to ~18,581ft3 (~526m3), which brings a new paradigm of efficiency with 23% more cargo volume than other freighter aircraft in the same class.

To meet the rising demand for freighter conversions, ST Engineering and EFW are setting up new conversion sites in China and the U.S. this year, and are ramping up conversion capacity for all their Airbus P2F programmes to over 60 slots per year by 2024.