Edmonton, SixRing partner to accelerate sustainable aviation
MoU will focus on improved facilities and access to sustainable aviation fuel for Edmonton metro region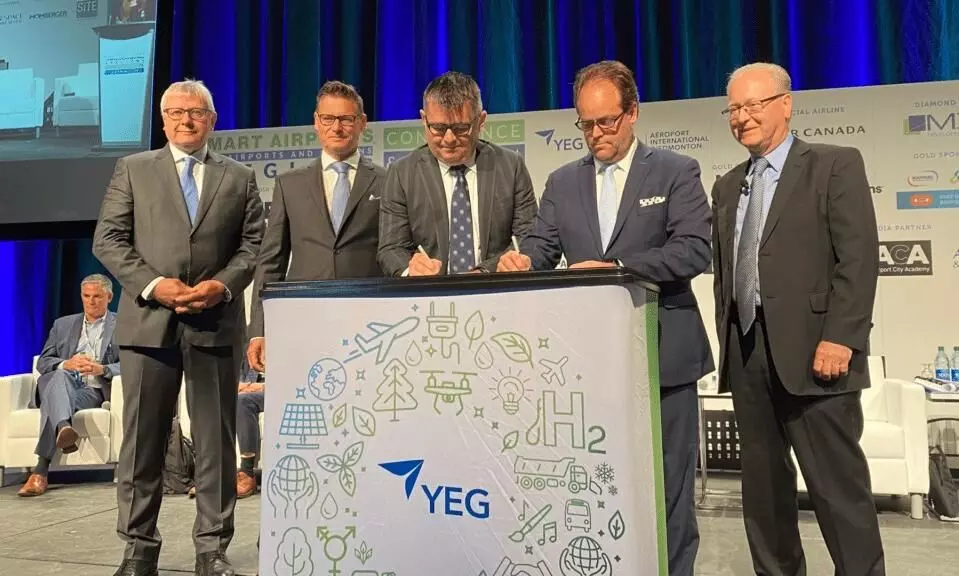 Edmonton International Airport and SixRing have signed a memorandum of understanding (MoU) to advance the use of biofuels, including sustainable aviation fuel (SAF), in the aviation industry.
"The partnership between SixRing and Edmonton International Airport will support the development of a commercial-scale production facility in the Edmonton metro region," says a release from Edmonton.
"We need sustainable practices and innovative thinking to future-proof our industries," says Myron Keehn, President & CEO, Edmonton International Airport. "We are proud to partner with like-minded organisations like SixRing to accelerate the use of sustainable aviation fuel in our region. SixRing's suite of technology and innovative mindset is instrumental to the growth and development of sustainability standards in various industries, and we are thrilled to partner with them as we work to decarbonise the aviation sector."
SixRing is an Alberta-based firm that has designed a technology platform to convert underutilised, non-food, biomass into a range of products for processing into biofuels including SAF, the release added.
"SixRing is excited to deepen its partnership with Edmonton International Airport to develop a commercial scale production facility within the Edmonton metro region," says Clay Purdy, CEO, SixRing. "The Edmonton region is an ideal location to convert underutilised agricultural and forestry biomass into advanced biofuels including SAF. Edmonton is also a proven sustainability leader, bringing global reach, deep institutional capacity, and an unwavering commitment to decarbonizing the aviation sector."
Edmonton Airport is on its way to net-zero emissions by 2040 and is actively building partnerships and pathways for the adoption of emerging sustainable technologies, the release added.