Bolloré Logistics partners up with IAG Cargo for SAF
SAF to be delivered in 2 shipments in July & November 2022, & will reduce ∼2,400 tonnes of CO2 on a net lifecycle basis.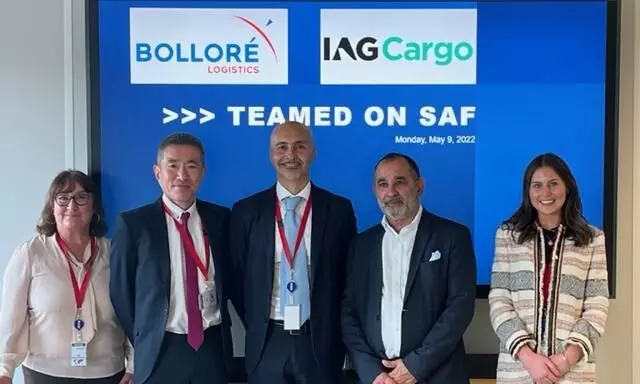 IAG Cargo, the cargo division of International Airlines Group (IAG) has announced a collaboration with Bolloré Logistics to reduce its CO2 supply chain emissions by purchasing one million litres of sustainable aviation fuel (SAF).

About the development, John Cheetham the Chief Commercial Officer at IAG Cargo said, "At IAG Cargo we're continuing to look at ways to reduce our impact on the environment and so we're delighted to collaborate with Bolloré Logistics to reduce carbon emissions with the purchase of sustainable aviation fuel. Our partnership with Bolloré Logistics is a great example of cross-industry engagement needed to support sustainable air cargo."

The SAF will be delivered in two shipments, in July 2022 and November 2022 and will reduce approximately 2,400 tonnes of CO2 on a net lifecycle basis. The SAF will be manufactured at Phillips 66 Humber Refinery in North Lincolnshire UK from sustainable waste feedstocks.
SAF can reduce carbon emissions by over 90% and is widely recognised as the most effective measure to significantly reduce the environmental footprint of air cargo. In April 2021, IAG was the first European airline group to commit to 10% of its fuel to be SAF by 2030.
IAG Cargo is committed to making aviation more sustainable, and over the last year has bought over 10 million litres of SAF to reduce its customers' supply chain emissions on a net lifecycle basis by approximately 24,400 tonnes of CO2.

In July 2021, Bolloré Logistics announced the launch of – AIRsaf – a new offer based on the use of SAF to offer its customers the best eco-responsible approach to air freight by reducing carbon emissions by up to 80%. This solution, offered at a cost price, relates to one-off or regular shipments made by several airline companies on all geographical routes.

Philippe de Crecy, Vice President of Airfreight Europe at Bolloré Logistics, said, "This partnership is in line with our "Powering Sustainable Logistics" CSR program. We are indeed committed to cutting 30% by 2030, compared to 2019, of our Scope 3 CO2 emissions generated by the execution of transport. This commitment is important to us but moreover for our customers so that they can meet their carbon emission reduction targets. We want to be a driving force in favour of our clients using these more sustainable solutions for air transportation."

Simon Holt, Emerging Energy Manager at Phillips 66, said the endeavour was just the start, "This is just the start of our SAF journey at Phillips 66 as we continue to increase production and work on new pathways. It is fantastic to see this new supply chain come to life through collaborative relationships working towards a common goal."