Virus and War: Headwinds to Remain
The Asian air cargo's freightscape has navigated turbulence since March 2022 as it 'Super Mario-ed' its way against the backdrop of the Russia-Ukraine crisis and yet another Omicron onslaught. Ricked by volatility, markets are yet to stabilise. Manjula Nair unravels these market mayhems and attempts to decode what it means for the Air Cargo market in Asia.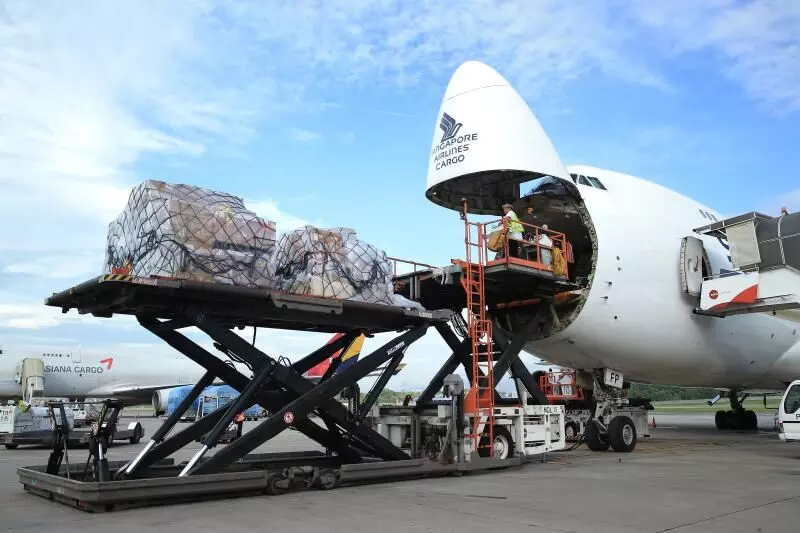 IATA's March 2022 Air Cargo Market Analysis stated that air cargo volumes had fallen to late 2020 levels.

IATA's economics attributes the drop in volume to a "challenging operational backdrop" citing the Russia-Ukraine war and the unprecedented mammoth Omicron wave that induced long lockdowns in certain regions across China, "Actual March industry-wide cargo tonne-kilometres (CTKs) rose compared to February, but were 5.2% lower than a year ago…Now with the Omicron wave spreading in China and the Ukraine-Russia conflict continuing, the likelihood of air cargo having entered a downturn is mounting," the analysis reads.
According to IATA, "Carriers in the regions most impacted by these adverse developments, namely Asia Pacific, Europe, and the Middle East, recorded a fall in CTKs – compared to a year ago and month-on-month."
IATA is not alone in its findings. In its monthly breakdown of air freight movement (recorded in tonnes), Changi airport statistics revealed a dip for the months of March and April 2022, compared to the corresponding months of the previous year. The March figure reported a drop of 3.4%, while the April figures fell by 8.9%.

The IATA analysis and the Changi airport data is reflective of the turbulent winds that the Asian air cargo market has recently encountered over the last few months.

The trend bled into air travel as well. With Asian passenger air travel felt the pinch as was reflected in IATA Director General Willie Walsh's comments, in his keynote address at the Changi Aviation Summit. While mentioning how Europe, North America, and Latin America regions witnessed recovery in 2022, Walsh said, "Regrettably, Asia continues to lag the recovery in 2021. International travel was only at 7% of where we were in 2019. And although it's improved to 17% in the first quarter of this year, there is still a long way to go. And to put it into context, international travel within this region, one of the biggest and most important international markets in the world, is only at 6% of where it was in 2019."

To understand why this dwindling state of air cargo is particularly striking, let's look at some literature that traces the drop in air cargo in the Asia region.

In its 2022 report, law firm Reed Smith LLP in its report – Global Air Freight's Future: The Sky is the Limit – traced air cargo's transformation over the last two decades.

"Regional air cargo market shares have changed significantly during the past two decades. According to Boeing, airlines based in the Asia-Pacific region, Europe, and North America have accounted for over 80% of the world's air cargo traffic for that entire period. In 1999, airlines based in the Asia-Pacific region had the largest share at 34%, while airlines based in North America had a 31% share of the world's air cargo traffic."
Airlines in the Asia-Pacific held the largest share, however, this figure witnessed a drop over the last two decades, "Since 2000, however, carriers based in the Middle East have leveraged their geographic position at the crossroad between Africa, the Asia-Pacific region, and Europe. Middle Eastern carriers quickly expanded their wide-body passenger and freighter fleets, which allowed them to increase their share of world air cargo traffic from 4% in 1999 to 13% in 2019. In 2019, airlines based in the Asia-Pacific region, Europe, North America, and the Middle East accounted for over 90% of all world air cargo traffic."

About the current scenario worldwide, the report stated, "North America, Asia Pacific, and Europe collectively make up around 75% of the global freighter fleet. The North American air freighter fleet is currently the largest in the world, by some margin. However, with the rapid economic growth of the Asia-Pacific region, it's expected that, within the next 20 years, the Asia-Pacific fleet will more than triple, bringing it close to parity with the North American fleet in terms of size."

The report also lays down a forward-looking forecast which predicts economic growth over the next two decades. "The emerging markets are expected to lead global economic growth during the next 20 years, with South Asia, China, East Asia, and Africa all exceeding the global average GDP growth of around 2.5%. GDP increases when there is a trade surplus (i.e., the total value of goods and services that domestic producers sell abroad exceeds the total value of foreign goods and services that domestic consumers buy). Accordingly, the logistics industry (of which air cargo is a key part) will be vital for those emerging market economies."

According to a whitepaper entitled, 'Overview of the Air Cargo Industry in 2021', published by Upply – a platform providing data insights on global freight – "Growth in the all-cargo aircraft market should mainly concern the Asia-Pacific zone, which is expected to be on level pegging with North America in 2040. In China, in particular, the number of all-cargo aircraft is expected to be multiplied by four."

We decided to take a closer look at the reasons why the Asian air cargo market has been unstable and reached out to Xeneta's chief analyst – Peter Sand – to weigh in on the issue.

"A lot of geopolitical headwinds affect global logistics and air cargo supply chains right now – especially in the most recent months. Demand is not recovering fast, and there is still lots of inter-continental capacity which is 'offline' since global passenger traffic/connectivity remains affected by Covid-restrictions. China's recent lockdown, which included Shanghai – remains an obstacle in weeks to come. A gradual reopening of this Asian air cargo hub can affect the whole Asia Pacific air cargo market," Sand remarked.

Considering the spate of lockdowns that have belted China in the recent months, Sand said, "Speaking of the Shanghai lockdown and how that has impacted the whole Asia Pacific market, Xeneta data shows (refer to the graphic) freight rates dropped rapidly end-March and early-April when it all began. The load factor is impacted by the much lower level of offered capacity by the carriers. So, the fact that the load factor rise proves that utilisation went up for the capacity that was left to service customers."
To place this in context, we decided to go back to what the IATA March 2022 analysis had to say about international cargo capacity, "Asia and Europe are the regions seeing the greatest falls in cargo capacity offered, due to the events already discussed, and this could continue for some time as no clear path out of the various challenges has been identified."

The analysis further read, "Airlines in Europe, Asia Pacific and the Middle East experienced subdued demand and constrained capacity, impacted by the conflict in Ukraine, labour shortages, and lower manufacturing activity in Asia due to Omicron. The markets carrying cargo through Middle Eastern hubs, reoriented there from Europe-Asia to avoid Russian airspace, have held up but failed to show any meaningful increase – likely dampened by subdued demand overall. Within Europe, CTKs have fallen the most ­– 19.7% month-on-month – with Ukrainian and Russian airline capacity currently essentially offline."

The lockdown crippled shipping as well. With the lockdown, came a standstill at Chinese ports, leading to congestion which further crippled the supply chain. When The STAT Trade Times contacted Marine Traffic for comments in April, we were told that the congestion led would have consequences adversely affecting the rest of the supply chain. "China is the biggest exporter in the world, while Shanghai is the world's busiest port. A lockdown that affects directly those two most is bound to cause ripple effects across the globe. Many warehouses and factories were closed.The demand didn't decrease, but the goods being moved did. This reduced movement of goods leads to a build-up of port congestion in Shanghai. While the ship queues off China are growing, the threat of even more delays and higher freight rates in the coming months seems inevitable."

Confirming the disruption in delivery cycles around the end of March, Thanos Sofios founding partner of Novisea told The STAT Trade Times that global shipping is still majorly impacted by Covid 19 disruptions. Citing from his March report for Breakwave Advisors, Sofios had said, "Two years into the Covid-19 pandemic and global shipping remains captive to disruptions and port delays due to restrictions associated with the virus. With news surrounding Covid-related closures around Shanghai, the centre of China's commercial activity, we expect port delays to pick up around the region once again. Whether it is containers or dry bulk, a few additional days of waiting could tighten the market and cause freight rates to move higher."
Considering how the recent spate of lockdowns have wreaked havoc on supply chains worldwide, we decided to shift our lens and zoom in to look at the supply chain from a commodity perspective to explore how the recent Omicron waves and their aftermath upset delivery timelines the world over.

For this, we chose to spotlight a much sought-after smartphone – the Apple iPhone. In the long line of firms hit by the Shanghai lockdown, the smartphone entity was badly hit. We examined pain points in their supply chain, which were exacerbated by the "challenging operational backdrop" IATA mentioned.
The Lockdown Debacle
On March 31, British journalist and critic, Lucinda Sullivan tweeted, "But sure there is a delay on the iPhone 13 if I ordered on 18 March, had 3 date changes, now up to April 22, and I'm told in a dm there's a worldwide handset shortage but I can order some different make. How is that not a shortage?"
Sullivan received a 'dm' or a direct message about a "handset shortage". Like Sullivan, many other Twitter users questioned Apple about the lockdown causing a supply disruption, only to be met with stone-cold silence. Her question was posed to the network carrier – Three's Ireland care team and reflected the plight of many Apple customers who are yet to receive their iPhones.

With most of its assembly units in Shanghai, Apple's supply chains took a massive hit due to the lockdown. So, we decided to delve into this issue a little and break down Apple's supply chain, a major chunk of which is hunkered down in China and decode the disruption.

A Story of Parts
Essentially, Apple's core challenge lay in sourcing and assembling its components across factories in China.
Taiwanese Foxconn was the first to take the hit, grappling with lockdown disruptions at its production facility at Shenzen. However, it partially restored operations mid-March.

According to a report by Nikkei Asia, the Taiwanese iPhone assembler stated in a stock exchange filing in March, that operations at its two China-based sites – Shanghai and Kunshan – have been halted because of the lockdown.
In April, the Taipei-headquartered electrical manufacturing entity Pegatron was another to join the ranks of lockdown-hit companies. Pegatron contributes to about 30% of iPhones manufactured.

So how did this dent Apple's supply chain?
Playing Hard to Get
Since its launch in September 2021, the iPhone 13 like its elder sibling, the iPhone 12, had been playing hard to get.
Frantic customers have been taking to Apple's discussion forums in a bid to trace their delayed shipments. Last year, soon after the iPhone 13 was officially launched, iPhone orders ran into tight supply chain bottlenecks, resulting in delayed shipments, particularly around the year-end holiday gifting season. Just as things were starting to look better, however, the lockdowns in China and the subsequent component shortages hobbled Apple's manufacturing leading to delivery fulfilment delays.

In the meantime, Apple's discussion forums were rife with customer complaints of delayed shipments.

On April 9, a soon-to-be iPhone user wrote, "I recently ordered an apple iPhone 13 pro expecting that to be shipped from Manila, Philippines. But I found out later that it is being shipped from Singapore to Cebu, with the given DHL tracking number the status of shipment is on hold for the past 6 days. I just wanted to know if it is a matter to worry or need to give some time to see the changes? I am assuming it is getting delayed due to Covid issues."
At the time, flights were restricted from Singapore to Cebu in the Philippines due to the pandemic.

Another user posted, "I ordered my phone on March 12, I got an estimated delivery date of March 18 and I still have not got a tracking number and it's supposed to be here tomorrow."

Some users even struggled with order delays since December 2021, which seeped well into March of 2022. Like most other companies, Apple did put out a stoic message that read delivery delays could occur due to the pandemic. So we decided to look at some literature from 2021.
The Scene Last Year
The 2021 scenario was comparatively optimistic with most cargo operators recording growth and recovery from the pandemic despite a few operational hiccups. Upply's whitepaper makes mention of how air freight recovery in 2021 brought major changes.
The whitepaper cited Willie Walsh's statements on air cargo. "Air cargo had a stellar year in 2021", said IATA director general. "Air cargo had a stellar year in 2021. For many airlines, it provided a vital source of revenue as passenger demand remained in the doldrums due to Covid-19 travel restrictions."
The whitepaper also stated that cargo volumes were higher than before the crisis, but persistent capacity deficit remained a challenge. "The Asia-Pacific companies suffered cruelly from lack of capacity. Capacity was down 17.1% on international routes, while traffic stagnated and, on international routes alone, rose by just 3.6%."

The whitepaper further talked about a slowdown in prices in 2022, saying, "The lack of capacity in the face of persistent strong demand has automatically generated an increase in air freight rates."

As a result, Upply forecasts had predicted a "lull" to be expected in 2022.

Hope Floats
However, all is not lost with the recently released Airport Industry Outlook report by Airports Council International Asia-Pacific (ACI APAC), stating that as of May, the Asia-Pacific industry is experiencing "green shoots of recovery".
Drawing on the "two recurring themes of Covid-19 and the geopolitical conflict" currently plaguing the airport industry, the report says, "Cargo growth has proven to be resilient in comparison with passenger traffic, and remains significantly above pre-pandemic levels."

The report further adds, "The sub-regions with the largest cargo shares are developed Asia (Japan, Republic of Korea, Chinese Taipei, Hong Kong, Macau) with 32%, followed by Emerging East Asia with 29%...Developed East Asia was the only region in Q4 2021 that recorded traffic levels above 2019 pre-Covid level. All other regions reported levels around 0.85% or above compared to 2019."

While releasing the report, ACI Asia-Pacific director general, Stefano Baronci's said, "Cargo business proves, on the contrary, the leading role that Asia-Pacific plays in the global economy. Despite an improving trend, airport financial margins remained far below pre-pandemic levels and are economically unsustainable. It is therefore time to remove ineffective restrictions and enable nations to accelerate their economic growth."