Unveiling the dynamics of India's aerospace logistics industry
At the core of India's thriving aircraft sector is an often-overlooked but important component: aerospace logistics. This report delves into India's sophisticated aerospace logistics ecosystem, how the country is creating possibilities for stakeholders in the sector, and how it is analysing its challenges, successes, and the positive trajectory it is prepared to pursue.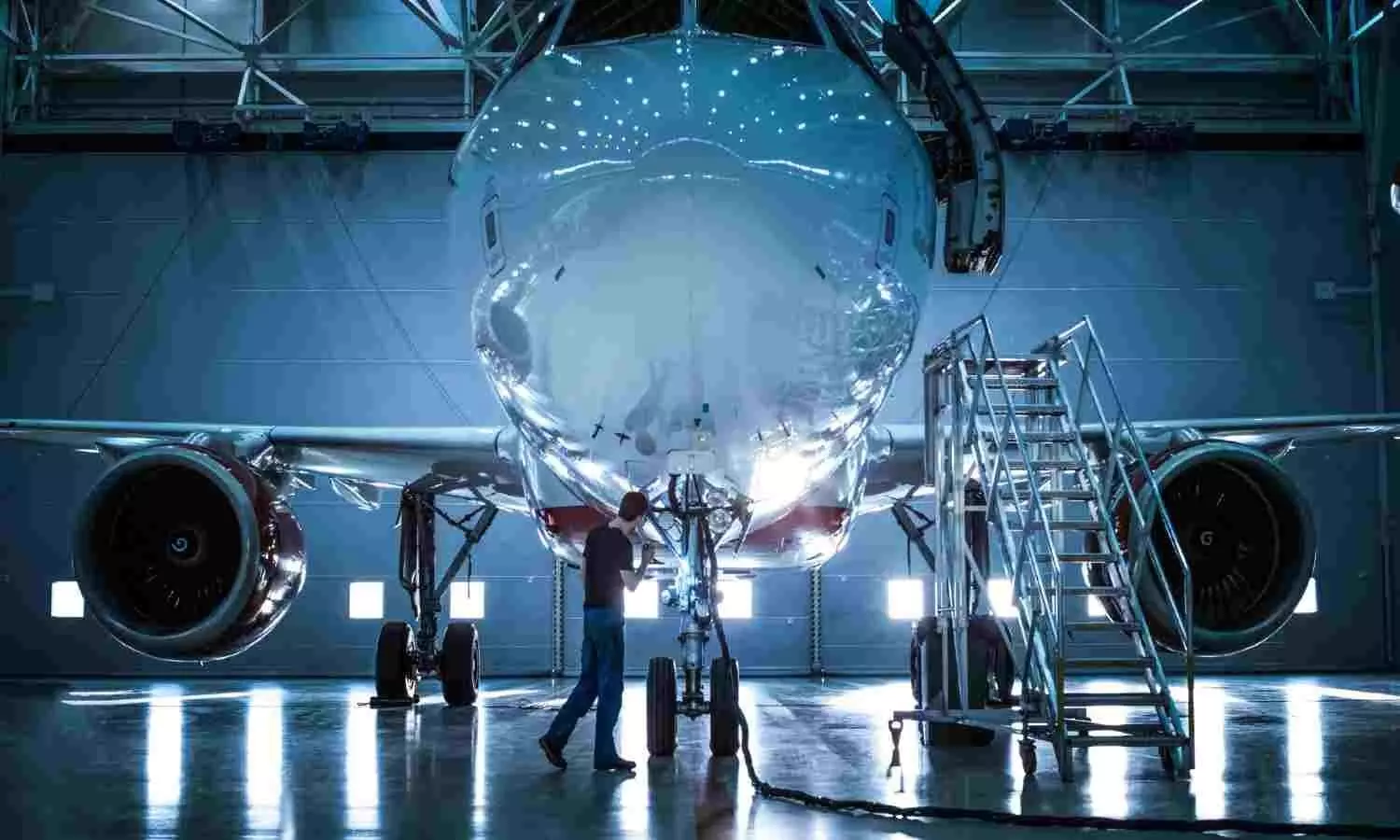 It is said that India's rising emphasis on aerospace manufacturing has created chances for foreign corporations to form strategic collaborations with manufacturers, which it expects would lead to an increase in the flow of aircraft component imports.
Despite the COVID-19 outbreak's interruption, the industry has shown signs of resiliency.
India: The Potential Market
According to a leading publication, The Mint, Boeing is strategically increasing sourcing of aircraft components from India, as well as exploring the possibility of establishing a manufacturing facility to capitalise on the opportunity given by the fastest growing aviation industry.
Boeing President and CEO David L. Calhoun stated that his business supports Indian Prime Minister Narendra Modi's 'Make in India' initiative and would play a significant role in the country's fast growth of the commercial aviation sector. During the Prime Minister's state visit to the United States in June, Calhoun met Modi and addressed the significance of Boeing's eight decades of aerospace partnership with India.
"We support Prime Minister Modi's Make in India initiative, with more than 5,000 people in India pursuing high-quality careers doing innovative work on the Boeing team," he said.
Boeing announced a partnership with GMR Aero Technic in March to develop a new Boeing Converted Freighter (BCF) line in Hyderabad. The partnership contributes to Boeing's ongoing investments to promote cargo development and to increase sophisticated aircraft modification capabilities and Maintenance, Repair, and Overhaul (MRO) in India.
"Rising passenger demand, strong order book and policy support has made India a key market for aerospace. It's the right time to not only take a leap but also to build the largest aerospace ecosystem to support this strong demand."

Saurabh Doshi, Sterling
Boeing India also stated that it will open its new and second largest campus at Aerospace Park in Devanahalli, near Kempegowda International Airport in Bengaluru, by the end of 2023. On January 30, the firm said that it had invested over $200 million to construct the campus on 43 acres of land on the city's outskirts.
But what draws foreign stakeholders to invest in the Indian aerospace industry?
"Simple. Who would like to miss an opportunity to serve the world's largest and youngest population which is clearly on a growth trajectory! India already has the third-largest domestic aviation sector globally, overtaking Japan. Like in most of the world, aviation in India suffered significantly during the pandemic. The market has since recovered strongly and shown its strong resilience. I think by now it's clear that global players are actively participating in this very appealing and significant opportunity. As a country India has so far been catering to the domestic & international short-haul demand but there's a huge opportunity for Indian carriers to take an international leap —this is visible with recent developments and aircraft order announcements that came a few months ago," said Saurabh Doshi, Vice President at Sterling, A Kuehne+Nagel Company.
New Orders
The Indian Airlines made headlines during the Paris Air Show, with the two Indian airlines, IndiGo and Air India, placing orders for 470 and 500 planes, respectively of new aircraft, adding to the show's near-record levels of orders. We asked Doshi, who is based in Singapore and works with Indian clients, how he would describe the Indian aerospace industry.
"On a High Growth Trajectory. India is definitely looking to capitalise its large consumption base and domestic demand. Rising passenger demand, strong order book and policy support has made India a key market for aerospace. It's the right time to not only take a leap but also to build the largest aerospace ecosystem to support this strong demand. Airlines, Global OEMs, MROs, Parts suppliers are setting their base to fulfil this demand in the most effective way. There have been certain lowlights but overall, India still has a great opportunity to become a key player in the global aerospace industry," said Doshi.
CAPA India, a leading aviation consulting, research, analytics and transaction advisory practice, expects 1,300 additional orders from Indian airlines in the coming years, indicating a solid post-COVID-19 recovery. The Indian aviation industry is expected to expand further, with orders for narrowbody aircraft expected to top 1,200, driven by increased demand, low-cost airlines, and government initiatives.
"The Indian aviation market stands out distinctively compared to other regions, due to its unique blend of highly appealing factors. It is already the third-largest civil aviation market globally, boasting a significant scale. According to Boeing's Commercial Market Outlook, over the next two decades, the region, encompassing South Asia, is poised to welcome around 2,700 aircraft, with a staggering 90% of them slated for India. The recent big orders from Air India and Akasa Air are indicative of this potential growth," said Gupte.
Time-critical deliveries are a hallmark of aerospace logistics. Delays in the transportation of components can lead to disruptions in production schedules, affecting the entire aerospace supply chain.
"We understand that airlines may adjust their orders based on passenger demand and we, at Boeing, remain committed to supporting Indian airlines with the right solutions that align with their evolving needs. Our focus remains on driving stability in our production system, including closely partnering with our suppliers to address challenges, meet our customer commitments and prepare for future rate increases. Our objective is unchanged: a healthy and stable production system. There's progress in many areas of the supply base, however we expect our supply chain challenges to continue well into 2024. We've also ramped up internal fabrication for surge capacity and we've increased inventory of select parts for risk protection," Gupte added.
Trends Shaping Aerospace Logistics in India
Aerospace was an early adopter of 3D printing and continues to make significant contributions to its advancement. Aerospace companies began adopting 3D printing in 1989, and in 2015, aerospace accounted for 16% of the $4.9 billion global revenue for AM.
"3D printing technology has revolutionised the way aircraft components are designed, prototyped, and constructed. Boeing has a 30-plus year history in AM and has developed more than 70,000 parts this way. AM is ideal for aerospace and supports our sustainability goals because it enables us to develop parts that are lighter-weight, supporting fuel efficiency goals and uses less raw materials and avoids the need to create specific tooling for limited-run or highly customised parts, which ultimately creates less waste," said Salil Gupte, President, Boeing India.
Apart from the trends on the manufacturing side, we asked Doshi to understand what are the trends and changes in the demands from the consumer side.
"There is no crystal ball to predict the future! But certainly, there are trends that you see as the way forward and take steps to build for future progress. At Sterling, we help our customers and work as their extension of the supply chain. Sterling was widely used during the pandemic but needs to be embedded inside each successful organisation's strategy. It's important to ensure your supply chain is responsive and agile enough to manage the unexpected, and to deal with these threats and disruptions — appropriately, efficiently and profitably. Having 'Sterling 24x7 control tower' visibility on key milestones; micro-managing of your time critical shipment beyond your own business borders and throughout its journey; that is real time – all done using digital capabilities. And all of this will enhance your competitive advantage," said Doshi.
The Indian aviation market stands out distinctively compared to other regions, due to its unique blend of highly appealing factors. It is already the third-largest civil aviation market globally, boasting a significant scale.

- Salil Gupte, Boeing India
Recently, Boeing honoured its top-performing global suppliers at its Supplier of the Year event in 2023 where suppliers were recognized for driving a stable, predictable manufacturing system that helps Boeing meet its customer safety, quality, sustainability, and delivery goals. Dynamatic Technologies Limited (DTL), a global supplier of parts to aerospace, automotive, hydraulic and security assemblers, received the award for outstanding performance (BDS), according to a LinkedIn Post by Ashwani Bhargava, Senior Director – India Supply Chain, Boeing.
"Boeing's supply chain footprint continues to grow in India," said the post. Among the Indian participants were Mahindra Aerospace, TATA Advanced Systems, Tata Consultancy Services, Polyhouse India, and Motherson Group/CIM Tools.
Challenges in the Aerospace Market
From an organisational viewpoint, we can observe that the aerospace logistics business is experiencing considerable disruption as a result of the capacity to handle exceptions. By now , the industry recognises that disruptions are here to stay for some more time, be it geopolitical issues, inflationary pressures and recessionary environment, human talent demand supply mismatch, port congestions, etc. They all have impacted the flow of goods and have had a ripple effect.
"The question isn't when do these disruptions stabilise? It is rather how can one build a competency within the organisation that can respond and proactively manage these exceptions. I firmly believe there's a huge opportunity for any organisation to embrace these challenges and incorporate more agility in their business model. At Sterling, our people are trained to expect the unexpected and manoeuvre through these complex situations and help our customers minimise the impact. The end goal is to keep airplanes in the sky as that's where they generate money," Doshi said.
The global rise in fuel prices, linked to a complex combination of variables, including geopolitical tensions, supply chain disruptions, and increasing demand as countries recover from the pandemic is another challenge faced. This issue has been especially noticeable in India, where the Aerospace Logistics Industry relies largely on aviation fuel for both local and international operations.
"Aviation fuel prices in India are among the highest in the world. The industry data show that Indian domestic operations pay approximately 90% more for fuel than other markets around the world. Currency strength continues to be a watch item despite the rupee remaining relatively stable over the past year. Approximately 70% of direct operating costs are paid in foreign currency, meaning that the strength of the rupee directly impacts the ability to offer lower fares to the flying public. To enable a healthy and strong market, the utilisation of most recent and advanced airplanes such as the 737 MAX family, allows operators to maximise efficiencies by placing the right size airplane on the right size market allowing continued competitive fares to India's flying public," said Salil Gupte, President, Boeing India.
SAF Focus
Collaborations with the aviation industry are accelerating the use of sustainable aviation fuel (SAF). By combining SAF with regular aviation fuel, carbon emissions during flights may be greatly reduced, making air travel more environmentally friendly.
"To achieve net-zero carbon emissions, the future of flight will require aviation to simultaneously pursue multiple pathways like fleet renewal, operational efficiency and renewable energy. We believe a 'SAF and', not a 'SAF or' solution will be required. However, under any scenario for the introduction of future advanced aircraft products with new energy carriers, we will need massive amounts of SAF if we are to meet civil aviation's commitment to net zero by 2050," Gupte added.
Boeing, as a leader in the aerospace industry, is at the forefront of addressing these pivotal shifts. When positioning for the future, it is not focused on a single product or a specific niche market that exists today.

"We are focused on the key capabilities – technologies, processes and systems – that we need at Boeing, and within industry, to ensure our next set of products delivers a generational leap in capability for our customers and reshapes our markets," said Gupte.
"There's no instant success formula but as an industry leader we need to think forward to engage with key stakeholders and build more awareness. We are looking at a future where more informed consumers will no longer see this as a differentiator but clearly expect this as non-negotiable. That's the way forward for a sustainable future," Doshi said.