The Transatlantic passway falling below expectations?
Freight movements have witnessed turbulence over the last couple of years. What does this means for the future?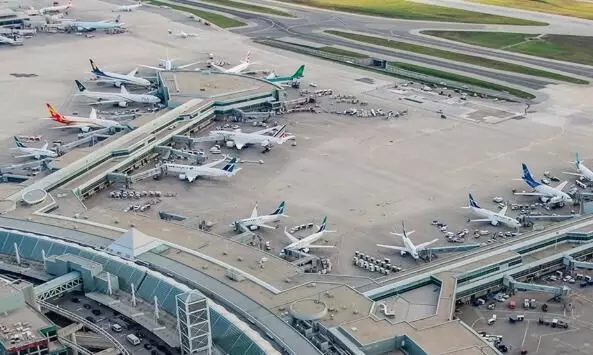 In March this year, Willie Walsh, International Air Transport Association's (IATA) Director General had said about January 2022 figures, "Demand growth of 2.7% in January was below expectation, following the 9.3% recorded in December."
He went on to add that this percentage point likely reflects a shift towards the more normal growth rate of 4.9% expected for this year. "Looking ahead, however, we can expect cargo markets to be impacted by the Russia-Ukraine conflict. Sanction-related shifts in manufacturing and economic activity, rising oil prices and geopolitical uncertainty are converging. Capacity is expected to come under greater pressure and rates are likely to rise. To what extent, however, it is still too early to predict."
'Falling below expectation' set the tone for the air cargo industry in 2022, with the sector grappling with uncertainties, volatile volumes and capacities worldwide jostling between the pandemic's aftermath and geopolitical turbulence.
To understand this better, we zoomed into transatlantic freight routes. These routes rake in cargo revenue from flights that cross the Atlantic Ocean with origins and destinations principally in Europe, India, the Middle East and North Africa which form this airfreight passageway.
As to why the transatlantic? Market intelligence specialists – The Business Research Company – in an October 2022 report entitled 'Air Cargo Services Global Market Report 2022' stated, "Asia Pacific was the largest region in the air cargo services market in 2021. North America was the second largest region in the air cargo services market. The regions covered in the air cargo services market report are AsiaPacific, Western Europe, Eastern Europe, North America, South America, Middle East, and Africa."
Falling below expectations
So where did this industrial epithet come from?
Apart from Walsh's statements, we did a deep dive applying the phrase to more recent contemporary contexts, so we decided to strap ourselves in and travel back in time to IATA's data published in June this year.
According to IATA's monthly air cargo market analysis for June 2022, "Global demand, measured in cargo tonne-kilometres (CTKs), fell 11.2% compared to April 2021 (-10.6% for international operations). Global demand is down 1% compared to April 2019."
Furthermore, the analysis went on to state that capacity was below 2021 levels. "Capacity was 2% below 2021 (+1.2% for international operations). Both global capacity and international capacity decreased slightly in April compared to March. Asia experienced the largest falls in capacity."
To understand how the Transatlantic trails fared, therefore, we decided to analyse this through a capacity-demand perspective. Though carriers experienced a capacity drop worldwide, we decided to pick out and separate the routes between Northern America and the rest of the world.
We decided to test this theory on the third-quarter revenue results being announced by carriers the world over, particularly with reference to routes between North America and Europe.
As to why this was happening, Air Canada's recently released – Third Quarter 2022 Management's Discussion and Analysis of Results of Operations and Financial Condition – had answers.
"During the period from March 2020 until early 2022, Air Canada and the rest of the global airline industry faced significantly lower traffic than in 2019, and a corresponding decline in revenue and cash flows, as a result of the Covid-19 pandemic and the travel restrictions imposed in many countries around the world including in Canada."
The report, however, stated that conditions had looked up since then. "Conditions have improved significantly, and travel restrictions have been lifted in many countries, including in Canada, but the wide-ranging impact of the Covid-19 pandemic and certain other factors have impeded, particularly during the summer of 2022, Air Canada's and the global airline industry's restart efforts and also the ability of some of its participants, on which Air Canada's operations are dependent, to support the surge in traffic."
This is what Air Canada's report had to say about what factors the carrier is still wary of, as it cited flight delays and the leftover ripple effects of the pandemic as potential threats. "Over the period from June to August, this led to a meaningful increase in flight delays and cancellations, and other operational disruptions and challenges."
The scenario only started looking up around August this year as was evinced in Air Canada's report, "Flight delays and cancellations started to decrease in August and there was a progressive increase in operational stability experienced in the second half of the third quarter of 2022, however there can be no assurance that further significant disruptions will not re-occur. The impact of the Covid-19 pandemic continues to evolve, amplifying or adding new risks, including economic risks, any of which could materially and adversely affect Air Canada's business, results from operations, and financial condition." Air Canada's report was in accordance with IATA's findings about Northern American routes in August. This is what IATA's Air Cargo Market Analysis for August 2022 had to say, "North America remains on track to the rebound of international Cargo Tonne Kilometres (CTKs), with smaller negative YoY growth in two consecutive months. In August, the YoY gap narrowed down to 4.5% from the 6.5% level in July. The latest route area data confirm the rebound in air cargo demand in some of the largest cargo markets, including within Asia, Asia-North America, North America-Europe, and Middle East-Europe."
Relevant data in a risky business
According to the supply chain insights platform – Upply's findings in July this year, North American airlines reported good performance even though they were lacking when it came to demand. "Despite being down 5.7%, North American airlines posted the best performance with the weakest erosion compared to 2021 and saw demand 15.1% higher than the pre-pandemic benchmark of May 2019. However, seasonally adjusted volumes contracted by 0.9% in May year-on-year."
Upply went on to quote an IATA report which pointed towards economic pressures, "This could be an early sign of inflation pressures impacting demand, and the next months will be telling in this regard. The Asia-North America market is weighing on the performance we are seeing for this region overall, but other key routes, such as Europe – North America, are bucking this trend and showing that cargo demand is still strong concerning certain routes."
A few months down the line, WorldACD Market Data published on October 27 took a similar stance when it came to tonnages and pricing. "On a lane-by-lane basis, tonnages between North America and Europe dropped -4% in both directions, while an increase was recorded from Asia Pacific to, respectively, North America (+3%) and Europe (+2%). Europe-Africa recorded the biggest drop in tonnages, declining -8% southbound and -6% northbound."
About the pricing, WorldACD had this to say, "On the pricing side, average rates stabilised for each of the main origin regions except for the Middle East & South Asia (-5%). On a lane-by lane basis, most of the other main trades saw relatively flat pricing, exceptions being a strong increase from North America to Asia Pacific (+7%) and a steep drop in intra-Asia Pacific rates (-10%), on a 2Wo2W basis."
The WorldACD data went on to compare the global air cargo market on a Year-on-Year perspective. "Comparing the overall global market with this time last year, chargeable weight in weeks 41 and 42 was down -16% compared with the equivalent period in 2021, despite a capacity increase of +4%."
This is what it had to say about the capacity the world over, "Capacity from all of the main origin regions, with the exception of Asia Pacific (-8%) and Central and South America (-5%), is significantly above its levels this time last year, including a double-digit percentage rise from Africa (+13%), and outbound Europe and North America (both +9%)."
All this, however, had led to global prices declining way below last year's levels. "Worldwide rates are currently -17% below their level this time last year at an average of US$3.36 per kilo, despite the effects of higher fuel surcharges, but significantly above pre-Covid levels," the WorldACD report stated.
According to the report, a combination of weaker consumer confidence in certain key markets and earlier-than-normal shipping of stock by retailers and other customers has led to relatively subdued airfreight demand this quarter, so far – and lowered expectations of any major winter peak season.
A strong argument
However, there is still hope. In the October 2022 report published by The Business Research Company, the global air cargo services market grew from $57.21 billion in 2021 to $61.44 billion in 2022 at a compound annual growth rate (CAGR) of 7.4%.
The firm went on to say, "The Russia-Ukraine war disrupted the chances of global economic recovery from the Covid-19 pandemic, at least in the short term. The war between these two countries has led to economic sanctions on multiple countries, the surge in commodity prices, and supply chain disruptions, affecting many markets across the globe."
However, the research firm said the air cargo services market is still expected to grow to $75.15 billion in 2026 at a CAGR of 5.2%.
As to how air cargo companies could circumvent losses, the market intelligence firm said, "Air cargo companies are increasingly using blockchain technology to improve efficiency, minimise losses, and prevent damage to cargo. Blockchain technology allows air cargo companies to digitally track and record the change of custody for airline cargo containers, or Unit Load Devices (ULDs), as they journey between destinations. For instance, the blockchain in Transport Alliance (BiTA) is pushing for a standardised implementation in the logistics industry. Large industry players such as UPS, FedEx, DHL, and Union Pacific have signed on with BiTA. Sita, an air transport communications and information technology company, estimates the possibility of using blockchain technology to save $400 million a year for the air cargo industry."