Temperature: Just keep it right
Handling pharma by air involves challenges in terms of managing with care as well as keeping the desired temperature of the specific pharma product and the air cargo sector is working hard to deliver pharmaceuticals at the right temperature.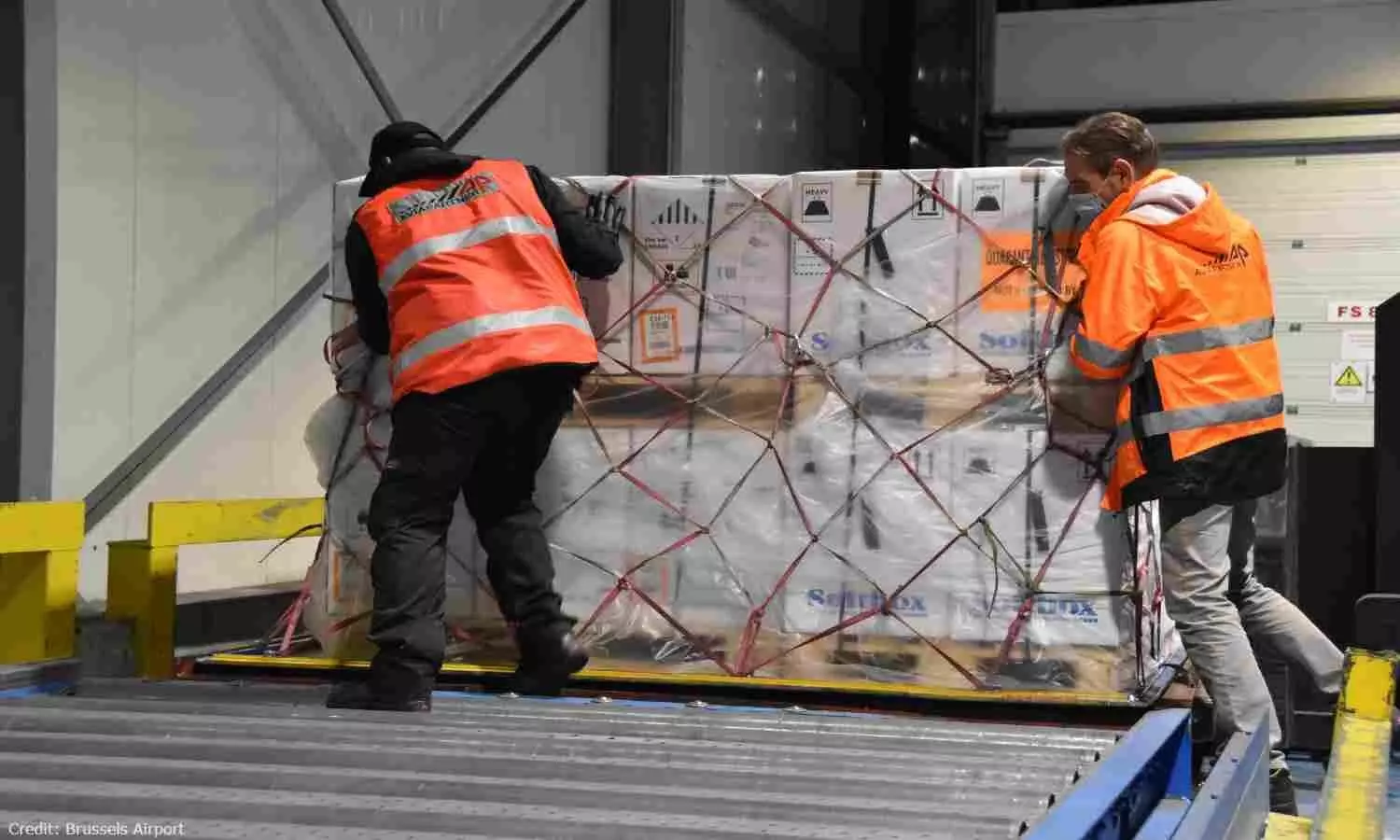 Air cargo shipment of medical products necessitates meticulous logistical planning and execution. If these shipments are mishandled or the temperature of the product changes while being shipped, the company's integrity may be jeopardised.
Temperature regulated logistics involves the storage, preservation, and transportation of items that are temperature sensitive and must maintain a specified temperature. Transportation of pharmaceuticals and medications from one facility to another is an important aspect of the pharmaceutical logistics and supply chain process. When these goods are subjected to temperatures that are too high, they may break down, decreasing the intended advantages of the products.
Most pharmaceutical items are stored at temperatures ranging from 2 to 8 degrees Celsius, however warehouses employ temperatures as low as -20 degrees Celsius to retain products at this range. During the logistics process, it is vital that resources be allocated to establishing, maintaining, and refining temperature control.
This article delves into the pharmaceutical market's projected growth, the importance of delivering pharma at the right temperature, and the industry's innovations for a smoother and speedier pharma supply chain.
Pharmaceutical Logistics Market Growth
To begin, let us explore the pharmaceutical logistics business and its projected growth. The pharmaceutical logistics sector is anticipated to grow between 2021 and 2028. By 2028, the market is expected to be valued $110.84 billion and will grow at a CAGR of 6.52%, predicts Data Bridge Market Research.
One of the key factors anticipated to fuel demand and growth for pharmaceutical logistics is the quick shift in preference for biological medicines. Additionally, from the period 2021 to 2028, the global pharmaceutical logistics market is anticipated to rise as a result of rising chronic illness incidence, considerable population expansion within the target patient base, and higher sales and consumption of pharmaceutical goods.
Similarly, enhanced service verification and safety as it prevents counterfeit medications from being transferred across the supply chain, as well as increasing demand for specialised value-added services like temperature-controlled and cold chain storage, are expected to drive market expansion.
Furthermore, the increased usage of air freight logistics for long-distance and intercontinental distribution of expensive vaccines and medications is projected to be key contributors in the pharmaceutical logistics market's growth.
Delivering at the Right Temperature
Great logistics has always been about information as much as it is about shipments and goods. This is especially important when it comes to pharma cargo; it is not only important to know where the box is, but in what condition and temperature it is.
The worldwide medicines sector loses more than $15 billion worth of goods annually as a result of temperature excursions during shipment. This loss is caused by product transportation to the extent of more than 60%. Even slight variations in temperature might have a negative impact on the product's integrity throughout the healthcare supply chain.
Big data and analytics are being used by supply chain service providers and their manufacturing clients to identify the locations and times where temperature control deviations are most likely to occur. Real-time data analysis can identify specific shipments where rapid intervention is necessary to save the goods, while historical data can enable them to implement optimal package designs and make use of cold chain facilities and transportation.
"There is a risk involved. If you handle pharmaceuticals at an airport and have an incident, it might seriously damage your airport community's reputation. You are ultimately dealing with the life of a patient. Therefore, we aim to make clear to all businesses dealing with pharmaceuticals at Brussels Airport that you are actually dealing with someone's life. Additionally, we proactively emphasise this with the warehouse crew, who are at the front line," said Samuel Speltdoorn, Cargo Business Development Manager, Brussels Airport Company.

While shipments' data is the first and most fundamental factor to look for in supply chain optimization, service providers are also closely evaluating data about the warehousing and transportation assets. Many cargo and storage spaces must maintain constant levels of temperature, pressure, humidity and light exposure.
"Every shipment is unique in terms of itself. The stakeholders need to fulfil a number of demands. Documentation must be provided, the boxes must be properly labelled, and the boxes must be scheduled for transportation as pharmaceuticals in order to control and prevent shipping as general cargo. As a result, we need to make sure that all of the paperwork is consistent with the box's contents and handling instructions. One of the most innovative methods to ensure that the shipments are secure is to hold each link in the supply chain accountable. Our recently upgraded pharma dashboard and extended pharma acceptance checklist (on top of the IATA checklist) help us with this tremendously," Speltdoorn added.
Once the pharmaceutical products arrive at their destination, they are in an environment where the unexpected might occur. Accidents, storms, and even particles/insects from the outside entering into the cargo can all disrupt temperature control.
The quality check needs various carriers to pass a stringent qualification test. A live load temperature test, in which the carrier is dispatched across the nation filled with genuine items, is one of the processes. Temperature changes in non-catastrophic conditions are monitored. This is done during the summer and winter months to ensure that the transportation truck can convey the pharmaceutical supplies.
Above all, documentation is the most fundamental and vital aspect of pharmaceutical logistics. Things can go amiss if the information on the paper and the label on the cargo do not match, especially for an airport that handles these items.
"Being at the actual location where products arrive or are leased, I believe an airport faces a challenge. Additionally, there are three separate processes for every shipment of pharmaceuticals. Document flow comes first, followed by physical products flow then information flow, in that order. Additionally, the group of stakeholders appears to be rather splintered on all sides. The challenge for an airport is to synchronise all of these flows into a single communication flow, which is where digitization comes into play. Sharing information holistically across the entire supply chain is therefore essential, and it is also becoming more and more crucial," said Frank Van Gelder, Secretary General, Pharma.Aero.
"We aim to make clear to all businesses dealing with pharmaceuticals at Brussels Airport that you are actually dealing with someone's life. Additionally, we proactively emphasise this with the warehouse crew, who are at the front line"

Samuel Speltdoorn, Cargo Business Development Manager, Brussels Airport Company
"If there is a discrepancy between the temperature recorded during the shipping and the temperature in the documentation or on the box, you must halt the cargo, make sure it is kept appropriately, and make sure it is handled correctly from that point on. For instance, if a pharmaceutical shipment from a truck or an airline comes on your dock without the correct labelling for the required temperature control or if the temperature is outside the acceptable range, you must act right once to guarantee that you are held responsible in those areas," said Trevor Caswell, Chairman of the Board - Pharma.Aero.
Innovation is the only Constant
A lot of changes have occurred in the pharmaceutical supply chain and logistics business in the last two years. For example, developments in cold chain shipping containers provide safeguards while transporting delicate pharma. Several firms are testing drone delivery, which might transform how pharmacies are supplied in the future.
But why is innovation so important? "The supply chain is not as robust as it needs to be when it comes to getting critical medications from point A to point B," said Joel Wayment, Vice President of Operations at Cardinal Health Third Party Logistics, in a report. "Due to these and other constraints, I anticipate innovation and new supply chain participants to assist with freight and shipments. Innovation is required in the current environment, which may result in a significant shift in how we move goods. Organizations must be ready to embrace change, whether it comes from automation in the form of drone deliveries or other areas."
To stay ahead of the competition, logistics businesses are upping their game by delivering unprecedented levels of insight and control to the supply chain in novel ways. "Along with Covid vaccines, we now regularly deliver Covid-19 antiviral medicine. The antiviral product is far more sensitive than the vaccine because it is carried at temperatures between 15 and 25 degrees Celsius and does not contain dry ice. It does, however, need considerably more attention than the vaccines because the stability data is still unknown," said Speltdoorn.
Large organisations have historically been slow to adopt new and disruptive technology, but shifting market dynamics in the pharmaceutical business have made this a particularly exciting period for innovation. Many companies in the industry are already creating new technologies to ensure that pharmaceutical goods are handled at the right temperature while also striking a balance between demand and supply.
Ceva Logistics said in 2021, it would have 40 temperature-controlled air freight facilities to meet worldwide demand. Through embedded location and temperature IoT sensors, CEVA will provide cutting-edge visibility and monitoring solutions for real-time decisions. This multi-tiered strategy ensures that shipments are preserved at appropriate temperatures, which is crucial for healthcare customers.
"If there is a discrepancy between the temperature recorded during the shipping and the temperature in the documentation or on the box, you must halt the cargo, make sure it is kept appropriately, and make sure it is handled correctly from that point on"

Trevor Caswell, Chairman of the Board - Pharma.Aero
When it comes to pharma supply chain and logistics, have you ever thought about having a masterclass where you could discuss your logistics and supply chain challenges with people from all around the world on a single platform? Pharma. Aero brings a platform for cross-industry collaboration with an aim to enhance the pharmaceutical supply chain.
"With the masterclass, we try to bring together people across the globe for a week while examining the same problems from various perspectives. At the conclusion of the master class, we produce a white paper or report that will be helpful to the entire industry and provide fresh perspectives on where we need to go. And if you take a look at the master class programme this year, it is created using the lessons learned from the master class from the previous year," said Gelder.
A Greener Future for Pharmaceuticals
One method of pharmaceutical distribution that contributes to climate change is the use of cold chain transportation, which allows temperature-sensitive medications, such as insulin or some vaccines, to be carried at regulated temperatures without compromising their efficacy or safety. Along with keeping the temperature stable, the sector must ensure that its innovations are also sustainable to the environment.
Etihad Cargo, based in Abu Dhabi, has collaborated with B Medical Systems, a Luxembourg-based manufacturer and global distributor of medical refrigeration systems, to provide a solution specifically for the air transportation of life-saving drugs, vaccines, and high-value pharmaceuticals.
The project's purpose is to create passive temperature-controlled containers that can maintain temperatures between -80 and +25 degrees Celsius for up to five days without requiring an external power source, hence reducing carbon emissions. The units with capacities ranging from 2 to 1,500 litres will have a working life of more than 10 years due to their sturdy, adaptable design.
Cold Chain Technologies invests and reinvests 20% to 25% of its profits in innovation and new technologies. The company's purpose is to avoid producing standard items, they believe in customising items to meet the needs of their customers and be sustainable.
"Sustainability is high on the radar. We placed a totally passive product range on the market. We are creating all new items with a strong emphasis on sustainable reuse and recycling. We just introduced a vacuum packaging arrangement that enhances the product's payload and hence minimises CO2 footprints. We produce our PCM in-house. It is coloured differently depending on the temperature range. As a result, they are returned to our facility to be rehabilitated," said Kristof De Smedt, Business Unit Director – Cargo Covers, Cold Chain Technologies, in an interview to STAT Media Group, recorded on video, at the recent Air Cargo India exhibition and conference held in Mumbai.

For the past decade, Brussels Airport has been investing in its pharmaceutical infrastructure. The airport now has 35,000 square meter of specialised pharmaceutical temperature-controlled storage dispersed over 19 separate pharma-hubs, all of which are GDP or CEIV compliant. With zero carbon emissions in mind, the walls are highly insulated with solar panels and heat pumps that keep the cold inside the warehouse in the summer and the heat in the winter.
The pharmaceutical logistics market will continue to grow rapidly, necessitating a detailed examination of supply chain and transportation risks by pharmaceutical companies.
Using a consistent style of documenting and having all of the information in one place can aid in the smooth supply chain of sensitive cargo and eliminate uncertainty about preserving the cargo's temperature.
The most crucial component of the multi-stakeholder pharmaceutical supply chain is airport transfer from and to storage and aircraft. The airport community strategy, which brings together all stakeholders, is essential for mapping and identifying vital airport pharma logistics operations.